Tiktok, face masks, and sherry-finished whiskies – some things scream "the 2020's", and one of them doesn't suck! Okay, so it isn't strictly wine tasting, but who wouldn't want to compare and contrast two lovely bottles of whisky from Laphroaig?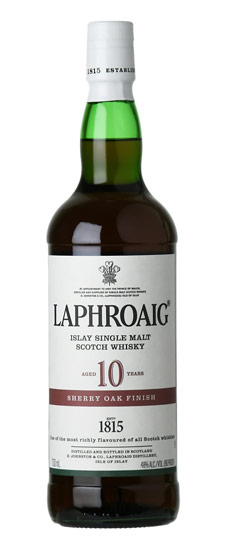 Laphroaig is no stranger to strong sherry or oak finishes. After all, with such an iconoclastic, bold flavor profile, the distillate coming out of this Port Ellen address can handle strong wood notes without losing its character. Laphroaig has sold their bourbon-aged Quarter Cask since 2004, and ratcheted up the sherry finish with their "PX Cask" release. Laphroaig Triple Wood, commonly available under $70, marries bourbon, then quarter cask, and finally European oak cask aging.
Well, Laphroaig have pulled out all the stops this time and dived deep into the sherry character with the most recent release this writer has tried, Laphroaig 10 Year Sherry Oak Finish. While a comparison to the standard 10 Year bottling would be fun (and delicious!), you could likely write the tasting notes before opening either bottle – "Wow, the Sherry Oak Finish has a much stronger wood character!" Luckily, the author had an open bottle of Laphroaig Triple Wood (LTW) on hand! Let us begin:
Color
As soon as you pour your first dram, you'll immediately notice the distinctive color. While most Laphroaigs hover in the honey range of the spectrum, the Sherry Oak Finish is markedly caramel. Before nosing the glass, I would've believed that I was about to taste a nicely aged Cartagena rum. Note that Laphroaig doesn't specify whether color was added or not, and I would not be surprised if there was coloring added to highlight the sherry focus. Further, the LTW bottle specifies "Non-Chill Filtered", whereas the SOF is noticeably silent on the subject.
Nose
Starting with the LTW, hoooooo-wee is this a beautiful nose. Rich, salty, warming, complex. Smoky, but neither hot nor stale — like whitefish roasting over a cherry wood fire. I'd wager that this whisky has the best nose-per-dollar of all of Islay, save perhaps Ardbeg Uigeadail.
Compared to the LTW, the bouquet of the Laphroaig Sherry Finish is warmer, less sharp, a bit saltier. It's still unmistakably Islay, but in a refined robe. You might say that the relationship is similar to that between the 11 year old "Offerman Edition" Lagavulin and the 8 Year Lagavulin.
Taste
To be transparent, Laphroaig Triple Wood was the second Islay whiskies the author fell in love with, so there is some nostalgia involved. Even accounting for that, LTW is stunning on the palate. Salted caramels, cold smoked pork belly, dried fish, and a lovely camphor/bandage complexity that is so clearly Islay. Even the tiniest splash remaining in the Glencairn coats the tongue and fills the glass with luxuriant, intoxicating aromas.
A minute or two later, it's time for the Sherry Oak Finish. The SOF is richer, saltier, with pronounced notes of almond from the sherry cask. The SOF is more tannic, with a drier finish and a much more apparent dry oak note. The finish is persistent and finely balanced, again with a notable wood dryness, like licking salted caramel ice cream off of one of those wooden "spoons" of the disposable ice cream cups of our childhood.
So, after all that, what's the verdict? Surprisingly, even if the two whiskies were the same price, I would choose the Triple Wood. I'm happy I purchased the Sherry Oak Finish, and given the resounding market success of sherry-finished whiskies, it's obvious why Laphroaig produced it. In the end, however, the quintessential Laphroaig-ness that draws me in to pour a dram in the first place doesn't need such a strong sherry hand. The classic Laphroaig 10 Year is a legend for a reason, and the Triple Wood treatment adds a richness and gourmand affect that could only be improved, in this author's view, by a cask-strength bottling (or at least something above 48%). Being a limited release, a bottle of Laphroaig Sherry Oak Finish will set you back the better part of a $100 bill; while an interesting dram, and certainly one worth sharing with friends, for my money I would grab the Triple Wood and spend the leftover $30 on a nice steak every time.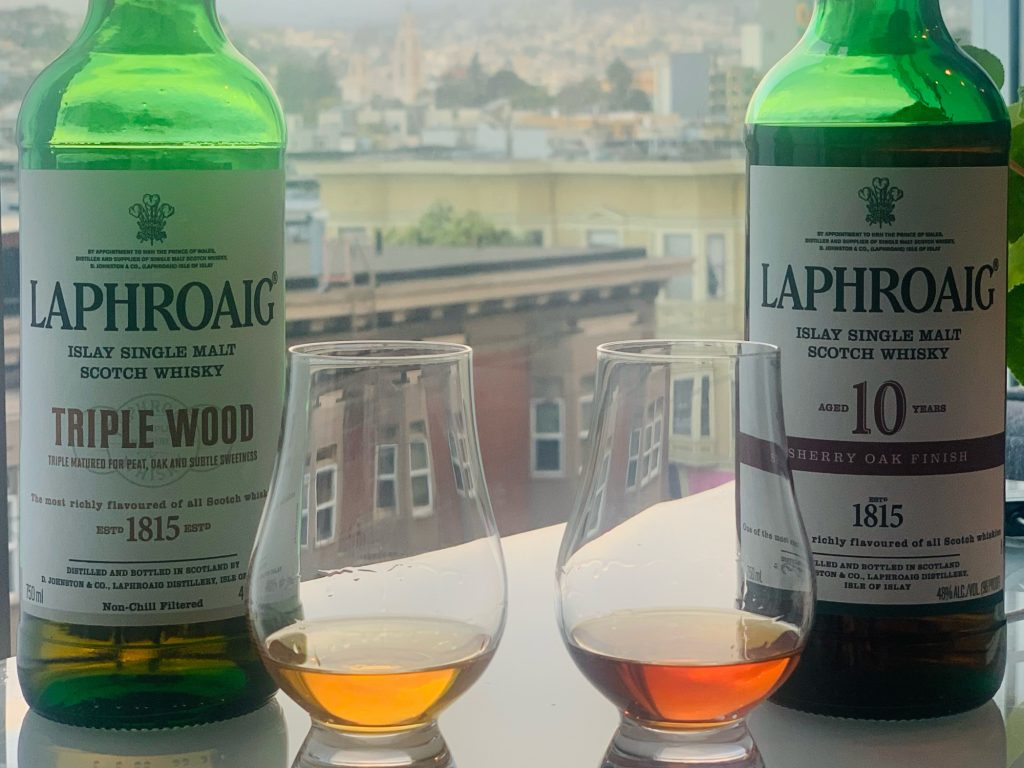 It pays to subscribe!
We will send you a brief email whenever there's a new post, so you'll never miss an article. We promise not to be a pest. Unsubscribe any time you like. And, of course, we won't let ANYONE else use our subscriber list. By subscribing, you agree to our
Privacy Policy
.
So go ahead,
click here to SUBSCRIBE
!