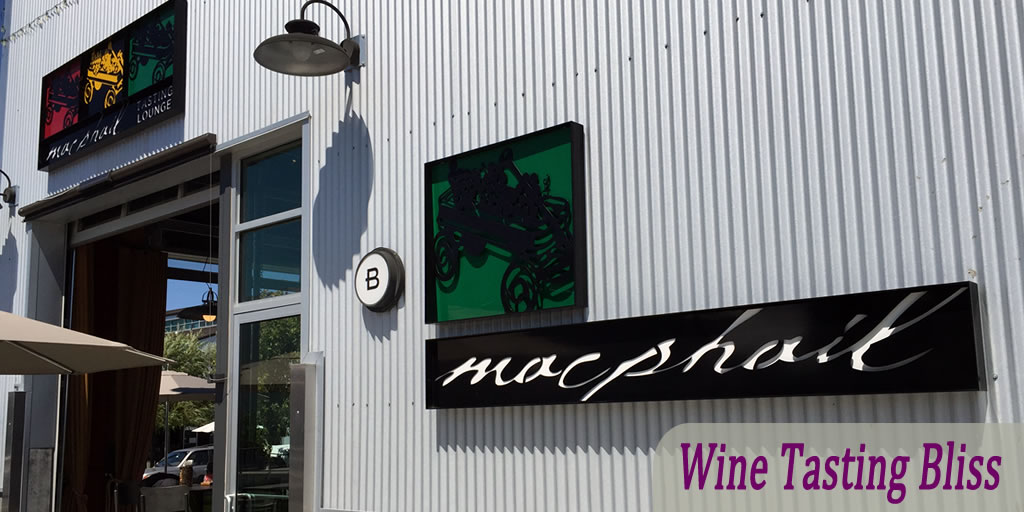 We were in downtown Sebastopol on our "Champagne and More" tasting tour, and life was looking pretty good! Bill Shortridge of the Merry Edwards Winery had recommended a lunch spot, called Zazu, that nothing short of incredible. More on that in a later post. Given the strength of Bill's first recommendation, we couldn't wait to check out the tasting rooms that he recommended. First on our list was the tasting room for MacPhail Family Wines.

We were in "The Barlow", a trendy little corner of Sebastopol full of shops, restaurants and ,yes, tasting rooms. This is quite a nice place to walk around and experience the best things in life! Parking is a bit dear, so take the first open space you find. Once parked, though, fun things abound!
Red wagons to heaven
The MacPhail tasting room (or "lounge" as they called it) was visually stunning, even from a distance. The exterior was clad in corrugated aluminum, with a raised patio wrapped around the building filled with umbrella tables. As we approached, we saw that nearly every table was occupied by happy wine tasters, sipping MacPhail wine and people-watching. We also noticed an unusual population of dogs. This seemed like our kind of place!
We entered the lounge and discovered the next object d'art: a tower of red wagons extending skyward into the upper reaches of the building. We also met the tasting room dog, Beau. Now we were CERTAIN that this was our kind of place!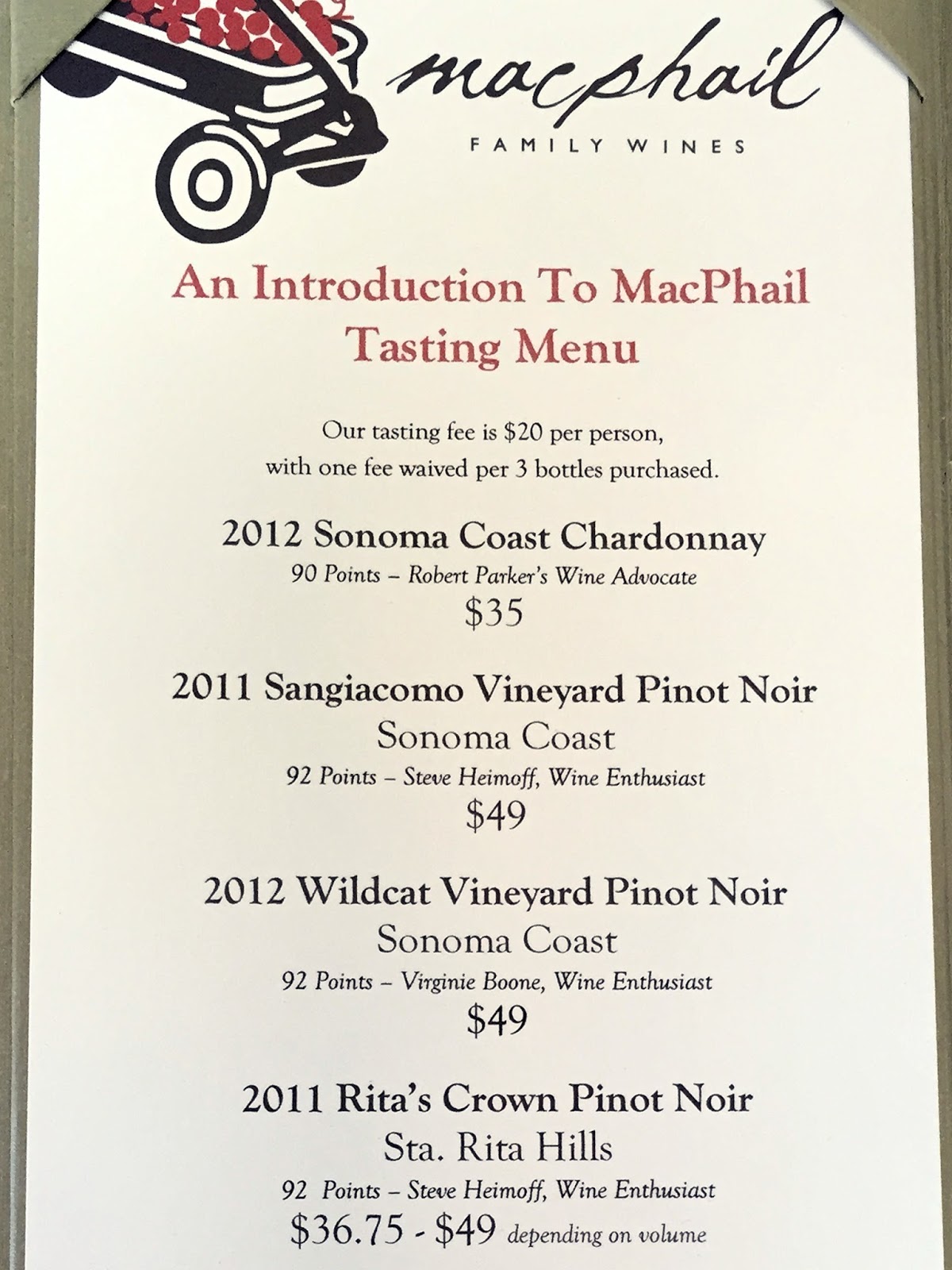 We made our way to a table and took a look at the tasting menu. Wow! This was shaping up to be an intense experience. Four wines – a Chardonnay and three Pinot Noirs – that each earned at least 90 points from Wine Advocate or Wine Enthusiast.
We were welcomed by our wine guide and set up with glasses as we learned that MacPhail Wines focuses on small-lot, eco-friendly wines. Thanks to the talents of owner/winemaker James MacPhail, producing under 5,000 cases a year almost guarantees selling out most vintages.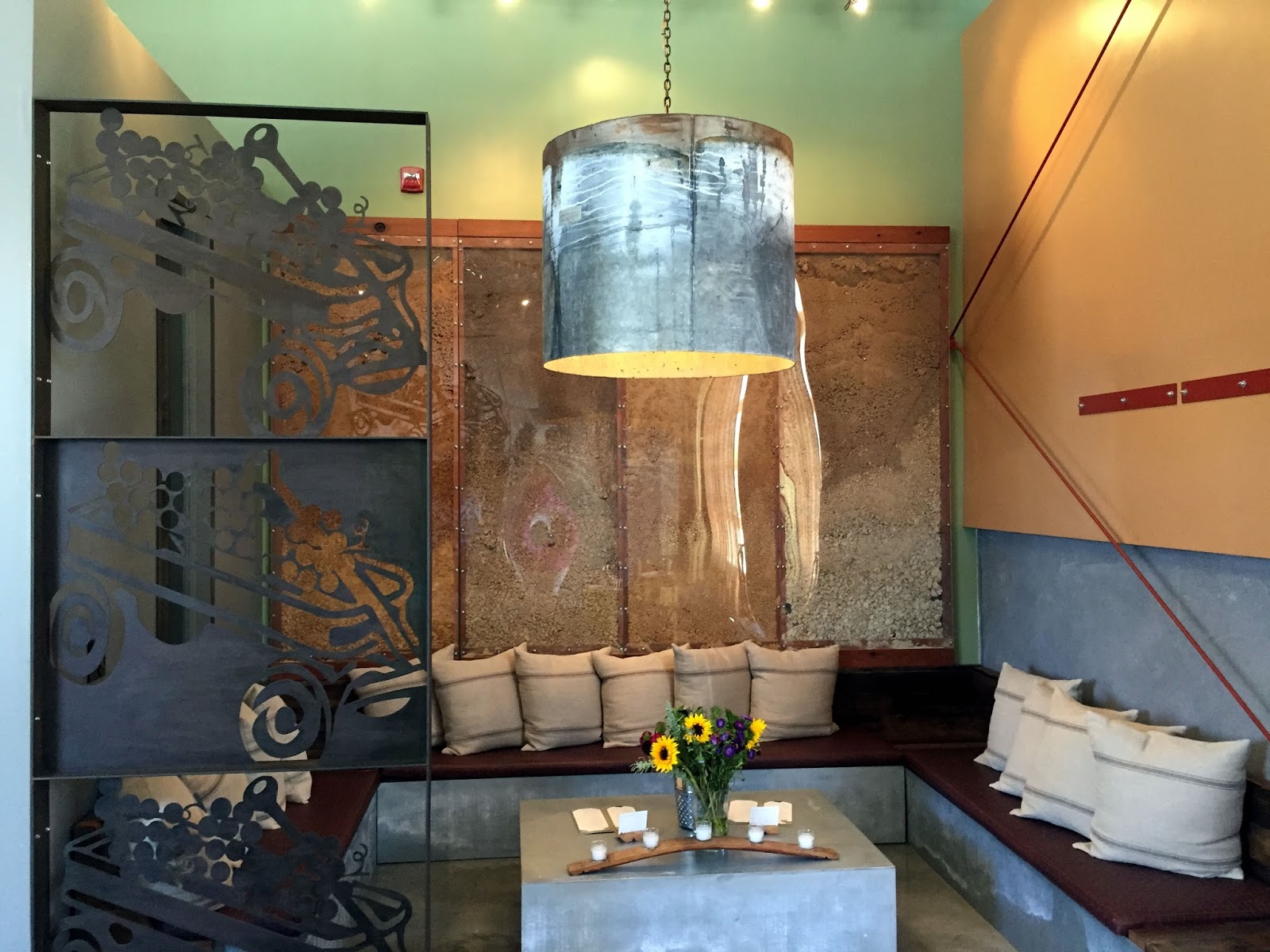 Beautiful wine, beautiful setting!
The 2012 Sonoma Coast Chardonnay was bracing, with a pleasant minerality and fruit balance that swept away the lingering memories of lunch and made us think of sipping on this amazing Chard on a warm summer evening.
With the lowest-scoring wine out of the way, we move on to their 2011 Sangiacomo Vineyard Pinot Noir. This Pinot was my favorite, but not Judi's. I loved the bracing tannins and black cherry notes. The finish seemed to last for minutes! Perfect for my tri-tip, especially when I have been over-exuberant with the Pappy's Rub.
Sneaky pic of Beau
Our next taste was their 2012 Wildcat Vineyard Pinot Noir. The same lovely cherries, plus blackberries in waves, but with much gentler tannins. Something that Judi and I could both appreciate!
Last but not least on the tasting menu was their 2011 Rita's Crown Pinot Noir. Yet another unique Pinot, with sweet and tart fruit notes and a complexity to be admired. This one was just about on our "take me home with you" list until a surprise pour appeared.
Yes, we weren't done yet! We next tasted their 2012 Pratt Vineyard Pinot Noir. We tasted dense layers of fruit, with leather and just a bit of spice. The lack of tannins made this incredibly drinkable. You guessed it, we bought one of these for later!
We had more to explore in Sebastopol, so we purchased our wine and set off for our next tasting.
Cheers!
---
About the Author
: John grills a mean steak and is always in the market for another wine fridge. Believes that if a winery has more than 10 employees, it's probably too big. Buys wine faster than he drinks it, but who cares?
---
It pays to subscribe!
We will send you a brief email whenever there's a new post, so you'll never miss an article. We promise not to be a pest. Unsubscribe any time you like. And, of course, we won't let ANYONE else use our subscriber list. By subscribing, you agree to our
Privacy Policy
.
So go ahead,
click here to SUBSCRIBE
!