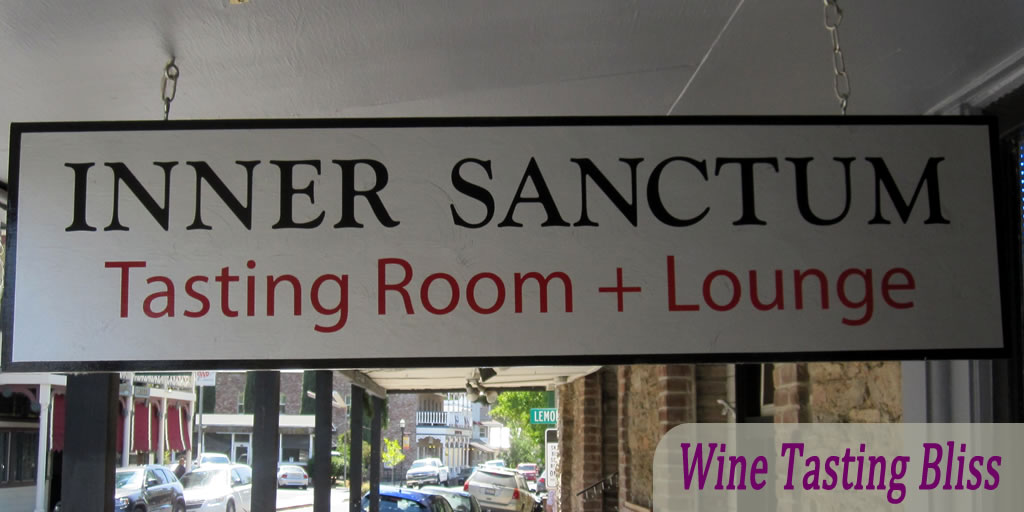 Jamestown California is intentionally caught in a time warp. Clinging to the gold rush era, the picturesque main street is chock-full of antique shops, restaurants and even a real-life gold panning supply store. What brought us there, you ask? Why some lovely wine tasting rooms, of course! Our first stop: Inner Sanctum Cellars.
There's an antique jail!
The morning after a packed day of wine tasting at Mineral Wines, Ayrael Vieux, and Tanner, and even a wine club party at Irish Family Vineyards, we enjoyed a hearty breakfast in Arnold and headed for Jamestown. We hoped for some fun wine tasting and a nice lunch before we drove home and returned to reality. We drove on winding roads through gold country, noticing the shocking decline in water levels in the rivers and lakes. After a minimum of wrong turns, we reached Jamestown. Our first happy discovery: a great public parking lot in the center of town. Our car and our wine purchases from the day before rested comfortably in the shade (and in our purpose-built wine cooler) while we strolled the sidewalks of yesteryear, ready for our first tasting room.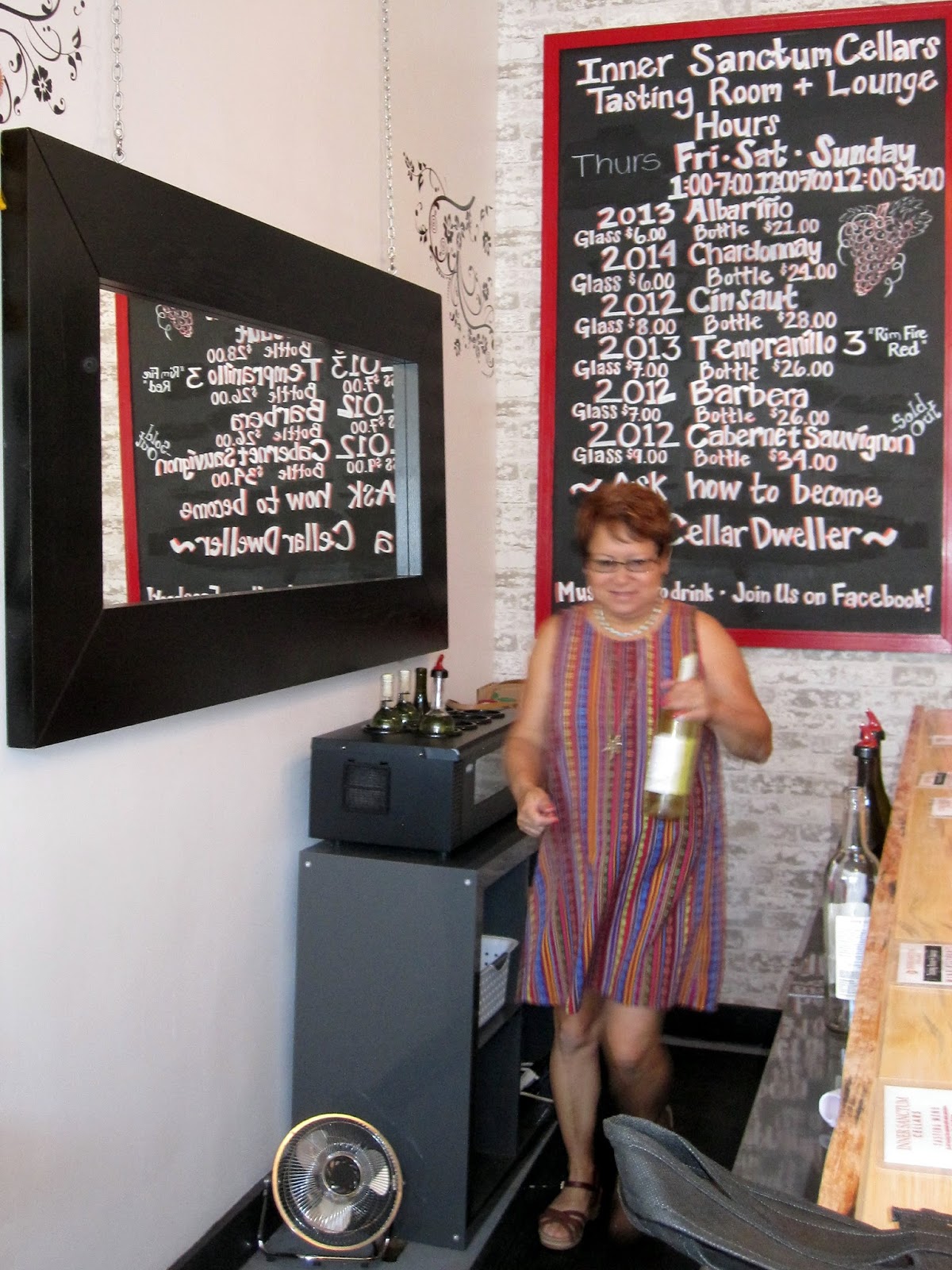 Karen fetching more wine
Mere steps from the parking lot and city park was a cheery sign inviting us to enjoy the Inner Sanctum Tasting Room + Lounge. Admittedly, Inner Sanctum is not a familiar label for us, but we are always ready to discover a new winery! We entered and were immediately greeted like long-lost relatives by owner Karen Luckhardt. She was so happy to meet us that we couldn't help but feel at home. Open for less than a year, this tasting room seemed to have decades of character right from the start.
The bar itself in the tasting room was milled from a tree cleared from the 2013 Yosemite Rim Fire. Typically, timber is not sold from Yosemite, but the volume of fallen trees cleared during fire fighting made a variance from this rule appropriate. The gorgeous live edge wood treatment gave the new tasting room a warm and established feel. Over the coming years, this bar will take on even more personality as it responds to spilled wine and happy customers.
Happy people, warm vibe, enthusiastic on-site owner; all good signs, but what about the wine? What about the wine? We settled in and resolved to answer this burning question. It is a tough job, but somebody had to do it. As usual, we shared a tasting to keep everything under control, and jumped in for our first taste, their 2013 Albarino that they called Quixote. We celebrated the smoke and spice in this invigorating kick-off to our day of wine tasting.
We noticed that all of their wine bottles were topped by a colorful disk of wax. We asked Karen about it, and she told us that this was a happy intersection of cost control and tasting room efficiency. Conventional foil seals are expensive if not ordered in large quantities, so she chose to use wax to form a solid seal over the cork. When she thought to designate each varietal with its own unique wax color, so pulling a customer's order became as simple a "pull 2 reds and 3 blues". What a great idea!
Next we tasted their 2014 Verdeja, called Mateo the Matador. Nice notes of citrus (especially pink grapefruit) and honey, this is a fun summer sipping wine! Their 2014 Chardonnay (Dwell in Joy) was surprisingly sweet. We larned that this was caused by the premature cessation of fermentation. The yeast's conversion of sugar to alcohol was stopped early, leaving sugar behind in the wine. We found nice apple notes and some oak on its smooth finish
Their 2012 Cinsaut, called First Kiss was Judi's favorite. This hot-weather cousin to the Pinot Noir grape made a wine with nice acidity, and a bit of hay in the aroma, plus notes of cherry and lime zest on the palate. Calling a wine First Kiss sets a dangerously high bar. I thought that this wine was not as wonderful as the first time I kissed Judi, but a fine wine nonetheless.
The 2013 Tempranillo, named Torro 3, was a great BBQ wine. We tasted heavy smoke (a touchstone of the 2013 vintage, it seems), and well-balance layers of fruit including cherries and plums. The 10% Graciano component added a nice bit of zip to the finish.
Our last taste was their 2012 Barbera, call The Don. This was my favorite taste of the menu, full of personality and featuring a full, lingering finish. With hints of plum and blackberries, this is perfect for pairing with a hearty chicken paprikash.
As we prepared to leave, several bottles in hand, we mentioned that we were heading for the tasting room of Gianelli Vineyards. Karen laughed and told us that she and her husband believe that their friends, the Gianelli's, are responsible for the creation of the Inner Sanctum.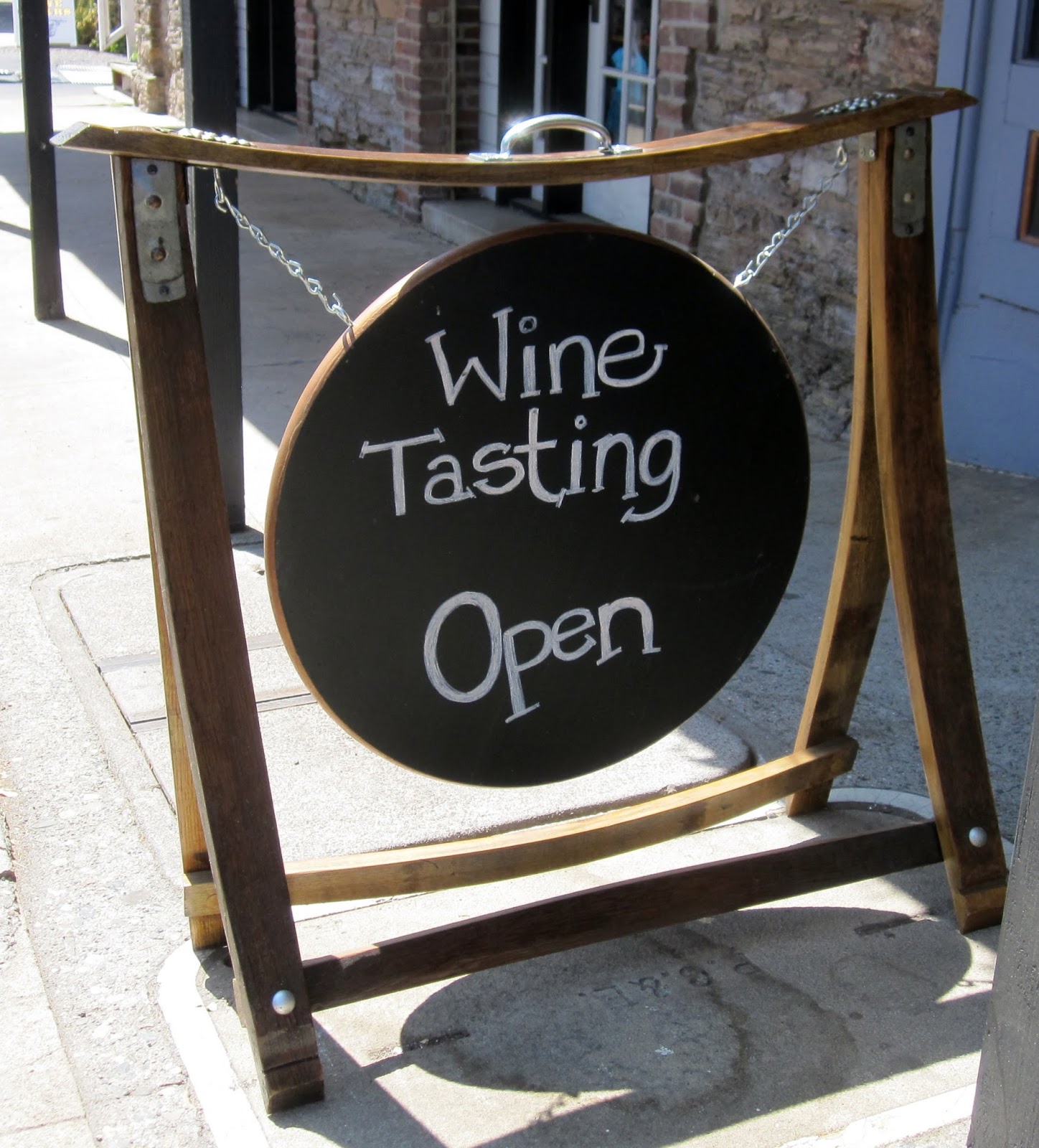 It seems that several years ago, the Gianelli vineyards produced more grapes than the market could bear. Rather than destroy the grapes, the Gianellis suggested that the Luckhardts follow their decades-old dream of opening a winery. They even suggested retaining their wine maker, Chuck Hovey, to manage the Inner Sanctum wine production. In that propitious event, a new winery was born, Chuck Hovey got his fifth wine label to manage and the Luckhardts had themselves a winery!
Cheers to that happy day!
---
About the Author
: John grills a mean steak and is always in the market for another wine fridge. Believes that if a winery has more than 10 employees, it's probably too big. Buys wine faster than he drinks it, but who cares?
---
It pays to subscribe!
We will send you a brief email whenever there's a new post, so you'll never miss an article. We promise not to be a pest. Unsubscribe any time you like. And, of course, we won't let ANYONE else use our subscriber list. By subscribing, you agree to our
Privacy Policy
.
So go ahead,
click here to SUBSCRIBE
!