So what is better than a wine tasting? Why a wine club release party, of course. The absolute best situation is a day of wine tasting followed by a wine club release party! That is exactly the situation we found ourselves in as we wrapped up our tasting tour of Murphys and arrived at the Irish Family Vineyards for their wine club harvest party.
The sun was setting on a fun day of wine tasting. We had visited Mineral Wines, Ayrael Vieux Vineyards and Tanner Vineyards, each a joy in its own way. We love nothing more than visiting boutique wineries, and we had completed a very rewarding tour. Now we were ready for the true purpose (excuse? well, you judge for yourself) for visiting the Murphys area: the Irish Vineyards harvest party.
We arrived a few minutes before the published starting time and discovered that the experienced Irish club members knew to arrive 30 minutes early! We were lucky enough to snag the last parking spot in the main lot and set ourselves to catching up with all the other party-goers.
Care to try some grapes?
The party began with a fun twist on a vineyard tour. We set off into the vines, armed with empty wine glasses to discover a table set at the end of a row of Chenin Blanc grapes. The table had a ymmy appetizer and the winery staff poured delicious Chenin Blanc wine. But first, we were treated to a bunch of Chenin Blanc grapes. Delicious grapes! It made complete sense, then, that the wine made from 100% Chenin Blanc grapes would be delicious, too. We loved the crisp, mid-sweet flavor that should pair well with cheese and crackers.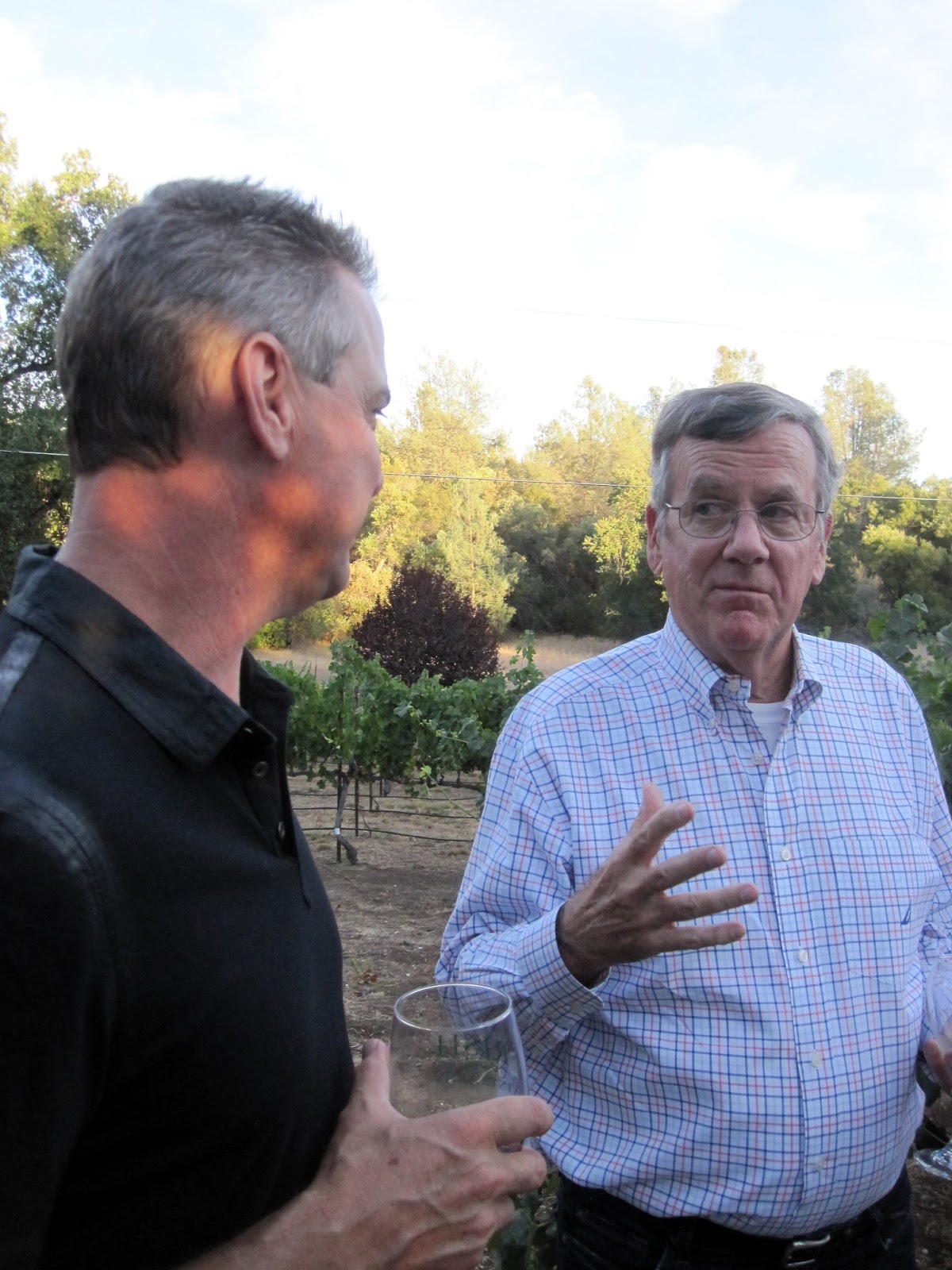 Russ Irish (l) talks wine
Once we had all had a chance to taste the grapes, the finger food and the wine, we move further into the vineyard. We next stopped at a row of Merlot grapes, where we repeated the grapes, finger food and wine sequence. We proceeded through this torture (oh, no, more grapes, appetizers and wine!) for more tables, featuring Malvasio Bianca and Barbera varietals. The vineyard was beautiful by the setting sun and wine guides at each table gave us fun facts about each grape. By the time we returned to the winery, we were well oriented to the Irish vineyard and well acquainted with the Irish wines.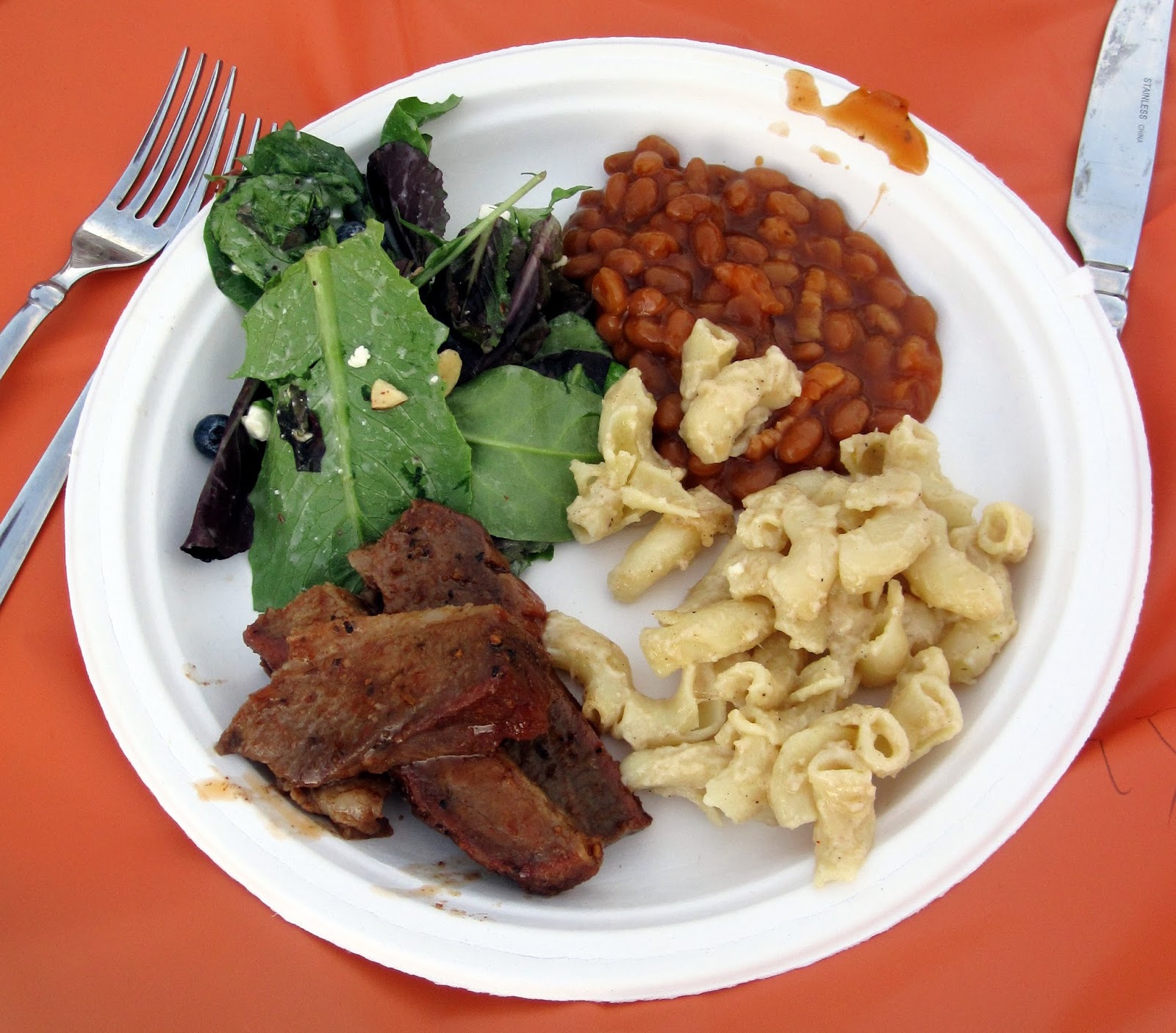 We had already had enough fun for one wine party, but this party was just getting started. We found that the barrel room had been set as a buffet line, complete with representation from every food group. We gratefully filled our plates and made our way to a table, which had already been set with bottles of red and white wine. As we settle in for some dinner, the band started to play.
Jill Warren and the Giants
Oh yes, there was a band! OK, so we're enjoying about three release parties worth of fun here. We were thrilled to hear Jill Warren and the Giants lay down rock tracks straight out of our own playlists. Jill handled lead guitar with mastery and the vocals with range that impressed. The drummer and bass guitar player kept up with her and together they produced a sound that seemed well beyond the capabilities of three mortals.
At this point the evening was just about perfect. A fun vineyard tour, a lovely dinner with plenty of wine, and great live music. Talk about the trifecta of wine, women and song (we brought our own women), this party was firing on all cylinders when the "harvest" part of the party name became even more apparent. From across the far ridge rose, you guessed it, a beautiful harvest moon. Now the night was truly perfect!
Thank you to everyone at Irish Family Vineyards for an amazing night. We can't wait to visit again.
Cheers!
---
About the Author
: John grills a mean steak and is always in the market for another wine fridge. Believes that if a winery has more than 10 employees, it's probably too big. Buys wine faster than he drinks it, but who cares?
---
It pays to subscribe!
We will send you a brief email whenever there's a new post, so you'll never miss an article. We promise not to be a pest. Unsubscribe any time you like. And, of course, we won't let ANYONE else use our subscriber list. By subscribing, you agree to our
Privacy Policy
.
So go ahead,
click here to SUBSCRIBE
!