In honor of International Sauvignon Blanc Day, the nice people at Brancott Estate kindly asked to introduce us to their library of Sauvignon Blanc wines. Always up for a new tasting adventure, we gladly accepted their offer and sent our palates off to New Zealand!
Okay, so we didn't ACTUALLY go to New Zealand. But four of us gathered in our living room and conducted a very formal, scientific analysis of three Brancott Estate wines. That means that we took notes. Actually, quite a few notes, using a reviewing sheet for each wine that captured our impression of the appearance, aroma, flavor and possible food pairings. This made for some lively discussion, because each of us had our own personal reaction to each wine and none of us were quiet about our views. There was a variety of appetizers to keep our palate fresh and provide some reference points for food pairing ideas. This was a serious task, approached in a light-hearted way.
Before the tasting, we did a bit of on-line research about Brancott Estate. Located in Marlborough, New Zealand, Brancott Estate was the first commercial vineyard in Marlborough. Starting in 1934, with sales starting a decade later, Brancott Estate (originally Montana Wines) quickly developed a reputation for quality winemaking. Sauvignon Blanc grapes were first planted in their vineyard in 1975 and soon they were New Zealand's largest producer and exporter of Marlborough Sauvignon Blanc wine.
We received three wines for tasting: their 2016 Marlborough Sauvignon Blanc, their 2016 Flight Song Sauvignon Blanc, and their 2016 Letter Series 'B' Marlborough Sauvignon Blanc. Serving a broad range of markets, these wines carry retail prices of $10, $15, and $34 respectively. In our area, many Brancott Estate wines are available at K&L Wines and other specialty wine merchants.
We started with the mostly humbly-priced wine, the Marlborough Sauvignon Blanc. Not to judge a wine by its price, but we were cautiously optimistic about this wine as we opened it. Wow, were we impressed! This is a great value, comparing well with California Sauv Blancs demanding far higher price tags.  The wine was clear, with a medium wheat color, with a zesty aroma bringing images of mango, grapefruit, hibiscus and ripe pineapple. The crisp flavor began with a sparkle on the tip of the tongue, proceeding to tart apple and lychee nut notes. A lingering, somewhat acidic finish, slightly off dry, made us immediately yearn for another sip. This wine made us wish that our pool was open and the weather was warm. This wine is perfect for a summer afternoon of watching the kids frolic in the water. Food pairing ideas ranged from asparagus in hollandaise sauce to halibut in a lemon caper sauce. We were all fans of this wine!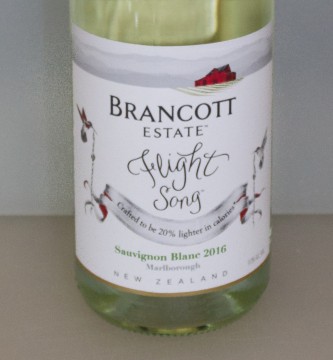 Wine number two, "Flight Song," was very pale straw in color, nearly clear. The aroma was equally restrained, with faint notes of lavender and lemongrass. Described by one taster as "Chenin Blanc's brother," this wine showed flavors drawn from grapefruit, apple peel, and even a bit of Kalamata olive. The finish emphasized the robust mouth feel and astringency of pineapple. This wine showed enough personality to pair well with Sopressata and Brie cheese. One of us suggested Bratwurst with spicy mustard. All in all, a nice backyard BBQ wine!
The third wine, "Letter Series 'B'," was the premium wine in the grouping. Poured into our glasses, we saw that this wine was just a bit darker than wine one, reminiscent of ripe wheat. Clean aromas of guava, grapefruit and strawberry served as an enticing lure to the first sip. And that first sip! A buttery mouth-feel with layers of guava and pitted fruit. This wine was a bit more sweet than the others, with an attractive complexity and somewhat less acid. The lingering, fruit finish drew us all back for another sip. As the wine warmed in the glass it showed even more fruit and maturity. This wine provides a mellow canvas for food pairings, handling nearly any cheese or even red meat.
With our formal tasting completed, we adjourned for a meal of roasted chicken. Of course, we brought the Brancott wines along! We continued to compare and contrast the wines as we enjoyed our meal. Not all of the wines survived the meal, a testament to the flexibility of Sauvignon Blanc. We completed our evening by raising one last toast to the fine people at Brancott Estate. Many thanks for this wonderful introduction to your wines!
---
About the Author
: John grills a mean steak and is always in the market for another wine fridge. Believes that if a winery has more than 10 employees, it's probably too big. Buys wine faster than he drinks it, but who cares?
---
It pays to subscribe!
We will send you a brief email whenever there's a new post, so you'll never miss an article. We promise not to be a pest. Unsubscribe any time you like. And, of course, we won't let ANYONE else use our subscriber list. By subscribing, you agree to our
Privacy Policy
.
So go ahead,
click here to SUBSCRIBE
!