We love discovering new wineries, especially the less well-known, smaller ones. We rarely venture too far from home, but we were recently treated to an introduction to quite a few European wineries — without leaving California!
About a year ago we were invited to meet French and Spanish wineries at an event sponsored by the Association pour la Promotion des Vins et Spiritueux en Amérique du nord which, happily, is known as the APVSA. We had an incredible time getting to know these boutique wineries last year, so we were beyond excited to be invited to return for a second annual event.
This year's event was held at the Hotel REX on Sutter Street in San Francisco, near Union Square. There were 19 wineries on the roster of wineries being presented so we knew that we were in for a delightful experience. We also knew that it would be impractical for each of us to taste each of the wines being offered. Divide and conquer was never more important as a strategy!
We were joined for the tasting by Rob and Brian, both occasional contributors to the Bliss, which was both fun and helpful when trying to explore all of the wineries. Here are some of Brian's notes:
Vignerons Propriétés Associés (myvpa.fr)
Domaine Allégret Côtes du Rhône contains
70% Grenache and 30% Syrah. Well-balanced rouge with Grenache leading the way. Bouquet has nice black fruits, cooking spice, a hint of herbal undertone. Attack is juicy ripe fruit, with spice coming through on the midpalate and subtle, ripe tannins on the finish. Medium bodied, with no sharp edges, this is a nice red to drink over the next few years with charcuterie, roast tri-tip or other beefy meats, or mushroom flatbread. A flashy bottle with what looks like Avignon impressed on the shoulder of the bottle.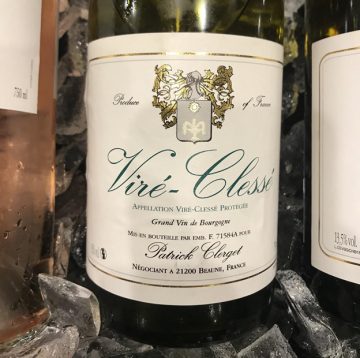 Viré-Clessé 2016 by Patrick Clerget
This white Burgundy is impeccably balanced. A round midpalate is offset nicely with beautiful acidity. Stone fruit is ripe but not forward or overdone. The persistent finish reveals no evidence of oak, letting the wine itself shine through. This wine would absolutely sing with a risotto or creamy pasta dish.
Rioja "Blanco Fermentado en Barrica" by Bodegas Cornelio Dinastía
As you might guess by the name, this white Rioja is fermented in barrel, for 10 months in new French oak to be precise. Yielded from 100-year old vines, there is ample complexity in the fruit, with delicious acidity cutting through the round midpalate and a balanced, persistent finish.
2014 "Dinastía" Crianza Rioja Rouge by Bodegas Cornelio Dinastía
This Crianza was a highlight of the Spanish offerings. By its Crianza classification you know it has about 2 years of aging, at least one of which must be in oak. In this example, 100% Tempranillo relaxing for 14 months in new American oak has wrapped the ripe red fruit in a robe of chocolate, which would be overbearing if not for the sizable, ripe tannins. Coming from 40-year old gobelet-trained (which more "casual" regions such as South Africa and Australia refer to as "bush-trained") vines, this Crianza is beautiful in the glass, a bright cherry red that is beginning to develop a bit near the rim. Already 4 years off the vine, the tannins and fruit imply another decade of life, but honestly it's delicious today. Pair with a full-bodied stew or a nice roast.
Here are a few more of our memories from the day:












---
About the Author
: John grills a mean steak and is always in the market for another wine fridge. Believes that if a winery has more than 10 employees, it's probably too big. Buys wine faster than he drinks it, but who cares?
---
It pays to subscribe!
We will send you a brief email whenever there's a new post, so you'll never miss an article. We promise not to be a pest. Unsubscribe any time you like. And, of course, we won't let ANYONE else use our subscriber list. By subscribing, you agree to our
Privacy Policy
.
So go ahead,
click here to SUBSCRIBE
!