Winemaking in Anatolia was started 7000 years ago and Turkey is one of the world's oldest wine countries. However, people don't know much about Turkish wines. There are magnificent grape varieties and blends you'd be glad to know. So I want to give you an insight about Turkish winemaking through a special wine route in the Aegean part that I periodically visit.
Turkey is home to 600–1200 indigenous varieties of Vitis vinifera, while less than 60 of these are grown commercially. Anatolia, Marmara and Aegean regions are the leading wine producing regions. Today, Aegean Region holds more than half of Turkey's production. You can find both native grapes and international varieties. Sémillon, Sauvignon blanc, Chardonnay, Merlot, Cabernet Sauvignon, Shiraz, Pinot Noir are very common here; while local grapes are Bornova Misketi, Urla Karası, Çal Karası and Kalecik Karası.
Like I do whenever I travel to a place where I can discover about regional wines, I love making visits to wineries in my own country. Especially if there is a specific wine route that I can visit winemakers one by one and have the chance to compare while tasting their samples. In Aegean Region, there is such a wine route named "Urla". It is located in Izmir which is one of the most beautiful cities of Turkey. Since I go to Izmir very often, one day I decided to visit Urla Wine Route. Then it became a regular thing. There are 5 producers in Urla. All are authentic and unique. Only one of them markets their wines into stores and supermarkets; while others sell exclusively in their places. So, here are what I have learned about those five producers during my visit on the Urla Wine Route.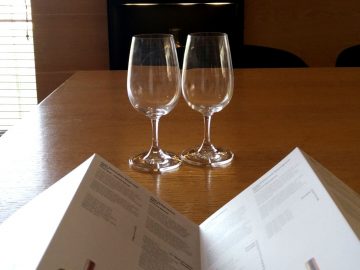 Urla Winery: They have a very special blend wine named Nero d'Avola-Urla Karası which is  a Platinum winner at the 2016 Decanter World Wine Awards. It is a mix of the native variety Urla Karası and the Sicilian grape Nero d'Avola. While Nero d'Avola is not common outside of Italy, it was somehow found in Urla territory and they managed to process it with a special technique. Then they blended it with 10% of Urla Karası which was rescued from extinction. It could be my favorite wine in Turkey.
USCA: This is a small winery with a beautiful tasting room overlooking the vineyards. They have the "Sonnet" wine series inspired by the sonnets of William Shakespeare, and each bottle includes a quote from the poet. I found this quite nice, as their wines have a poetic expression.

Urlice: This is another boutique winery on the Urla Wine Route. You can taste their wines while relaxing at the Vineyard Cafe. After trying too many wines, it is a good idea to hang out there for a while and watch the vineyards.
MMG: Unfortunately, it was closed when I arrived their place. It is located very above the sea level, I assume it would have been a pleasure to drink wine there.
Mozaik: They are known with their brand "Mahrem" which is a game changer. They are growing rare varieties such as Corinto, Montepulciano, Tannat, Marselan, Ekigaïna, Rebo. They have magnificent blends and been awarded in many international wine challenges. Owners also raise racehorses, so you can see beautiful horses while sipping your wine.
Even though Turkey can not really use its potential when it comes to winemaking, because of the obstacles and restrictions; there are still great producers and delicious wines waiting for to be discovered. Urla Wine Route is one of them. Winemakers in Urla have been aiming to revive the wine culture. They offer characteristic, food-friendly wines of Aegean coast. Other winemaking regions in the country as well are hidden treasures. If you intend to make a visit Turkey one day, you will be impressed by the range of good wines.
---
About the Author
: Beril is a Management Engineer who is passionate about wine and interested in culinary arts. Besides, she loves dancing and travelling. Currently living in Istanbul, Turkey. She has a food blog where she shares recipes with her own style. You can find her blog at Berylicious.com.
---
It pays to subscribe!
We will send you a brief email whenever there's a new post, so you'll never miss an article. We promise not to be a pest. Unsubscribe any time you like. And, of course, we won't let ANYONE else use our subscriber list. By subscribing, you agree to our
Privacy Policy
.
So go ahead,
click here to SUBSCRIBE
!