In our family, birthdays are kind of a big deal. Lots of celebration, thoughtful gifts, great food, and of course, some wonderful wine tasting. With the shelter in place order still in effect, celebrating some recent birthdays required more than a little creativity.
So let us start with full disclosure: I am officially old. This was one of those milestone birthdays and I was not entirely thrilled. Offsetting those feelings was the enjoyment that I get every year from sharing a birthday celebration with our daughter-in-law Sarah, who's birthday falls very near mine. We have a lot of interests in common, including wine tasting, so a combined celebration is great.
This year's celebratory challenges were ably met by my wonderful wife, who sourced miniature cupcakes and sparking wine for a great wine pairing event shared over FaceTime. She ordered an amazing assortment of beautiful miniature cupcakes from "Baked by Melissa" via Amazon and had them delivered to each family member's house. She completed the pairing by ordering three different sparkling wines to be delivered by Drizly also. The stage was set and the family was excited. It was time to get everyone online and start our celebration, albeit remotely.
We had three wines, ranging from a familiar favorite to the new and unexplored. First up was the Chandon California Brut Sparkling. This is one of our Go-To sparkling wines, with the classic hue in the glass and tiny bubbles that last and last. One whiff of the wonderful aroma and the family party was off to a great start. Dry, yet buttery on the mid-palate, with enough lemon zest on the finish to stand up to those tiny little cupcakes. I particularly liked a sip of the Brut and a nibble on the chocolate cupcake with multi-colored sprinkles.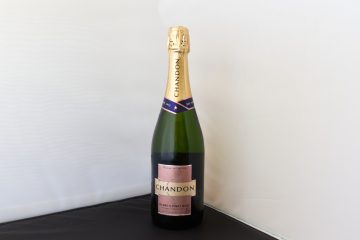 We next ventured a bit off the beaten path with a Chandon California Blanc de Pinot Noir Sparkling. This sparkling was my favorite of the three, combining Pinot Noir and Meunier varietals to great effect. The notes of dark fruit, with especially persistent notes of raspberry drew smiles on each of the dancing FaceTime squares of family members. The Pinot Noir was particularly present in the aroma. Lower minerality made this a good pairing with most of the cupcakes, and by now we had each found our favorites among the somewhat intimidating assortment.
Our third and final wine was new to all of us, a Veuve Ambal Blanc de Blancs. Made from 80% Macabeo grapes, we noted the very pale appearance in the glass and the lovely stream of tiny bubbles that danced toward the surface. It was light and dry, with nutty, biscuity notes on a base of citrus, leading to a slate finish. We had all become experts in the flavor profiles of the tiny cupcakes (there are multiples of each flavor, so no competition for the prettiest ones) and we thought that this sparkling paired well with the explosive sweetness of the generously iced cupcakes.
With our tasting flight complete and a remarkable number of the tiny cupcakes eaten, we all wished each other good health and thought that we would do more virtual tastings together until it is safe to venture out for the real thing. Here's hoping that your sheltering is going well too!
---
About the Author
: John grills a mean steak and is always in the market for another wine fridge. Believes that if a winery has more than 10 employees, it's probably too big. Buys wine faster than he drinks it, but who cares?
---
It pays to subscribe!
We will send you a brief email whenever there's a new post, so you'll never miss an article. We promise not to be a pest. Unsubscribe any time you like. And, of course, we won't let ANYONE else use our subscriber list. By subscribing, you agree to our
Privacy Policy
.
So go ahead,
click here to SUBSCRIBE
!