Alsace, a French wine region famous for its delicious whites, is so inviting and fascinating that you can suddenly find yourself planning a trip there only to drink wine, as I did last year.
I was craving aromatic, decent white wines; so I booked my ticket in an instant and got ready for a drinking journey. It's a perfect place for traveling alone as well as for a romantic weekend getaway or for a family vacation. You can spend your days in the route by discovering vineyards, visiting wineries and tasting different grape varieties. In addition to all these, Alsace offers you beautiful views, worth-to-see touristic spots and delicious foods that you can pair with your wines.
On the Alsace wine route in southeastern France, I chose to go to Colmar by adding an extra trip to the village Turckheim and the vineyards around. I had three days at total and I spent two of them in Colmar and one in Turckheim. Before my journey, I just made a quick search about the region characteristics but didn't prepare a list of wineries or restaurants to visit. I wanted to discover good wines by taking advice from locals and I wanted to embrace the random flow of this journey, rather than creating expectations.
While red is not very common, 90% of the wine production is white in Alsace and the main grape varieties are Riesling, Muscat, Gewurztraminer, Sylvaner, Pinot Gris and Pinot Blanc. Also, Crémant d'Alsace is a very typical sparkling wine, which was the very first thing I drank when I arrived Colmar. I went with a recommendation that evening and once I took my first sip, I was fascinated by fresh crispness of Crémant. It is produced with a traditional method of secondary fermentation as in Champagne, but it is much more a humble version of Champagne.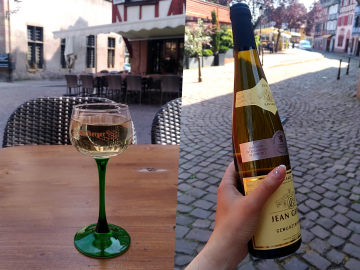 I was focused on experiencing Alsace varieties in particular, therefore my second choice was a Gewurztraminer. I liked it because it was an aromatic wine with low acidity, which I could be comfortably drinking. Sugar level can vary but it's relatively sweet, so it is a type of wine I would prefer to drink straightly rather than pairing with food. It is similar to Muscat which is also aromatic. Wherever you go for a drink in Colmar, whichever grape variety you are up to try; there are lots of good places to offer you decent wine experience. I, myself, enjoyed every single drop of the wines I tried. They are even serving with traditional Alsace style wine glasses that gives you extra pleasure. Bottles on the other hand, are in flute-shaped just like German wines. As the region is located along the River Rhine next to Germany, it is easy to see the German influence on wines; like the basic similarities on Riesling, except that they produce dry as opposed to the usual.
I had a great time in Colmar tasting wines in every corner, so I decided to go discover where the grapes come from. I set out towards the villages near Colmar. Vineyards are everywhere and you can't take your eyes off of them. As I passed through each of villages, I watched them through the window, and meanwhile researching the region. Road was stunning. Soon afterwards, I found myself in Turckheim which is one of the most significant wine villages in Alsace.
Turckheim is mostly known as Grand Cru Brand. In this quiet, authentic village you can come across the vineyards while passing through its tiny streets. I found out that they practice some organic and environment-friendly vineyard techniques. You can find all traditional Alsace wines here, also you can try blended wines like Edelzwicker. I found Edelzwicker quite exciting as it contains more than one Alsace grape varieties and matches with many dishes. There are few producers here; three inside the city, and a couple of more outside the center. Wine stores and restaurants are located in the heart of village, you can try the wines that Turckheim offers you and get amazed.
I wish I had more time to discover all bottles in Alsace. On my last day before leaving, I was almost going to have wine for breakfast, but double espresso outweighed. All in all, I was satisfied with my drinking trip and I realized that Alsace is an underrated treasure. It is much more than La Petite Venise or other beautiful sceneries. It is undoubtedly worth to discover. If you do, don't come back without eating Tarte Flambee and seeing iconic storks.
It is a great feeling to come across delicious wines in the places you randomly enter. Experiencing this in Alsace; highly recommended!
---
About the Author
: Beril is a Management Engineer who is passionate about wine and interested in culinary arts. Besides, she loves dancing and travelling. Currently living in Istanbul, Turkey. She has a food blog where she shares recipes with her own style. You can find her blog at Berylicious.com.
---
It pays to subscribe!
We will send you a brief email whenever there's a new post, so you'll never miss an article. We promise not to be a pest. Unsubscribe any time you like. And, of course, we won't let ANYONE else use our subscriber list. By subscribing, you agree to our
Privacy Policy
.
So go ahead,
click here to SUBSCRIBE
!