Our Russian River adventure was in high gear! We had completed great tastings at Korbel Champagne Cellars and the Hartford Family Winery and were really enjoying the great weather with the top down. Up next? The Moshin Vineyards!
The first thing we discovered was that the vineyard's address was judged invalid by our GPS. Forced to navigate the old fashioned way, we found the tasting room without any helpful hints from our little electronic friend. Happily, we still have a few brain cells that can translate a street address into driving directions. In just a few minutes, we found ourselves in the lot, selecting a shaded parking space to keep our wine cool. Hint: when you visit (and you should) drive past the obvious parking spots out in front, around toward the processing area. You will find a nice, tree-lined parking area that will keep your car and wine cool.
From the instant we approached the tasting room door, it was clear that art and aesthetics were highly valued. From the sculpture guarding the entrance to the myriad of artistic streamers hanging from the ceiling to the framed art on the walls, our eyes were stimulated before we took our place at the tasting bar. The tasting room was full of sunshine and positive vibes. A wine club member was picking up her release pack, and it was clear that she enjoyed the staff as much as she enjoyed the wine.
The tasting got off to a great start, with their 2014 Rosé of Pinot Noir. The wine was a pleasant surprise! Not at all sweet, with a nice balance of fruit and acid. We thought that this would be a great pour at a baby shower (still no grandchildren, can you tell?) or spring luncheon.
An early favorite for both of us was their 2011 Chardonnay. That may shock our frequent readers, as we rarely rave about a Chardonnay. This wine, however, was not a typical Chardonnay at all. Nice notes of citrus with a zesty finish, without the overdose of butter that normally keeps us away. We actually set aside a bottle to follow us home!
Another favorite was their 2012 Sonoma County Whole Cluster Pinot Noir. We learned that this particular wine was made from whole grape clusters and fermented in a closed container. It isn't clear how these factors influenced the resulting wine, but we found it a unique representation of the Pinot Noir grape. Lots of floral and dark cherry notes with very little pepper. We decided that a bottle of this wine needed to come home with us, too.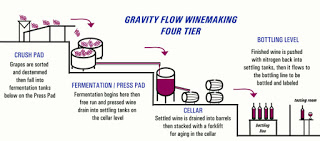 Credit: Moshin Vineyards
Our education continued, as we learned that the Moshin winery used a complete "gravity flow" system to make their wines. That means that the crush pad is placed at the top of a hill, with the fermentation area located downhill from it. The barreling room is further downhill, with the bottling area all the way at the bottom. All this layout work lets the wine maker advance the juice through each stage of preparation using gravity to all the work, without using any pumps. Pumps can affect the wine in unfortunate ways, so gravity flow wine making is considered the most gentle way to transform picked grapes into wine.
Properly educated on some of the finer points of wine making, we finished up our tasting flight with a 2012 Zinfandel Port, lyrically called Whisper in the Dark. The label on the bottle was whimsical art that fit in the hand. This Port was amazingly light on the tongue with a nice Zin pop at the finish,without the jam and mustiness that can afflict many Ports. All in all, a great gateway Port that will attract a lot of new believers to the Port fold.
We had hopes of visiting a few more wineries before dinner, so we packed up our wine (we kept it down to 2 bottles, woot!) and wished everyone well. Off we went, in search of our next tasting room.
Cheers!
---
About the Author
: John grills a mean steak and is always in the market for another wine fridge. Believes that if a winery has more than 10 employees, it's probably too big. Buys wine faster than he drinks it, but who cares?
---
click here to SUBSCRIBE
!