Part of my Mother's Day Sonoma "Champagne and More" Wine Tasting Trip was a stop at the Thomas George Estates Winery.  The drive to the winery winds through beautiful woods fresh with country air (versus air that comes from living at the junction of 580 & 680), roadside blooms and birdsong. Upon our arrival, my spirit leaped as I saw that we would be tasting in a cave.  On a warm summer day in wine country, a cool, wine-filled cave is very appealing.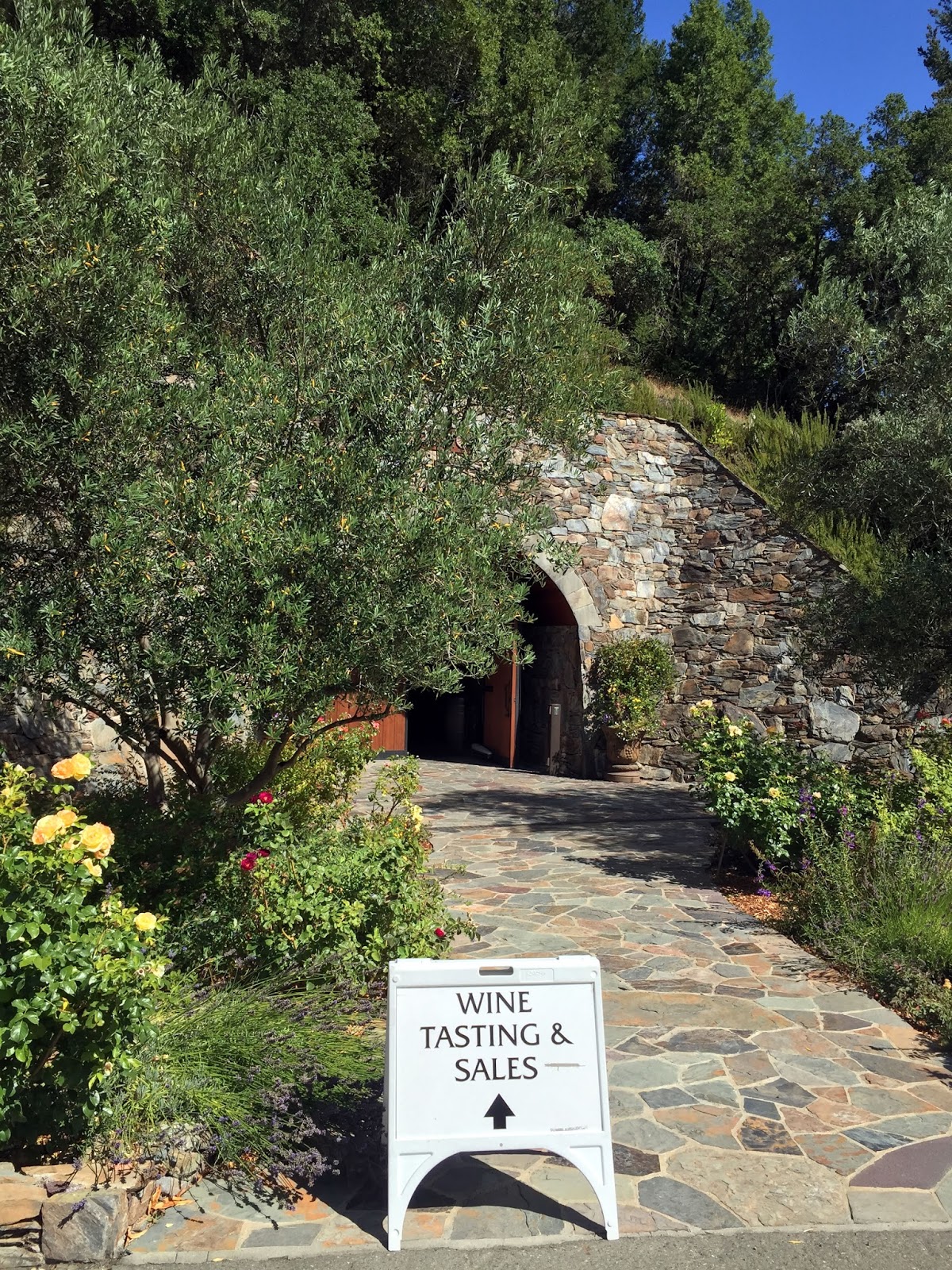 After entering past polished hand-crafted furniture and espying cast stone wine eggs further within the cave, Jessica greeted us and led us to a lovely bar area for a semi-private tasting – talk about feeling cared for and attended to! Jessica is incredibly knowledgeable and enthusiastic about all aspects of the Thomas George Estates Winery and wine making.
The Thomas George Estates Winery is the first Sonoma winery to fully embrace and put in concrete eggs (versus steel tanks, for example) as containers for the early winemaking process. These were carefully formed and installed by Sonoma Cast Stone in Petaluma.  The concrete breathes, letting carbon dioxide bring yummy wine-forming bacteria up from the bottom of the egg.
Our tasting area
John Wilson has been the winemaker at the Thomas George Estates Winery for a little more than a year and a half, following Chris Russi, the Thomas George Estates Winery's original winemaker when the property was purchased in 2007.  Chris is now at Comstock on Dry Creek in Healdsburg, and these wines we will be trying soon.
Jessica
Jessica first poured their 2012 Chardonnay, Baker Ridge, Estate, Russian River Valley.  It spent 31% of its life in concrete and 69% in French Oak (37% new), coming out of the bottle with a clear gold, brilliant color and with apple, spice and citrus on the nose.  It is in between the traditional buttery California chard and the new bright fruit chards, a beautifully complex, crisp, and balanced sip-by-the-pool, serve with appetizers, or pour with a shellfish or chicken dinner.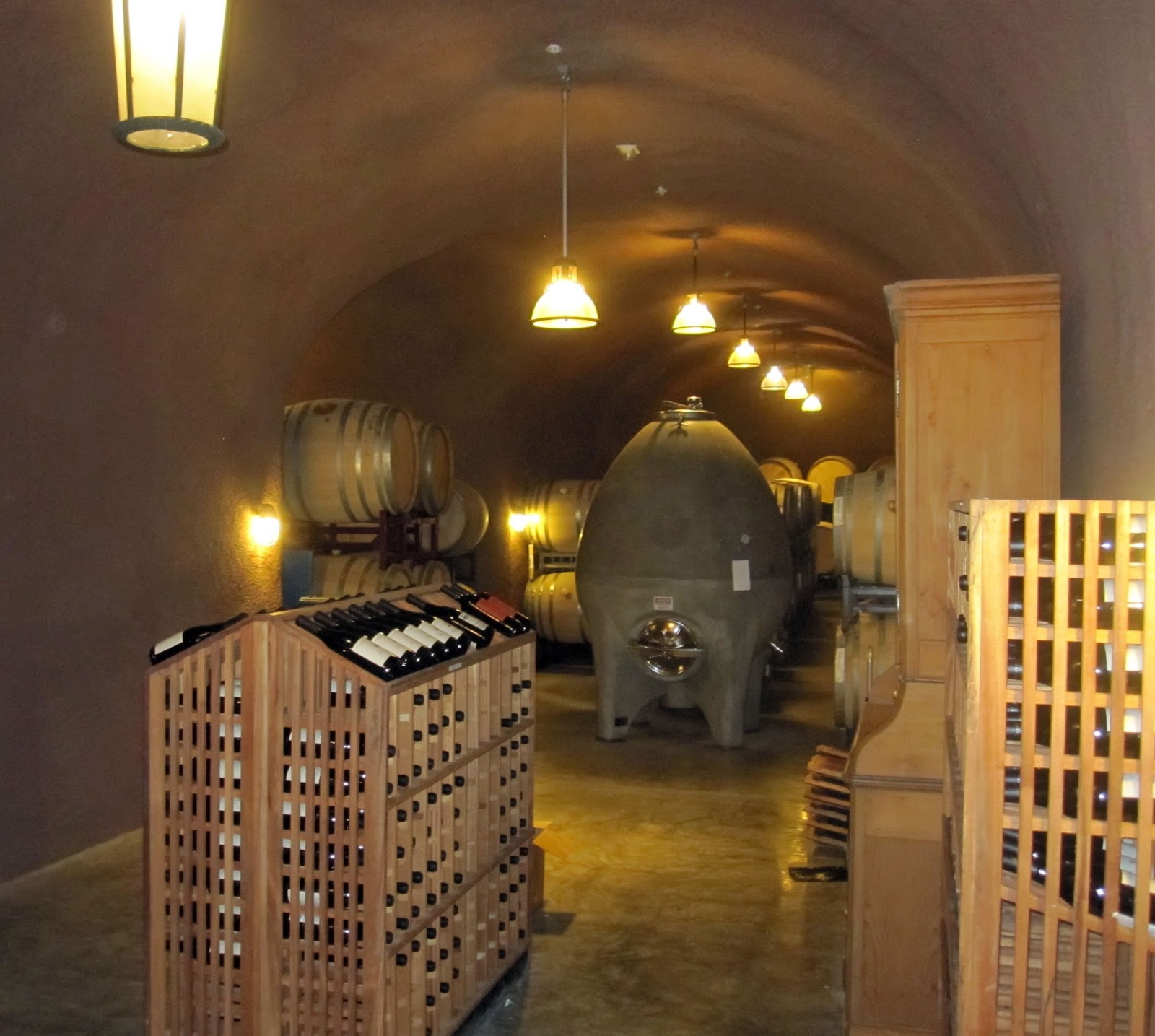 Yes, that's an Egg!
The Thomas George Estates Winery 2012 Chardonnay, Cresta Ridge, Estate, Russian River Valley is bold and classic.  Our palates danced with the flavors of orange, watermelon, rose petal, and peach.  The Thomas George Estates Winery offers: "The Goldridge soils prevalent at Cresta Ridge add structure to our most classically styled and structured Chardonnay."  It's a sandy, loamy soil, providing full, warm flavors to the grapes.  Time in concrete was 23% and on oak for 77%.  This is a delicious, take-all-prisoners chardonnay.
The pinots at the Thomas George Estates Winery are bright, big, and bold.  The2012 Pinot Noir, Concrete Egg, Estate, Russian River Valley does not hide any of its juicy red fruit, creamy cola, or deep leathery silky tannins.  Cresta Ridge is the coolest of the estate vineyards, giving an oomph of flavor to the grapes.
Their 2012 Pinot Noir, Starr Ridge, Estate, Russian River Valley aged 11 months in French oak.  The aroma carries a lot of fruit—strawberry, cranberry, rhubarb (maybe because I read the tasting notes before tasting).  The finish is soft tannins and warm fruit.   Starr Ridge is the warmest estate vineyard, averaging 5-10 degrees warmer.  The microclimates of wine country make for fascinating variability in same grape varietals, and this is evident comparing these two pinot noirs.  Both are lip-smacking, please-pour-me-another pinots, but very, very different.
Our final taste was their 2012 Zinfandel, Russian River Valley, a pour of perfectly balanced fruit and pepper with a tang of minerality.  These grapes were harvested from vines planted in 1885 – yes, that makes them 130 years delicious.  Jessica said the zin grapes, much like the Pinot Noirs, are hand-picked, cluster-sorted, de-stemmed, berry sorted, and then whole berry fermented.  The attention and care shows in every sip.
I can't wait to taste more of this region!
---
About the Author
: Judi never does anything short, be it children (even at 5' 10", all 3 kids outgrew her), a voicemail message, a menu for family & friends, a day of visiting wineries, or a wine pour. Especially the latter; wine glasses are large for a reason! Her daughter-in-laws and their friends have a measure called The Judi-Pour. That means we have blessedly good relationships, 'cuz her name could be attached to worse. Sparkling wines are my go-to, but there is always a time for a peppery Pinot Noir or a crisp Pinot Grigio. Or a chill Sauvignon Blanc poolside or a toasty Cab in hand while playing bocce or a frizzante after work or.....
---
It pays to subscribe!
We will send you a brief email whenever there's a new post, so you'll never miss an article. We promise not to be a pest. Unsubscribe any time you like. And, of course, we won't let ANYONE else use our subscriber list. By subscribing, you agree to our
Privacy Policy
.
So go ahead,
click here to SUBSCRIBE
!