Everyone has a bucket list. One entry on many people's bucket list is riding in a hot air balloon. In our case, we not only wanted a balloon ride, but specifically a balloon ride over wine country. Our ride is over now, but the memories will last forever. Up, up and away!
For most people, several things come to mind when thinking of taking a balloon ride. First, it can be really expensive. Second, you have to get up REALLY early in the morning to board the balloon. Third, it is an experience that will never be forgotten. It turns out that all of these preconceived ideas are actually true!
Never one to pass up a deal, Rob noticed a discount deal on Living Social. In a flash, he was in contact with Judi, conspiring to use this deal to buy balloon rides for Sarah and I as birthday gifts. What thoughtful spouses! To add a degree of difficulty, Sarah's birthday is about a week before mine, so some additional secrecy was required. Sarah rose to the occasion, though, and kept this amazing gift on the down low until my birthday. Well played, Sarah!
A note to others thinking about a Living Social or GroupOn deal for a balloon ride: the price quoted does not cover all of the costs. There are additional "transportation and handling" costs that are substantial, so don't spend your last dollar on the coupon, just to get a nasty surprise when you schedule your ride. We also discovered that we could have gotten the same deal directly from Wine Country Balloons, with fewer scheduling constraints. Live and learn. Also plan some extra money for tips, too, for the volunteer ground crew.
Yes, there was wine!
So that takes care of point number one, the cost. As to point number two, the early departure, there's only so much you can do to make a 6:30am departure palatable. We chose to drive up to Santa Rosa the night before to cut our drive time in the morning. That meant a nice wine country dinner and some wine before turning in and trying to get to sleep early while incredibly excited.
The alarm went off at 5:00am as expected. And as expected it felt like the middle of the night. We sprang up, though, so that we could get showered before the call from the pilot at 5:30am. Only one thing went wrong: I forgot to disable "Do not disturb" on my phone, so the pilot's call went directly to voice mail. No harm, though, because I was able to call our pilot, Scott van der Horst, back immediately and confirm our attendance. We got dressed and packed and loaded into the car, excessively exuberant considering the early hour. A quick 10 minute drive to Santa Rosa airport and we were ready to go.
We met Scott and the ground crew and learned a bit more about our morning. We found that we would take a shuttle bus to the launch location and be returned to the parking lot following our trip, so that was reassuring. Once all of the scheduled riders checked in, we set off, all bright-eyed and nervous/excited about what was about to happen.
We arrived in a nearby open field to find a large (and I do mean large) wicker basket on its side, attached to a huge deflated balloon. A smaller balloon and basket was off to the side, with passengers pointedly clustered around it. All of us unloaded from the shuttle bus and watched (or helped) the balloon inflate with hot air. The hot air was produced by four truly massive propane jets, each capable of generating a tongue of flame at least 10 feet long. Assisted by a gas-powered fan, the balloon (called an "envelope" by the pilot) slowly gained its shape and rose up into the air.
As the balloon (I can't bring myself to call it an envelope) rose from the ground, we were invited to board the basket. And what a basket! As a person of a certain age, I imagine hot air balloon baskets as round and just large enough to hold the Wizard, Dorothy and Toto. This was not that basket. This basket had four rectangular pods, each large enough to hold four or five people, plus a center compartment for the pilot and a number of oversize propane tanks.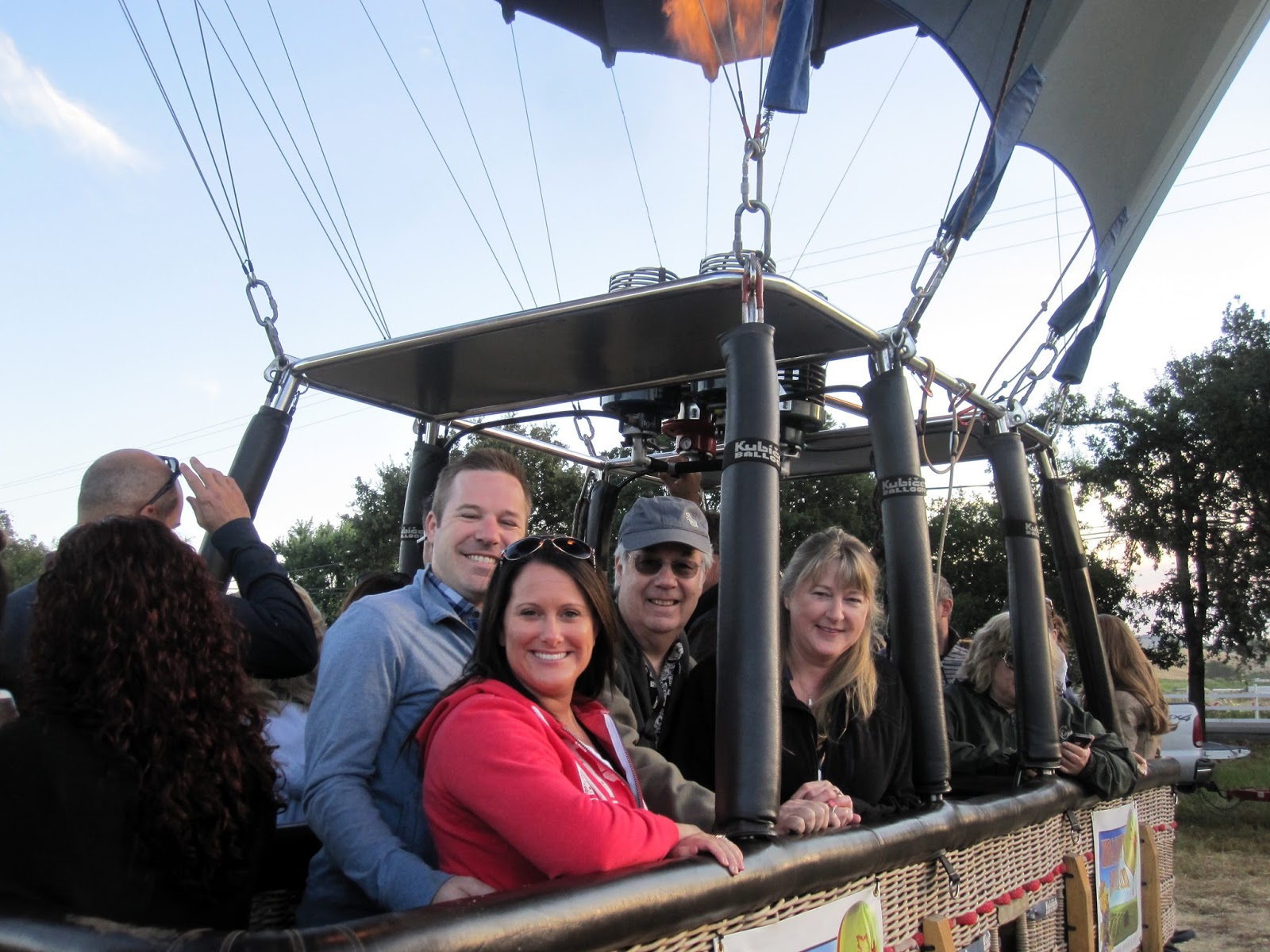 Ready to go!
Our excited group of four piled into a pod and were excited to learn that we were all so svelte that we had room for a fifth passenger. That red wine diet must be working! Note to future balloonists, the sign-up form asks for your weight (how rude!) but that information is never used, so go ahead and report your goal weight. Everything seems to work out in the end.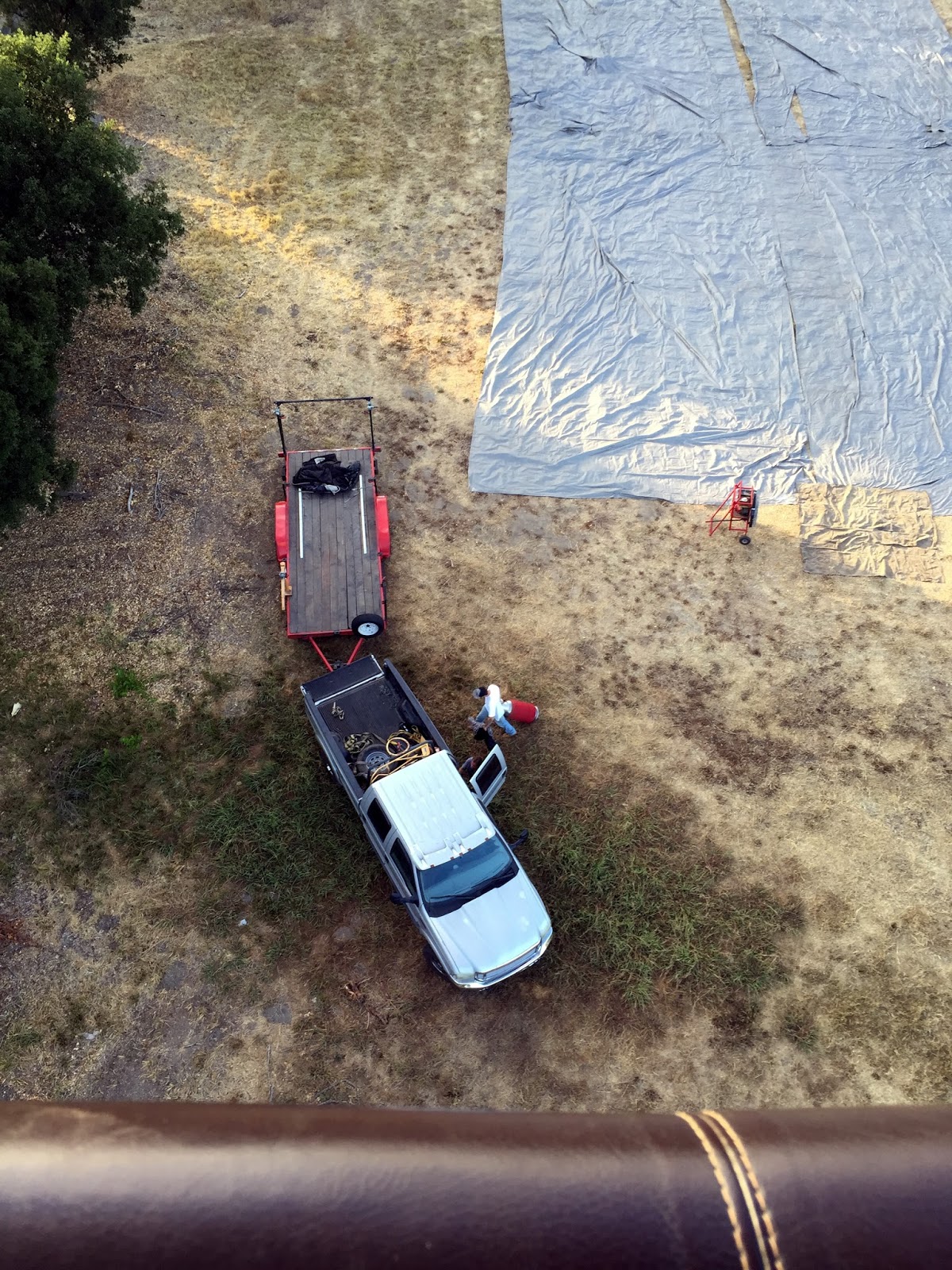 We're flying, we're flying!
After a few more blasts of propane fire into the balloon, we became buoyant and floated gently and quietly into the air. Departure was almost anticlimactic. One minute we're resting on the ground, the next minute we're looking down on the ground crew. Another back-of-the-mind concern was put to rest: I am not the biggest fan of heights but the balloon experience never triggered any anxiety at all. I heartily recommend that you try this, even if roller coasters and such things give you the willies.
So the soaring began! And soaring it was, We were literally floating on air, with almost no sensation of movement other than the passage of the earth beneath us. We rose to about 800 feet above the ground, awestruck as the sun streamed down the mountain ridge. A truly special experience!
We floated across Santa Rosa, taking in the beautiful vineyards in the distance and the less beautiful septic treatment plant in the foreground. We watched the commuters hustle to work (feeling a bit superior, I must admit) and the prisoners in the local jail look up at us longingly. We watched small planes fly in and out of the Santa Rosa airport, keeping well clear of us, thankfully. We watched the smaller balloon scoot higher and lower (or was that really us?) as we floated along somewhat in tandem. We looked and looked and looked, not quite believing that we were actually floating in a balloon!
Yes, that's our shadow!
Midway through our flight, our pilot Scott told his ground crew to meet us at a particular field adjacent to the airport. I thought that this was just a preliminary move, with additional relocations to come, but no. Scott predicted, with amazing accuracy, where he would be landing the balloon a half hour in advance. Considering that he could only control altitude but not direction, this was balloon piloting wizardry.
Eventually it was time to land. We slowly descended toward the Santa Rosa airport. Before long, it was clear that we were headed for the exact patch of grass the Scott had indicated 30 minutes earlier. Bravo! He warned us to brace ourselves, and then we bumped into the ground. Skipped, actually, because we were airborne again immediately. Scott bled off a bit more hot air and we grazed the ground again, this time with some aggression. Note to future balloonists, when you reach this point in the ride, maneuver yourself "upwind" of somebody you like, because you are going to get very intimate during this landing process. In a moment, though, we were stationary on the ground. Sigh. Our fantastic balloon ride was over. But the experience was not!
Bye bye balloon!
We climbed out and watched as the enormous balloon deflated and fell to the ground. The ground crew set about gathering the balloon, forming a long, thin tendril of fabric. This was then collected in a zig-zag manner and crammed into a canvas bag that looked far too small to hold the entire thing. This was not their first outing, though, and with a little help from a gymnastic traveler (jumping up and down on the assembled material in the bag) everything worked out.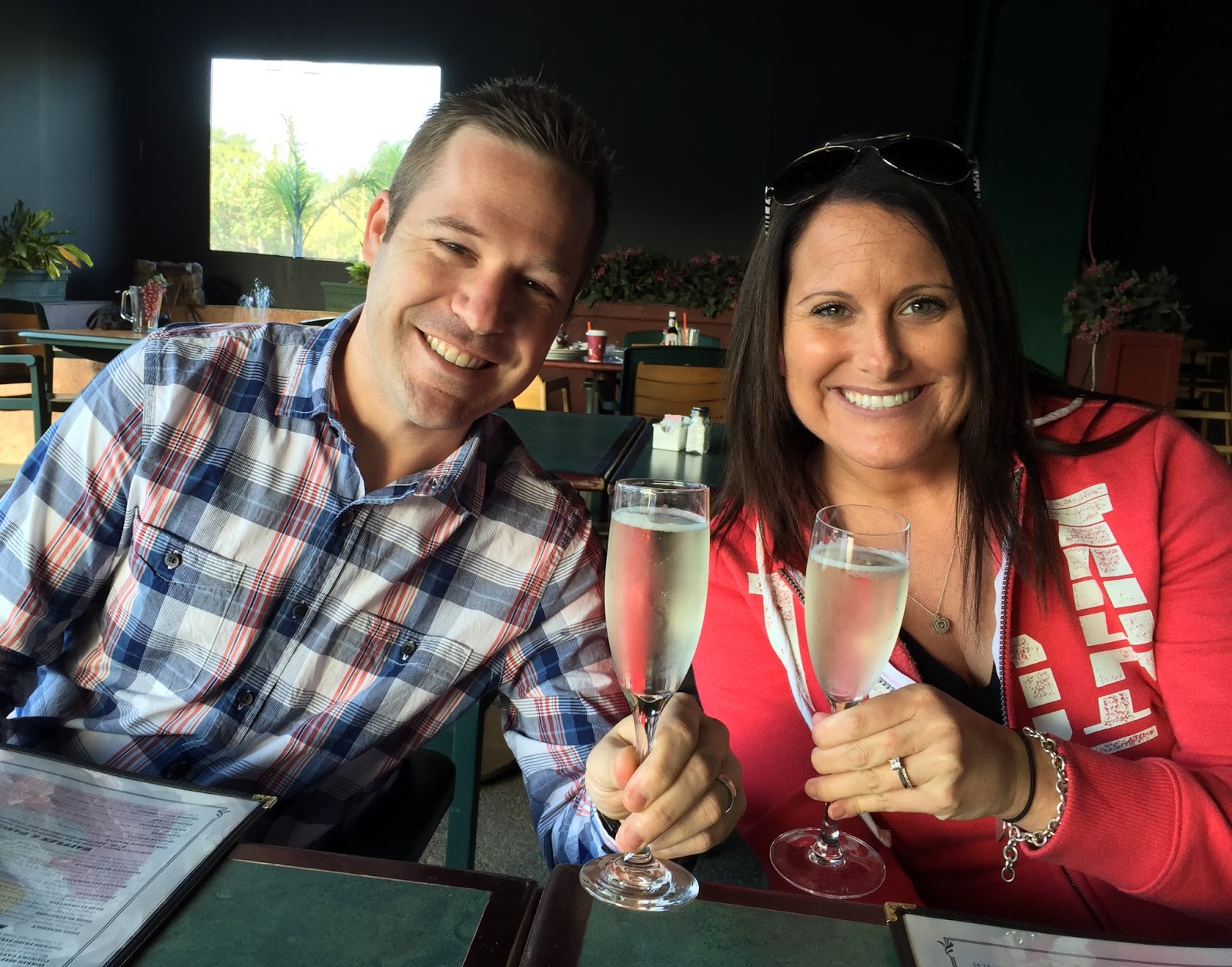 Cheers!
We climbed back into the shuttle bus and returned to our original collection point. By now the adjacent restaurant was open, and they welcomed us into a covered patio area where we enjoyed a champagne toast to celebrate our trip. The pilots and ground crew hung around with us, and were more than generous with the champagne!
Given our early call, we had not yet had breakfast. The restaurant solved that problem admirably, while the balloon crew kept our champagne glasses full. What a great way to end an amazing bucket list experience!
Our thanks to the pilots and ground crew, you folks put on a great flight!
---
About the Author
: John grills a mean steak and is always in the market for another wine fridge. Believes that if a winery has more than 10 employees, it's probably too big. Buys wine faster than he drinks it, but who cares?
---
click here to SUBSCRIBE
!