Belonging to a wine club is marvelous. Belonging to ALL the wine clubs would be incredible! For one glorious weekend, one club membership works at every participating winery in the Russian River area. That's right, it is time to attend the Taste of Route 116!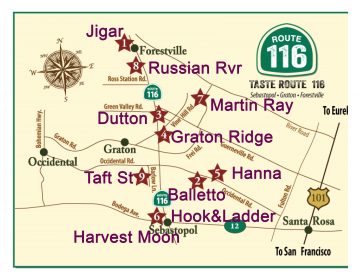 We have been fans of this event for years. The concept is as brilliant as it is simple: wine club members of any participating winery are afforded club benefits at all other participating wineries. Free tastings, bottle discounts, food pairings, music, everything that makes a club party special times sixteen! This is a weekend of fun that goes on our wine tasting calendar as soon as it is announced.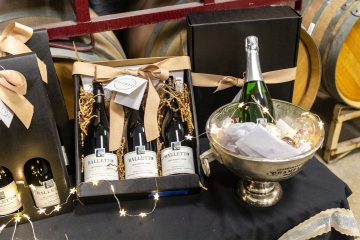 We are club members at Balletto Vineyards, so that was our first stop to pick up our commemorative wine glasses and membership indication. This year, Balletto gave their club members silver whistles with a logo "B" on the side. We were asked not to test them while in the tasting room. We sampled some lovely wine paired with amazing corn chowder before setting off toward our next winery. We also had two quarters' worth of club packs waiting for us, so we took those with us, too!
We drove less than a mile to Hanna Winery. The sunshine-yellow tasting room was full of happy club members-for-a-day, sipping wine and sampling the interesting artisanal jam and cheese bites being offered.  Their new wine releases were great representations of the local fruit and the jam was so tasty that we left with a jar!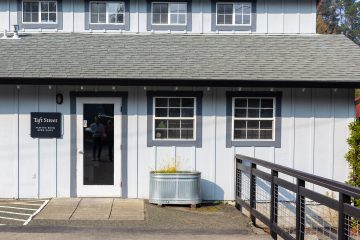 The Taft Street Winery was our next stop. A must-see for us during every Taste of Route 116, the tasting room is a fun blend of cozy vibe with great facilities for summer parties. We have been on the fence about joining their club for years! We snacked on their cookies as we sampled from their generous tasting flight of white AND red wines; a surprisingly good pairing.
We next visited the Harvest Moon Estate Winery. Owner/winemaker Randy Pitts is an amazing guy, in constant motion, usually involved in multiple simultaneous conversations at once, and the maker of some amazing wines! This visit maintained both his high standards of quality (his touch with Zinfandels is incredible) and his breadth of wines available for tasting. Add in an accordion player covering all the great accordion classics, and the party was complete! As usual, the RandyZin Blend and the Late Harvest Zin blew us away. And followed us home. Taste them and you will understand!
Our final stop was the Russian River Vineyards. The sun was setting and the Taste was technically drawing to a close. But at RRV, the party isn't over until THEY say its over! We met owner Chris O'Neill and winemaker Giovanni Balistreri, who were both pouring wine and engaging guests as though the day had just begun. Their enthusiasm was infectious!
The winery grounds were hosting groups of people tasting wine, playing cornhole, telling stories, and generally having a wonderful time. Lots of amazing wine was being poured, and we fell in love with a number of Giovanni's library wines. Yes, for this event he poured some of his older vintages, opening the library for everyone to enjoy. This was a great idea, and a few of those library wines followed us home!
The sun finally fell below the ridge line and we knew it was time to put another year's Taste of Route 116 in the books. Our thanks to all of the participating wineries. See you again soon!
---
About the Author
: John grills a mean steak and is always in the market for another wine fridge. Believes that if a winery has more than 10 employees, it's probably too big. Buys wine faster than he drinks it, but who cares?
---
It pays to subscribe!
We will send you a brief email whenever there's a new post, so you'll never miss an article. We promise not to be a pest. Unsubscribe any time you like. And, of course, we won't let ANYONE else use our subscriber list. By subscribing, you agree to our
Privacy Policy
.
So go ahead,
click here to SUBSCRIBE
!