With "Shelter in Place" rules dragging on, it takes a bit of creativity to keep wine tasting a part of life. Recently we decided to compare and contrast three Pinot Noir wines from Balletto Vineyards.
We have been wine club members at Balletto Vineyards for many years. The restrictions caused by COVID19 meant that wine tasting in their tasting room was not possible, but we were thrilled to participate in a curb-side pickup weekend. This allowed club members to pick up their new release packs while maintaining safe social distancing. We discovered that we were 5 releases behind with our pickups (don't judge) so we felt that this would be well worth the 2 hour trip. It was great to get out of the house and soak in a bright summer day, even though we could not get out of our car. When we reached Balletto, we were thrilled by their level of organization and attention to keeping everyone safe. This level of thoughtfulness has been part of every interaction we've ever had with the Balletto family. We got our contact-less delivery of 10 bottles of wine into our trunk and set off for home.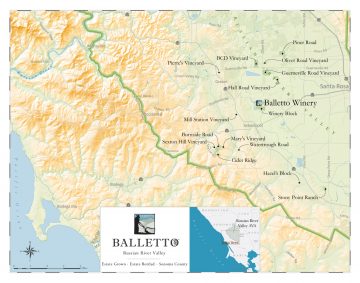 Balletto Vineyard produces a lot of different estate wines. Their wine list is staggering, especially when considering the relatively few grape varietals that are used. Although all of these wines are made from just a few grape varietals, there are a broad range of vineyard sources and winemaking styles employed to create their library. This is possible because the vineyard managers and winemakers have studied each of the Balletto vineyards spread across Sonoma County. The microclimate of each vineyard is optimized through the winemaking process to deliver a wonderful wine with a specific audience that is consistent from year to year. We have been intrigued over the years by how masterfully Balletto can create clearly differentiated wines that each can attract a dedicated audience (ourselves included).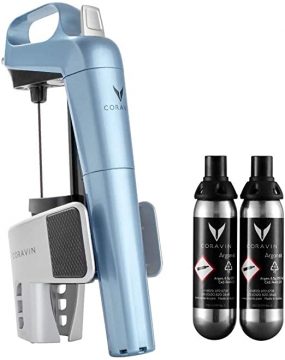 When we sorted through our series of club packs, we noticed that we now had three different 2017 Pinot Noir wines made from different sections of the massive Balletto vineyard. That made us immediately think about a "compare and contrast" tasting to check out these Pinots. The only challenge was that sheltering in place meant that there were only two of us to taste our way through three bottles of wine. Then we remembered: last Christmas my loving wive gave me a Coravin wine system. This clever device allowed us to take out one glass of wine from each of the three bottles without breaking the seal on bottle. The remaining wine in the bottle was unaffected, just waiting for its turn as a future dinner pairing.
So we set up our tasting, comparing three 2017 Balletto Pinot Noirs: Winery Block, 18 Barrel, and BCD. These wines are nearly identically priced, and were produced side-by-side by the same winemaker. We knew from previous on-site tastings that previous vintages of these wines each presented a unique flavor profile, so we were very excited to have this opportunity to experience the 2017 vintage of these wines for the first time. We carefully used the Coravin to extract one tasting's worth into labeled glasses (never assume that you will remember which glass contains which wines, we've tried that), and sat down to give each wine our attention. After months away from wine tasting, we were more than a little excited!
For no particular reason, we started with a taste of the 2017 18 Barrel Pinot Noir. A deep ruby color, we found aromas of leather, forest floor and mushrooms, and a hint of curry. Our first sip was amazing! Smooth and complex, we fell in love with the dancing layers of dark pitted fruit, with hazelnut, black pepper, and warm spices each taking its turn on center stage. The finish was lovely, with spiced coffee notes and a balance of gentle tannins and restrained acid. We pictured sipping on this as we worked our way through what remained of our Netflix queue, or maybe set beside a nice pasta marinara. This could possibly be the perfect Pinot.
Next up (again for no particular reason) was the 2017 BCD Pinot Noir.  Once again we were struck by the deep ruby color as we swirled it in the glass. This wine had a much lighter, brighter aroma, with a bit of library/leather mixed in with the fruit tones. The flavors were all main-stream, flagship Pinot notes, with cherry, plum, and raspberry leading the way, with some intriguing cola and nutmeg toward the end. A classic "look up Pinot Noir in the dictionary and this wine is pictured" kind of taste. The finish lingered, with more assertive tannins that called for just one more sip. We thought of pairing this BCD with a snack of soft cheeses, although this wine had enough personality to stand up to a dinner of pasta bolognese.
Our tasting wrapped up with the 2017 Winery Block Pinot Noir. This wine was a bit lighter in the glass, providing aromas of coffee, dark cherry, and the essence of barrel room. We thought that this wine would be anyone's great introduction to the Pinot Noir varietal because of its clear fruit notes, full of dark, red, and Rainier cherry notes and just a hint of citrus. The restrained pepper and spice led us gracefully into a finish of pure fruit loveliness. We felt that this would be a perfect pairing with a creamy pasta dinner.
Upon reflection we felt that we should present this tasting to friends with the Winery Block served first, followed by 18 Barrel, and then the BCD. Our next decision: which wine to pair with dinner tonight!
---
About the Author
: John grills a mean steak and is always in the market for another wine fridge. Believes that if a winery has more than 10 employees, it's probably too big. Buys wine faster than he drinks it, but who cares?
---
It pays to subscribe!
We will send you a brief email whenever there's a new post, so you'll never miss an article. We promise not to be a pest. Unsubscribe any time you like. And, of course, we won't let ANYONE else use our subscriber list. By subscribing, you agree to our
Privacy Policy
.
So go ahead,
click here to SUBSCRIBE
!