Omega Cellars in Lodi is a tasty bundle of contradictions. For example, it is a destination winery, yet it isn't located where our GPS sent us. The tasting room is small, but the ambiance is huge. The wine list is carefully curated, yet we had a new blend prepared right before our eyes. Is it any wonder that we recently spent the better part of an afternoon exploring these contradictions?
Our wine tasting trips to Lodi are a bit more of a race than when we're on our stomping grounds of the Livermore valley. We try to plan a bit more than usual, so that we can spread the hour-plus drive time across more wineries. We also try to sample a local restaurant after our tastings, and given that we were tasting on Valentine's Day, the pressure was on to deliver a truly memorable experience for our Gold-medal wives.
It was mid-afternoon, and we had three or four wineries still on our "try to visit" list. Next up was Omega Cellars, which had earned some great Yelp reviews. After some fun and frolic with our attempts at navigation, we finally found the parking lot and made our way into the tasting room.
The first thing we noticed was the eclectic mix of decorations around the room. Oh, that and the feeling of energy that radiated from the man behind the bar. He was single-handedly pouring tasting flights for 4 sets of guest, collecting a dozen spent glasses, and making us feel like we were his first customers of the day. "Busy? This isn't busy. You should have been here last week!" was his response when I commented on how slammed the room was.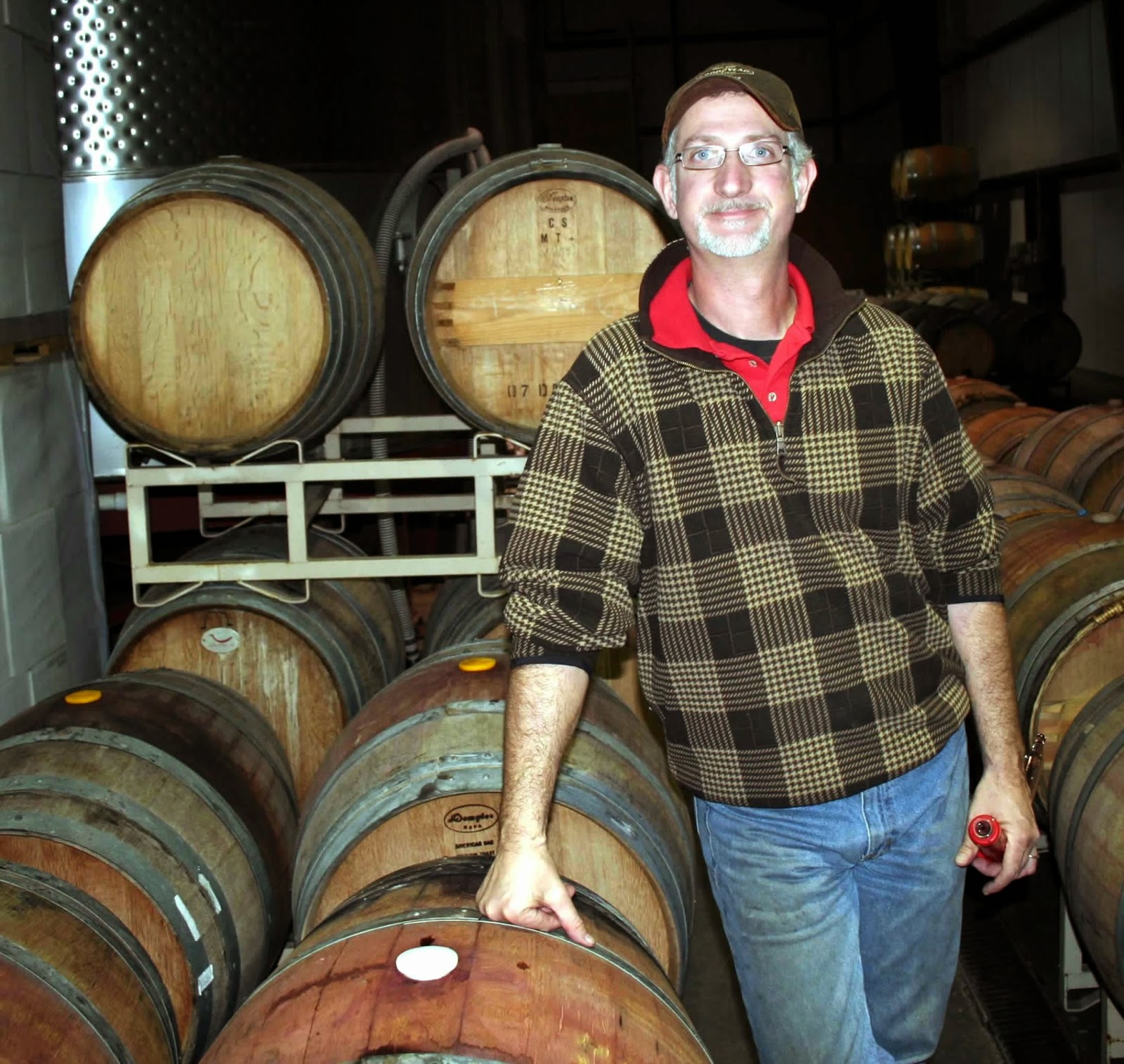 George Natsis in His Element
I quickly learned that this Energizer-bunny wine guide was one of the owners, George Natsis, who with his father and brother produce and market their wines. In their spare time, they even produce wine for other wineries, whose names I promised not to divulge. It was impossible to be around George without adopting his enthusiasm for the Omega wines.
George described the winery's approach as, "A Greek making French wines with Lodi grapes." Regardless of the nationalities involved, the results were amazing.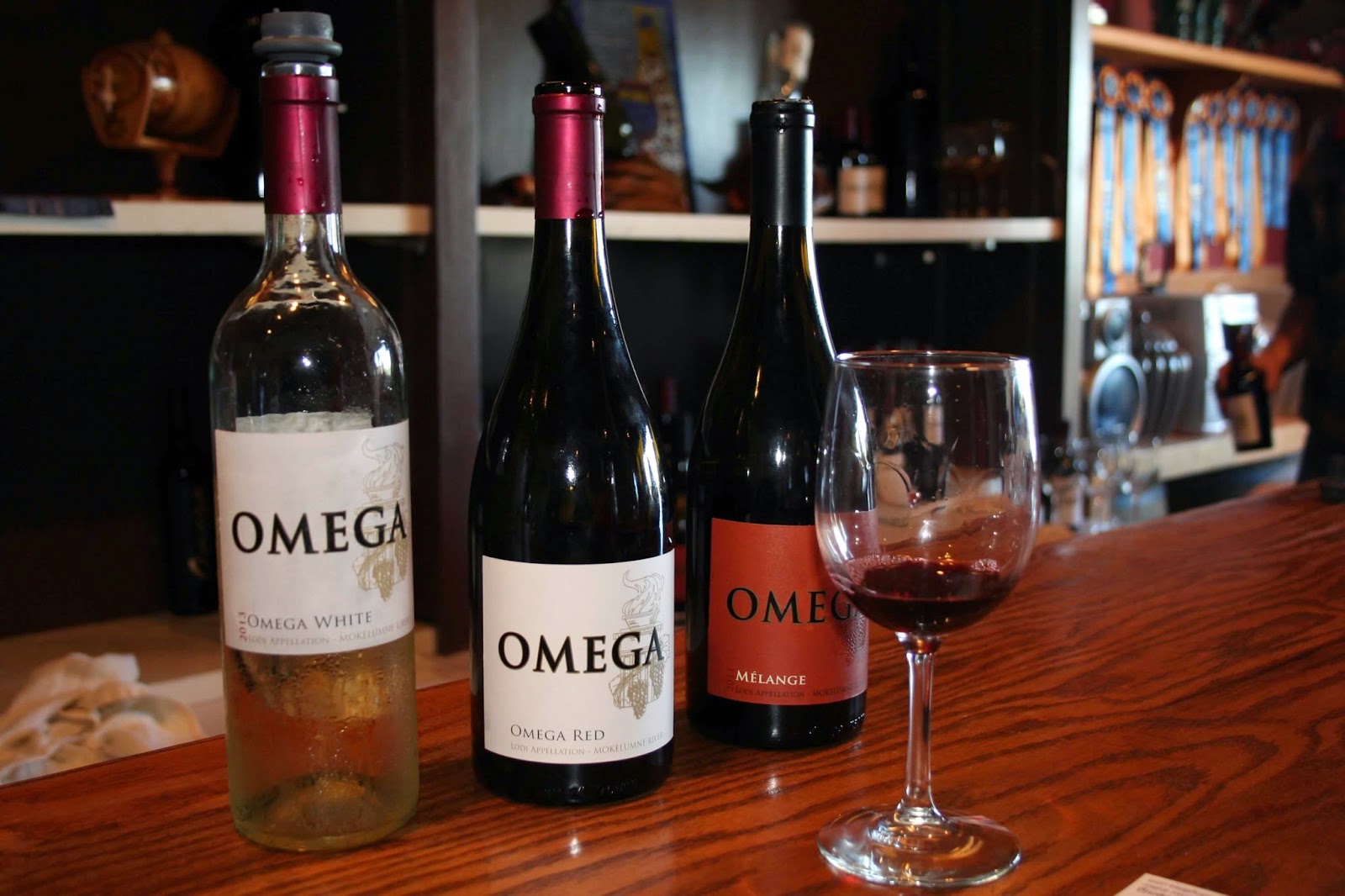 We started with their 2013 Omega White, a Chardonnay blend that was crisp and not too buttery, with hints of pear and apple. Some of us detected a bit of nectarine hiding in the back.
We moved onto a great 2012 Mouvedre Rose, with fun hints of apple, cherry and cranberry. Just right with some cheese and crackers on the patio.
The 2011 Merlot was a happy surprise. Not your typical Merlot, this would be a good "gateway Merlot" for people who don't yet appreciate the varietal. Light and dry, but without the dusty finish that some Merlots leave behind.
Their Omega Red blend has 70% Petite Sirah, 25% Sirah and 5% Mouvedre. We found really nice fruit, with a pleasant balance between acid and tannins. Spaghetti carbonara anyone? We found the perfect pairing wine!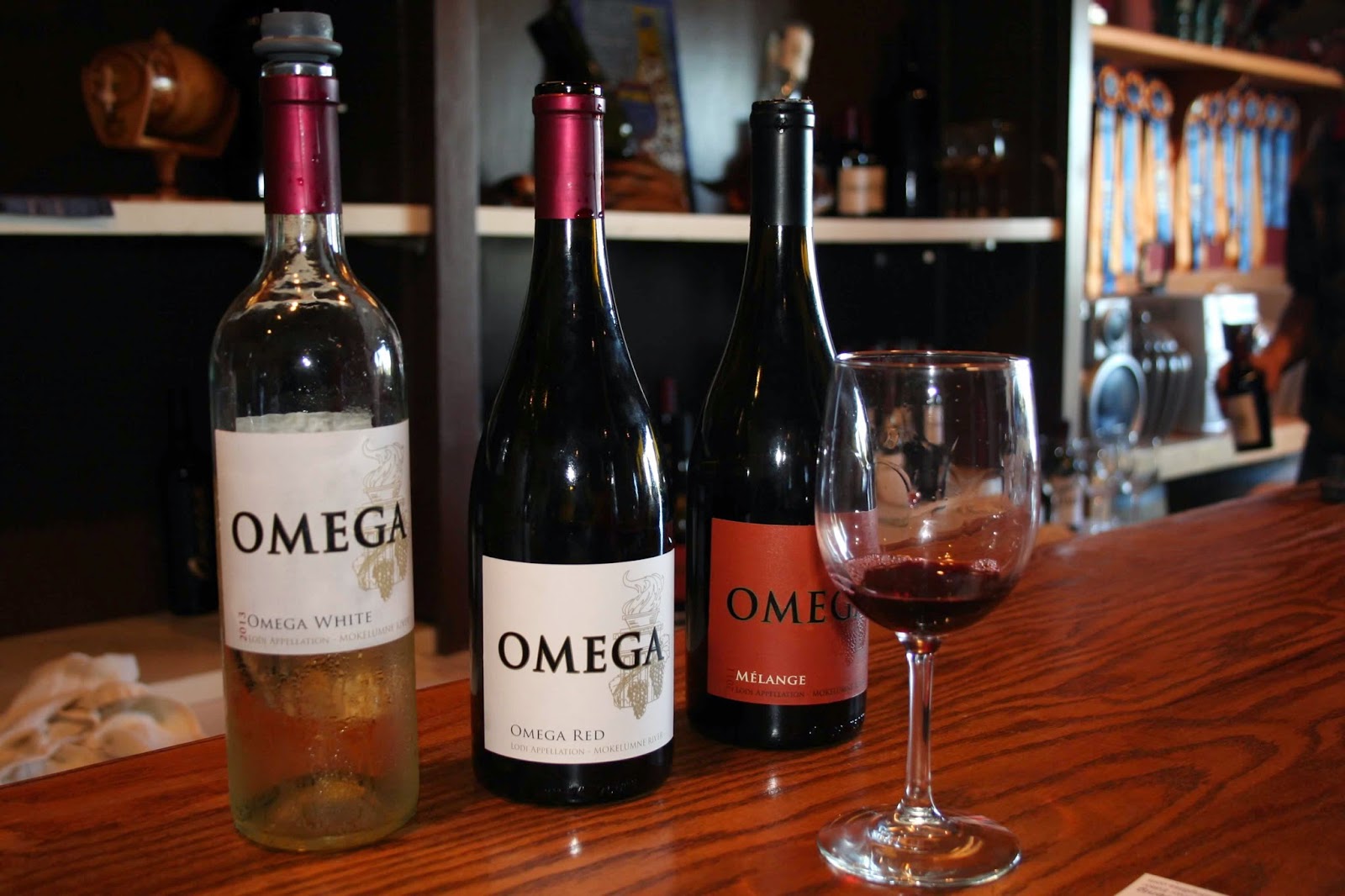 We next sampled what George called "Côte-Rôtie" which he mixed RIGHT IN OUR GLASS! Yes, that's right, he mixed three different bottled wines (2 red and 1 white) in our glasses to get our feedback on a blend that he is considering for future production. The resultant blend was so delicious that we purchased quantities of the three constituent wines so that we could try to reproduce the magic when we were home. Odds are against us reproducing George's results.
The 2011 Melange was next, a blend of 62% Syrah, 25% Mourvedre and 13% Petite Sirah. The nicely balanced fruit and long, long finish made this a favorite among our group. Not too aggressive, but certainly able to pair with our tri-tip! But then, what doesn't do well beside a properly BBQ'd tri-tip?
Tasting from a Concrete Vat!
Next up was the 2010 Mystico, a blend of 70% Cabernet Sauvignon, 12.5% Merlot, 12.5% Cabernet Franc, 3% Petit Verdot, and 2% Malbec. Happily, it is easier to enjoy the complex layers of flavor than it is to recite the recipe. Another good reason to leave the wine making to George.
The dessert wines were next. Their Affinity Rosé Port is mostly Syrah grapes, and delivers a wonderful cherry/blackberry party across the tongue. The Midnight Serenade is made from Petite Verdot. It gave us a sweet top note that was not at all off-putting, followed by about eight more layers of flavor, concluding in a delicious blackberry finish. What a way to compete a tasting!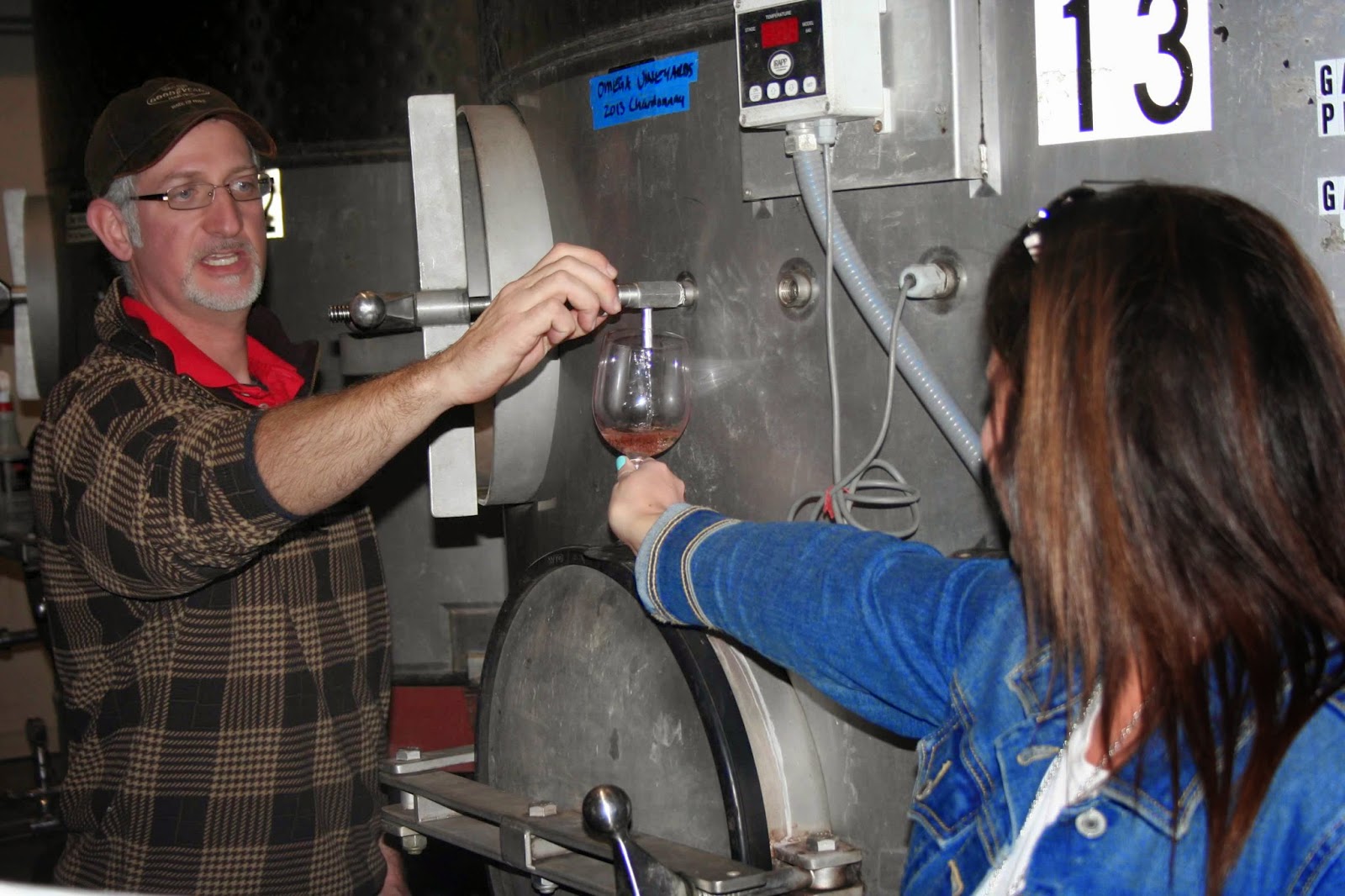 Tasting from a Stainless Vat!
Or so we thought. The tasting room had quieted down to just one other party besides us. George asked if we "had a few more minutes." Hint: if a winemaker ever asks you that, SAY YES! It is unlikely that you will be asked to clean the floors.  George took us into the wine making area in the back of the building and an entirely new tasting flight ensued.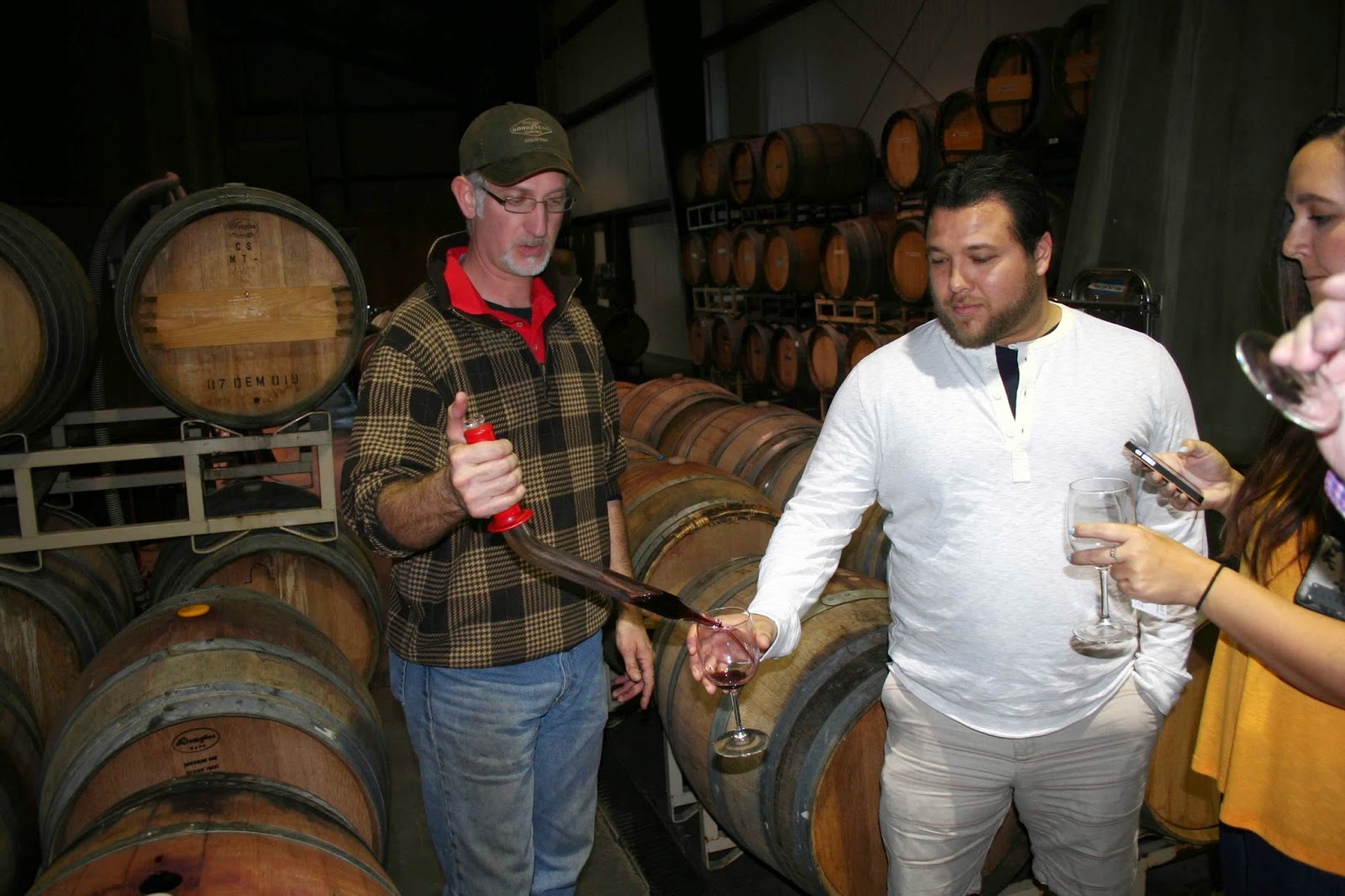 Tasting from a Barrel
We tasted from a concrete vat. We tasted from an enormous stainless steel tank. We tasted from barrels. If a container had something that George thought was worth considering, he poured it into our glasses. Such an amazing experience! There's no way to capture our reaction to each tasting, except to say "Yum!" We left the working floor certain that the best of Omega Cellars is yet to come.
Unfortunately, we knew that we needed to leave. We chose an armload of bottles to take home and said our goodbyes. Until our next visit, George, we thank you!
---
About the Author
: John grills a mean steak and is always in the market for another wine fridge. Believes that if a winery has more than 10 employees, it's probably too big. Buys wine faster than he drinks it, but who cares?
---
click here to SUBSCRIBE
!