Whenever we are wine tasting, we ask our wine guide about local wineries that they enjoy. Who knows the winery scene better than someone who is part of it? During a recent trip to Lodi, one winery name kept coming up: Bokisch Vineyards. Here's how our first visit went:
Once three wine guides at three different wineries mentioned Bokisch Vineyards as a local favorite, our carefully planned day of tasting in Lodi was amended. We drove to the Bokisch Vineyards parking lot, tucked up against what was clearly their production facility. We followed the clearly marked path to the tasting room. As we approached, we could see people enjoying the expansive outdoor seating, soaking in the lovely vineyard views.
Opposite the outdoor seating was the tasting room. Once inside, the room was a visual feast, with wall art, artifacts from rice farming, and dozens of Edison bulbs dangling from the ceiling. Although there were several groups of tasters already enjoying Bokisch wine, there was plenty of room at the long tasting bar for another couple. We chose a spot with a nice view out the window of the patio and vineyard and prepared for a tasting.
Wine guide Carina welcomed us and got us set up with glasses for our flight. We learned that Bokisch Vineyards farms literally thousands of acres of grapes, selling 98% of the fruit to other wineries. The precious 2% that end up in Bokisch bottles must be pretty special, so we were excited to experience this new (to us) winery. Carina got us started with their 2017 Albariño Estate. A new release, we enjoyed the aroma of pear and flavors of pomelo zest, fig, and Granny Smith apple. A crisp and bracing start to our tasting!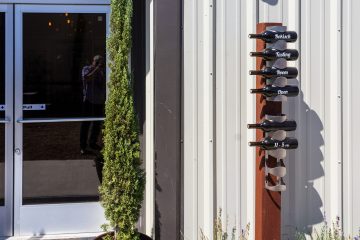 Next up was a 2016 Verdejo, bubbling over with melon and apple notes, with a bit of pear on the finish. That was followed by a 2017 Trencadis White. This was a new wine for us. Pronounced tren-cah-dees', it is was blended from Garancha Blanca, Marsanne, Rousanne, Viogner, and Picpoul. Trencadis is a Catalan word for mosaic, and it certainly applied here. Cool and complex, with something to say to every part of the mouth, we picked out notes of tobacco and coffee, rose petals, red Delicious apples, and gray pepper on the finish.
We tasted their 2015 Garancha next. The notes of cranberry, tobacco, and plum, with an amusing cherry Jolly Rancher finish, making us smile and look forward to another sip. Carina next poured a 2016 Estate Tempranillo. Another new release, direct from the owner's own yard. We fell in love with the deep plum, coffee and smoke flavors. Drinkable now, we think that this wine is worth cellaring for 2-4 years to let it become truly amazing.
The final wine on the tasting flight was a favorite of both of ours: their 2016 Estate Graciano. Carina told us that Bokisch Vineyards was the first U.S. grower to plant Graciano grapes. This is a wine with an attitude, and we LOVED it! This wine jumped to the top of our Take Home list. We thought that our tasting was complete, but Carina introduced us to an amazing new twist on a glass of wine: a wine float! They had partnered with a local ice cream maker to produce Graciano sorbet. Floated in our glass of Graciano, it tasted as good as it sounds. Yet another reason to stock up on the Graciano!
Since we had inserted Bokisch Vineyards into an already crowded day of tasting we couldn't dawdle. We purchased our wine and thanked Corina for delivering such a fun tasting. Time to get back on our schedule. Our next visit to Lodi will have Bokisch Vineyards at the top of our tour list!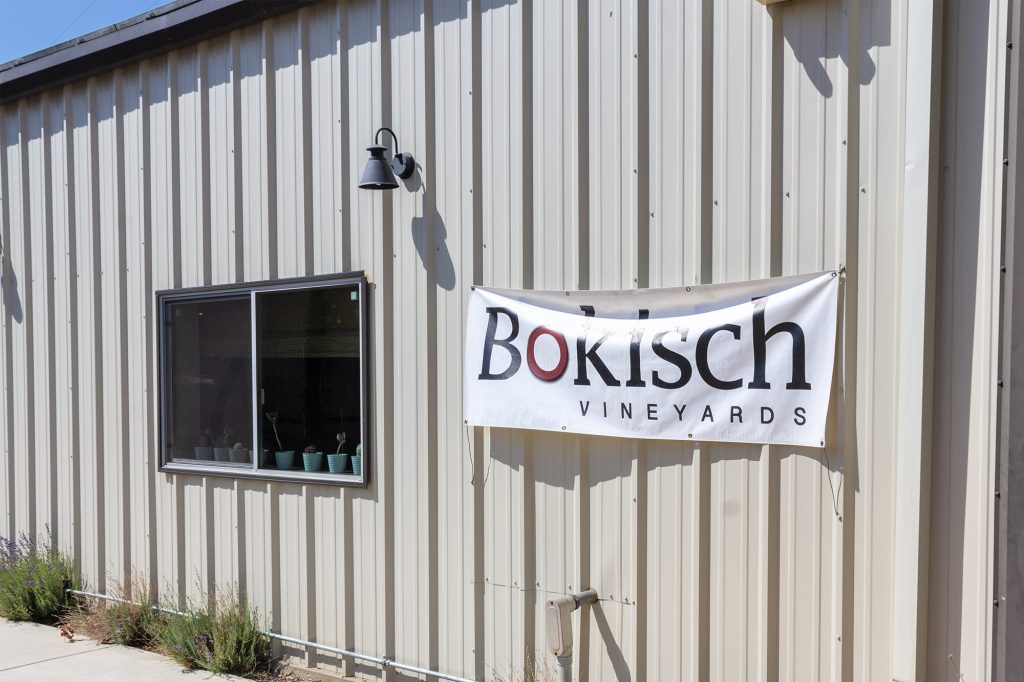 ---
About the Author
: John grills a mean steak and is always in the market for another wine fridge. Believes that if a winery has more than 10 employees, it's probably too big. Buys wine faster than he drinks it, but who cares?
---
It pays to subscribe!
We will send you a brief email whenever there's a new post, so you'll never miss an article. We promise not to be a pest. Unsubscribe any time you like. And, of course, we won't let ANYONE else use our subscriber list. By subscribing, you agree to our
Privacy Policy
.
So go ahead,
click here to SUBSCRIBE
!