With the vineyards shifting from green to yellow and red, one might think that the wine season is over. But to quote the late comedian John Pinette, "Nay, Nay!" The very next weekend featured a wine club party at Ruby Hill Winery! Party on, wine lovers:
This was not our first Ruby Hill party, so we knew to arrive fashionably early. For us, that meant arriving about an hour after the party started. We easily found a parking spot along the sweeping entry road and soaked up some sunshine as we walked to the tasting room. The day was so temperate that the front door was open, allowing the happy sounds of a bustling tasting room to greet us as we approached.
Ruby Hill Winery has a wine club party process that could serve as a model for other wineries. Although their parties are quite popular and draw a sizable crowd, the registration is off to one side, with wine pickup in another, with the pouring stations spread out to keep the congestion to a minimum and the fun to a maximum. If passing by the shelves full of fun wine-related products for sale causes something to end up in your Take Home pile, that's just a bonus for everyone! We swiftly collected our wrist bands (allowing the tasting room to remain open to non-members during these parties) and wine glasses. Who wants to stand in line to get into a party?
We started with a comparison of their 2016 Jewel Chardonnay and 2015 Reserve Chardonnay. The Jewel Chard showed fun butterscotch and orange zest notes while the Reserve won fans with flavors of honeysuckle, orange, and Ranier cherry. With our token white wine tasting behind us, we were ready to move forward to their reds.
We started our red wine flight with their 2014 Peacock Patch Zinfandel. This was the star of their latest case sale, and we were sorely tempted. The Peacock Patch lineage of wines is incredibly consistent: delightfully smooth with cascading layers of fruit and a dark cherry finish. This vintage maintained that heritage, with added notes of pitted fruit, tobacco, and cinnamon.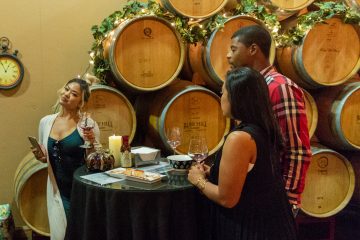 Our next taste was a foreshadowing of our club pickup: their 2015 Patchwork. A blend based on Zinfandel, with contributions from Petit Verdot and Merlot, we loved the depth of flavors (with hints of cigar and cherry), with bright fruit flavors on the finish. Next up was the other club pack member: a 2015 Petite Sirah. We learned that 5% Primitivo was included in the blend. Tasting of library and blackberreis, with cherry and white pepper on the finish, we plan to cellar this one for 3-5 years to maximize its potential.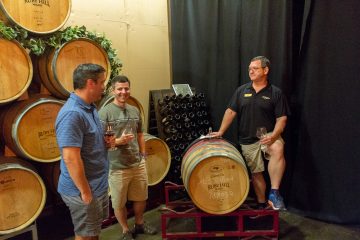 We moved indoors for more tastings, starting with a tasting right out of a barrel. Wine guide Brian told us that this 2017 Cabernet Sauvignon has been barreled entirely in French oak since its harvest last year. Intended for release in 2021, it is already drinking quite well for its age. Lots of nice fruit, with some acid on the finish that should drop off with aging.
Once we were done marveling at the barrel tasting and its potential, we went back to tasting in-the-bottle wines with wine guide Eileen. We started with their 2013 Jewel Zinfandel. Although five years old, it was still young at heart; zippy and full of personality, with leather and white pepper notes over dark plums. Our final pour was their 2013 Petite Sirah. This wine is beautiful in the glass, and we spent a bit of time just admiring it. When we did take a sip, we fell in love with the festival of blackberries, blueberries and raspberries dancing across our tongue, with lemon and cocoa on the finish. Fabulous now, we think that there are many good years yet to come!
Tasting complete, we went to the pickup table for our club pack. On the way, we browsed through more of their merchandise. Several items were just too cute to leave on the shelf, so they were added to our purchases. The merchandise buyer at Ruby Hill Winery has a great eye for things that look great in our house! Autumn was off to a great start.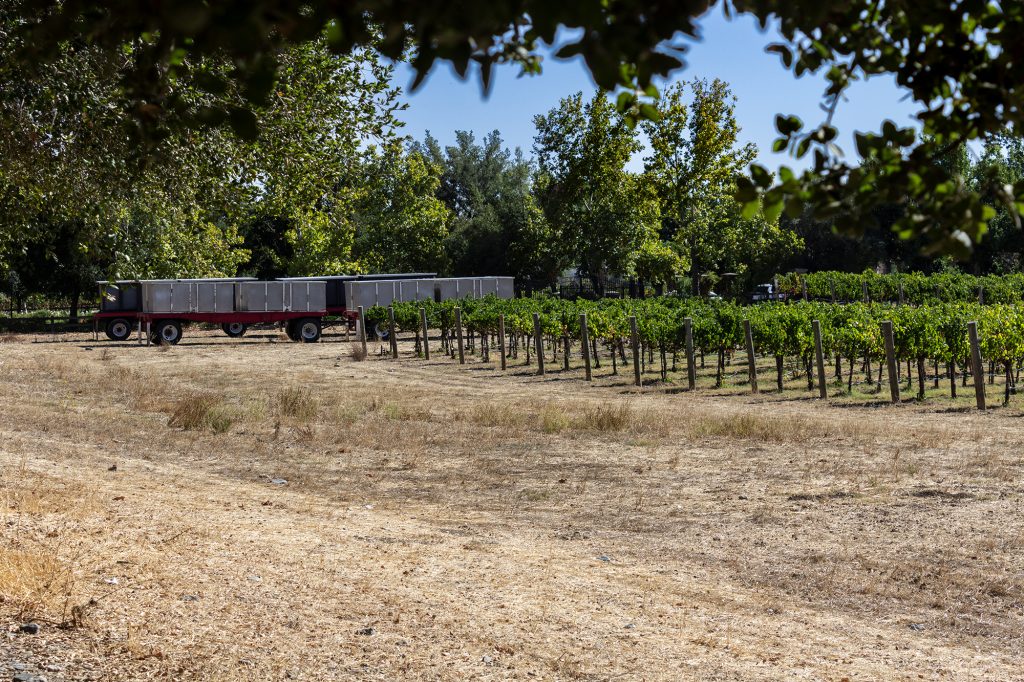 ---
About the Author
: John grills a mean steak and is always in the market for another wine fridge. Believes that if a winery has more than 10 employees, it's probably too big. Buys wine faster than he drinks it, but who cares?
---
It pays to subscribe!
We will send you a brief email whenever there's a new post, so you'll never miss an article. We promise not to be a pest. Unsubscribe any time you like. And, of course, we won't let ANYONE else use our subscriber list. By subscribing, you agree to our
Privacy Policy
.
So go ahead,
click here to SUBSCRIBE
!