In masonry, clinker bricks are made when excessive heat over fires wet clay, producing bricks that are dense, dark, and durable. In Lodi, Klinker Brick Winery produces wines that are dark, durable, and downright delicious!
Fresh from tastings at perennial favorites d'Art Wines and Harney Lane Winery, we were ready to venture where we had not gone before: Klinker Brick Winery. After years of hearing other tasters (and many wine guides) rave about Klinker Brick, we entered the property with high spirits and higher expectations.
We entered the winery to discover a room full of warm woods, textured brick and happy tasters. There were numerous tables scattered about for seated tastings, but we were far too late to score such a prize. The polished stone bar was a fine second choice, so we found an open gap in the throng and presented ourselves. Wine guide Marisa greeted us with a big smile and got us set up with glasses and a tasting menu. Time to get started!
Klinker Brick offers two tasting flights: a six wine flight for $5 and a five wine "Limited Production" flight for $10. As is our practice, we each took a flight and swapped tastes to make sure that we covered all the wines. Always wine taste with a close friend!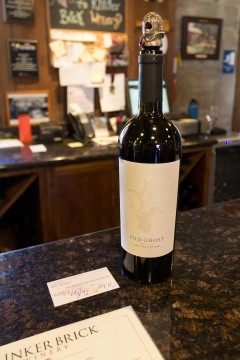 So many nice wines to explore! We enjoyed their entire menu, but several really stood out. Their 2016 Bricks & Roses (a rosé blend of Grenache, Syrah, Mourvedre, and Carignane) was an immediate hit, with zesty fruit notes, especially strawberry lurking in the background. We thought that this would be an amazing sip while cooking the tritip by the pool. The 2014 Cabernet Sauvignon was a great example of the varietal, offering cherry, plum and leather notes. We thought that their 2014 1850o blend (60% Cabernet Sauvignon, 30% Petite Sirah, and 10% Zinfandel) was a beautiful pairing for prime rib. The unique name comes from the temperature required to create a clinker brick in the oven. The 2014 Old Ghost Old Vine Zinfandel was a classic Lodi-style Zin, with loads of dark fruit flavors and plenty of tannins toward the finish.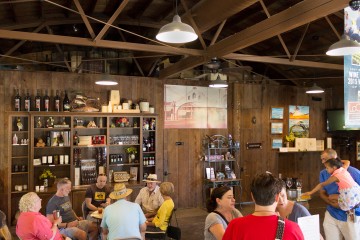 About then, the entire tasting room erupted in a spirited rendition of "Happy Birthday" in honor of Lori, one of the owners. It was fun to see how many tasters had a personal connection with the birthday gal! Following all of the good wishes, we wrapped up our tasting with their amazing 2014 Carignane. Normally offered only to Club members, we got a taste because their normal flight finisher, the 2013 Farrah Syrah was sold out. Their loss was our gain, however, because the Carignane was smooth and supple. A perfect ending to a remarkable flight.
We made the difficult decisions about which wines to take home, thanked Marisa, and headed off to our next tasting. Thank you Klinker Brick!
---
So have we mentioned the fun things we have up our sleeves for our wonderful subscribers? Join our wineless wine club! It's free, you'll learn of our new articles the day they're published, and we will soon give you access to exclusive content. So go ahead, click here to SUBSCRIBE!