No winery tour in Lodi is complete without a visit to Harney Lane Winery. This family-owned winery combines so many desirable attributes: great wine, beautiful architecture, fun staff and an extra bonus, convenient picnic tables!
We have been to Harney Lane Winery before, so we were strategic in placing our visit into our day's tour. After a great tasting at d'Art Wines, we were ready for some food and, of course, more amazing wine. We had a picnic basket full of tasty snacks and a real anticipation of tasting the new Harney Lane releases. The drive from d'Art Wines to Harney Lane Winery was only a few minutes, but the phrase, "can't wait" was said more than once.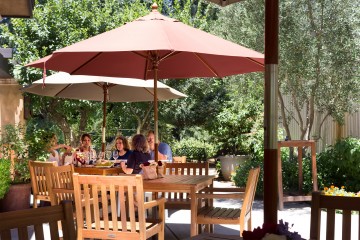 Upon arrival, we selected an umbrella-covered table and put down our baskets. Back into the winery we went, with a real mission: select the wines to pair with lunch! We met wine guide Renae and disclosed our plan. She graciously gave us a quick trip through some of our favorites so that we could make our lunch pairing selection. The 2014 Lizzy James Old Vines Zinfandel got the nod, and in no time we were back out on the patio, bottle in hand.
After enjoying our selection of cheese, meats and assorted olives, we returned to the tasting room to pick up where we left off. The tasting room is airy and bright, with several huge Zinfandel vines displayed, one even hanging from the ceiling! There's a lot of polished wood, shiny marble bar tops and panoramic mirrors to keep the sunshine going.
Renae got us back on track with their 2016 Albariño, a delicious cascade of pear, mango and peach. As she poured a lovely 2016 Dry Rosé (nice grapefruit, floral and lemon zest notes) Renae reminded us about some of the more fun things about Harney Lane. Part of the Lodi community for over 100 years, this vineyard has been producing top-quality grapes for many of the local wineries. Only about 5% of the grapes make into Harney Lane Winery bottles. It shows in the quality of their wines!
We compared their 2013 Zinfandel with their 2014 Lizzy James Old Vine Zinfandel (our lunch selection). The 2014 was smooth and easy, without the tannins that tannin punch that can haunt some young Zins. The old vin Zin (and "old vine" is not just a marketing term, the vines are over 100 years old) had amazing aromas that were backed up with complex layers of cherry and plum.
We were approaching the end of the tasting flight, always a bitter-sweet moment. Their 2014 Tempranillo was full of flavor, with nice smokiness and an intriguing warmth across the tongue. We finished with with a wine worthy of grand finale honors: Patriarch's Promise Lot 15. This blend has a secret formula and is named in honor of George Mettler, the recently passed family patriarch. In his honor, 10% of sales are donated to cancer research. We loved the earthy aromas and the complex layers of blackberry and cranberry.
With happy palates and an armload of wine, we thanked Renae for a wonderful experience and set off toward our next tasting.
---
About the Author
: John grills a mean steak and is always in the market for another wine fridge. Believes that if a winery has more than 10 employees, it's probably too big. Buys wine faster than he drinks it, but who cares?
---
It pays to subscribe!
We will send you a brief email whenever there's a new post, so you'll never miss an article. We promise not to be a pest. Unsubscribe any time you like. And, of course, we won't let ANYONE else use our subscriber list. By subscribing, you agree to our
Privacy Policy
.
So go ahead,
click here to SUBSCRIBE
!