Until 2015, I had never visited Lodi, California. As one of our (okay, my) new year's resolutions, my husband, John, and I put a trip to Lodi on our calendar. Being both exceptionally smart and extremely good friends, Laura and Bill decided to accompany us. Since none of us had tasted in Lodi before and we were fulfilling my resolution, I put my cruise director skills to work.
Starting Our Lodi Adventure
1. Consider the audience/ participants. My three cohorts in tasting will always be excited to start tipping the glass sooner rather than later. Therefore, I looked for wineries that open before lunch. All will be hungry at standard lunchtime, so a mid-day restaurant will be necessary. After a day of imbibing alcohol, having supper before driving home is mandatory. Therefore, a place offering food varying from lunch offerings is a must. How does one find these places and the wineries in between?
2. Rev up the internet. Upon googling "Lodi, CA", I learned that the region is affectionately called LoCa, perfect for a wine-crazy group. Smiling, I pursued the site LodiWine.com which advertises a listing of wineries, a wine trail map, and grower profiles. It is an excellent resource. All regions I have researched has a website with similarly comprehensive information. LodiWine.com is especially helpful, in that it has informative write-ups and a picture for each of the wineries and growers.
3. Being a Luddite, I use a steno pad to record my #1 picks of wineries with address, phone number and pertinent information (e.g., Harmony Wynelands has the original pipe organ from the Castro Theater–a must-see, must-hear, and the wine there rocks!). Because I am thorough (obsessive, according to John), I collect fascinating tidbits to repeat to my touring companions. Every region has facts that, when known, enhance appreciation of the area. Lodi has acres of ancient zin vines that are amazing, resembling miniature ancient apple trees because they are most frequently not trellised and their trunks are the size of Olympic lifters' thighs. When we came across the first vineyard of ancient zins, I was brilliant in pointing them and their tale out. Jessie's Grove Winery has a history that made the drive between wineries shorter, and made our group look more informed than wine-sodden at d'Arte Wines where we espied an artful photo print of the ancient oaks in Jessie's Grove. This sort of preparation is how I became our family's cruise director every single weekend and weekday, 24/7 non-SNL Bush style, for the entire 37 3/4 years of our marriage. No, really, I enjoy it. 😉
4. Now I pull out my iPad, so I can enlarge and actually read winery names on the wine trail map. Those of you with really cool, large-paper printers are super-cool people and can print out a legible map to circle wineries, restaurants, and any other points of interest. Fellow-Luddites, grab your steno pad with your #1 wineries and number the wineries in the order that makes sense on the map. Delicato Family Vineyards is in Modesto between our starting point in Pleasanton and Lodi and opens at 9:00am. It therefore became our #1 winery stop. Our #2 on paper was d'Arte Wines, but we drove past it accidentally and came upon Harney Lane Winery, our #3 on paper. Part of being a great cruise director, especially when wine tasting, is to go with the flow. So we sampled Harney Lanes wines (their 2012 Old Vine Zin is the bomb!) out of order. Ooooo, we are renegades.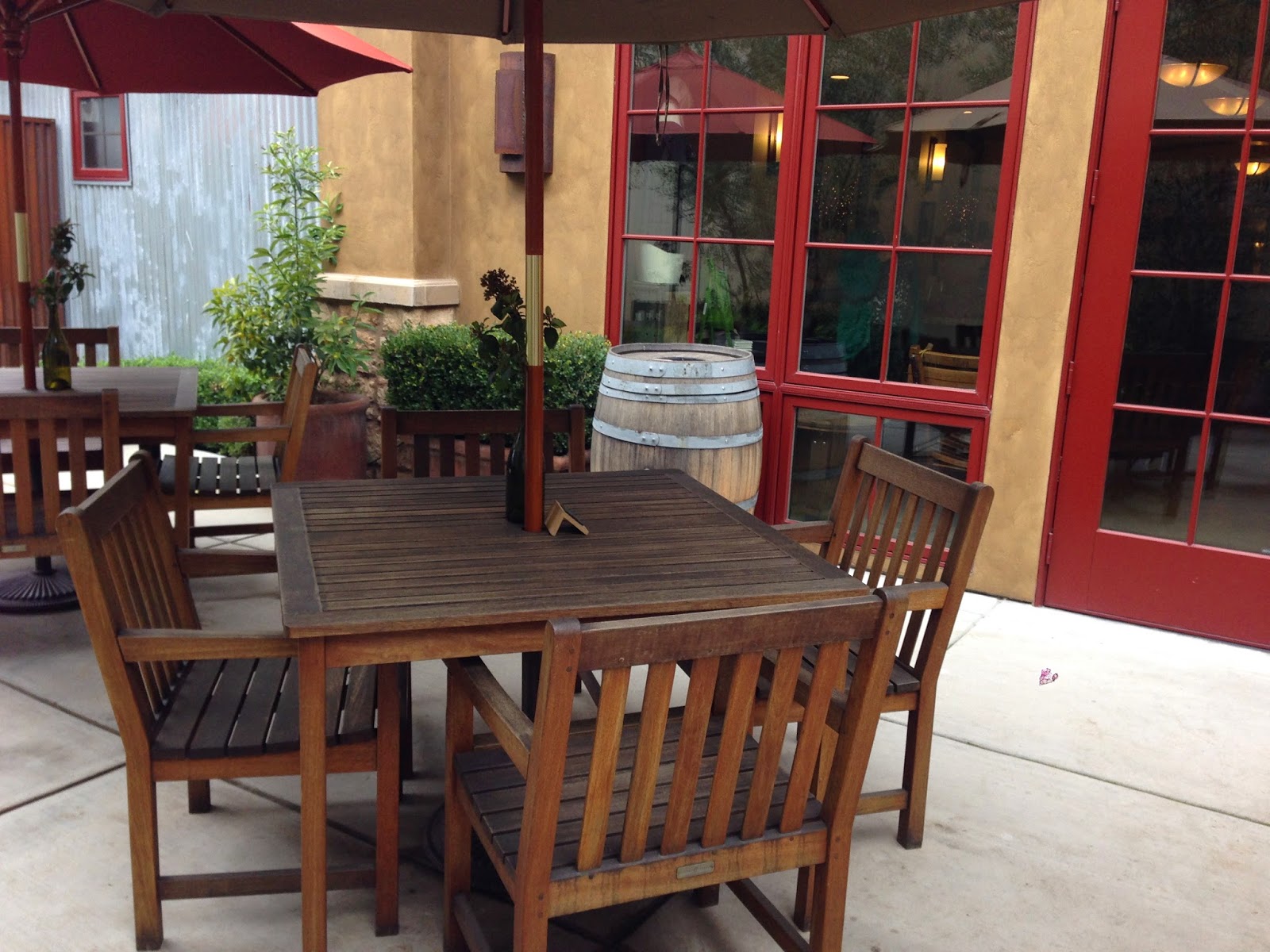 The Harney Lane Picnic Area
A side note, beside Harney Lanes Winery I had annotated as pertinent information their picnic area. Being #3 winery, I thought we'd stop there, eat a snack, and rehydrate. Though we did not utilize it on our January visit, we lunched there on Valentine's Day. It is gorgeous and comfortable. The staff (especially Tori — we love you Tori!!!) is more than gracious, with lovely servings of cheese, meats, crackers,… available for purchase. As an experienced cruise director, I always travel with munchies and a cooler of water and non-alcoholic beverages. Wine tasting must be offset with hydrating fluids and carbs. Please remember to take measures to stay safe and healthy. For us, this means that John and I usually share a glass at wineries so that we are tasting versus over-imbibing.
5. Now that the wineries to visit are mapped out, I start the restaurant search. I use Yelp, because I have a young adult daughter that taught me its inane comprehensiveness. Yelp provides relative cost, type of food, quality of service and food, location and contact information. My criteria when wine tasting is all of the above, with emphasis on location fitting into our wine-tasting plans. For lunch, I focused on a restaurant that would keep our water glasses filled and provide us with comfort food and relaxing surroundings. For supper, I went with a trendy bistro and reserved a table at the 2nd seating, where I knew we could linger, process our day, and let our designated driver (thank you, John!!!) prepare for the drive home.
6. Voila'! A fun day is now planned. All info is in my steno pad. I enter destinations into our GPS throughout the day, as needed. Some people I know enter all destinations into their GPS before embarkation. Whatever works. I provide comedy as I try, after visiting a winery, to locate my steno pad, remember info long enough to enter it into the GPS, and not participate in the lively conversation going on. Also between wineries, I make notes in my steno pad of wineries, restaurants, boutiques, etc recommended by others we meet or places that catch our fancy along the way. In Lodi, we added several wineries and a couple of restaurants. When my son and daughter-in-law, Robby and Sarah, planned Valentine's Day with us in Lodi, we pulled out the steno pad. Everything was ready, including places John and I had not yet visited.
Bill, Laura, John, and I had a great time in Lodi. It was a fun, laid-back day of meeting wine-pourers extraordinaire, talented winemakers, lively fellow-tasters, attentive restaurant servers, and care-full chefs. Another of those days where we sigh and feel good about paying the high taxes for living in such a bountiful, beautiful place.
---
About the Author
: Judi never does anything short, be it children (even at 5' 10", all 3 kids outgrew her), a voicemail message, a menu for family & friends, a day of visiting wineries, or a wine pour. Especially the latter; wine glasses are large for a reason! Her daughter-in-laws and their friends have a measure called The Judi-Pour. That means we have blessedly good relationships, 'cuz her name could be attached to worse. Sparkling wines are my go-to, but there is always a time for a peppery Pinot Noir or a crisp Pinot Grigio. Or a chill Sauvignon Blanc poolside or a toasty Cab in hand while playing bocce or a frizzante after work or.....
---
click here to SUBSCRIBE
!