So without question, the official "Holidays in the Vineyards" was amazing. Fun extra attractions in every tasting room, amazing holiday bling, plus lot of happy people. But for wine tasters in the know, the weekend before Christmas is the very best time to go wine tasting. Same holiday discounts, same beautifully decorated tasting rooms, but without the crowds. Ever the savvy tasters, we didn't let this opportunity go to waste!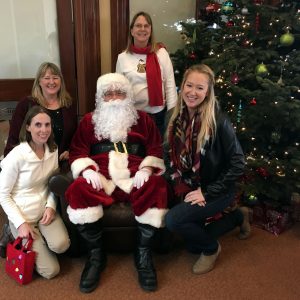 So we started our day with the Sunday brunch at Poppy Ridge. If you haven't tried their Sunday brunch, give it a try. Great food as reasonable prices, with complimentary champagne. Today added Santa Claus to the mix. What's not to like about that?
Following our brunch we set of for Eagle Ridge Vineyard. The weather was cold and ominous, but the Eagle Ridge was warm and inviting. Jim was holding court on his traditional stool, with nary a wine taster to be found. The six of us made ourselves at home along the bar and made ready for some wine.
The Eagle Ridge tasting room was in full Christmas regalia! Special decorations were added to the standard retro-themed environment. There were many new bits-and-bobs to shop and buy. We chose a cute sign and a cork cage for Christmas presents (shhhh, they're surprises). We checked out the toy train (a personal favorite of mine) and the Christmas tree.
The tasting menu was as amazing as ever, with particular love today for the Raptor blend. The weather and the season came together to provide the perfect backdrop for the first Eagle Ridge blend in recent memory. A bottle of this lovely creation came home with us, along with the Christmas presents.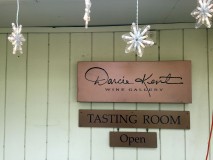 From Eagle Ridge we made out way to Darcie Kent Vineyards, another favorite of our group. Again we found fun decorations, happy staff, but no crowds. In fact, we nearly had the tasting room to ourselves! We pushed two tables together and got comfortable. We knew that a great tasting was in our future! The tasting room was very festive, with something fun to look at in every direction.
We tasted our way through their new "Library Collection" tasting menu, ably assisted by a wine guide who must remain nameless (a long and funny story, but….).  She made us feel like long lost relatives and showed an amazing ability to remember what everyone was tasting and what was next for each of us. We particularly enjoyed the 2011 Crown Block Merlot blend and the 2005 Touriga Port. It is amazing how we enjoy different wines differently, depending on the day.
Our final destination was Eckert Estates Winery. Eckert is now a double feature, offering wine and distilled spirits. Once again, the holiday crowds were in the malls and not in the Eckert tasting room. Half of us chose the wine flight and half the spirits tasting. All of us chose the chocolate truffles (thanks Gwen!) as a pairing. Honestly, when it comes to chocolate truffles, the pairing beverage isn't that important, is it?
We tasted the new Absinthe, which was a real treat. This was our first exposure to high quality Absinthe and we learned a lot. The liquor is bottle at over 140 proof and diluted in the glass to a more manageable strength. Once the alcohol level drops, the clear liquid turns cloudy, as the oils and essences from the Absinthe come out of solution. A real taste of something different.  Now we understand why Mike can't keep this in stock! On the wine side of the tasting, the "best taste" honors were split between the Carignan and the Ensemble.  Both tasted awesome with the chocolate.
The sun was setting and the rain was rolling in, so we purchased some extra wine and spirits inventory for the long Christmas/New Years week and headed home.
We can't wait to kick off 2016 with a fresh round of winery visits. Until then, cheers!
---
About the Author
: John grills a mean steak and is always in the market for another wine fridge. Believes that if a winery has more than 10 employees, it's probably too big. Buys wine faster than he drinks it, but who cares?
---
It pays to subscribe!
We will send you a brief email whenever there's a new post, so you'll never miss an article. We promise not to be a pest. Unsubscribe any time you like. And, of course, we won't let ANYONE else use our subscriber list. By subscribing, you agree to our
Privacy Policy
.
So go ahead,
click here to SUBSCRIBE
!