After boning up on the heritage of the zinfandel grape, we set off for Lodi. We had a full day planned, full of new wineries to explore, with an emphasis on smaller wineries that produced a range of varietals. We were all excited enough about our day that we got up early (which is saying something), packed the car and arrived at our first winery at the stroke of 11:00. Our opening tasting? Today that call went to the Van Ruiten Family Winery!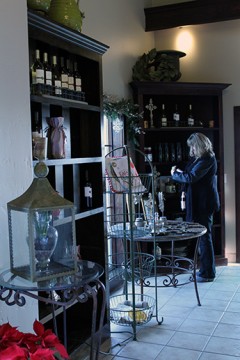 We entered the very spacious tasting room to discover… nobody! The tasting room was empty. Moments later, though, we were greeted by wine guides Elyse and Gary. Yay! We were off to a good start and ready to get tasting. Well, almost ready. The tasting room was festively decorated for the holidays and there were a number of sale displays that captured our attention. Half of us were interested in the ornaments for sale and half were interested in the case wine sales.
We made our way around the tasting room carefully, so that we didn't miss anything that might be on sale. Only the faint call of wine bottles aching to be poured finally lured us to the tasting bar. At long last, Elyse and Gary had a chance to display their wine guide chops.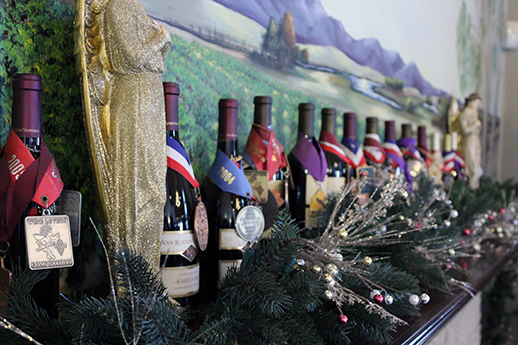 We learned that we had our choice of two tasting flights, a Signature Flight at $10 and a Reserve Flight at $15. We practiced our "divide and conquer" strategy, with half of us on one flight and half on the other. Our flight started with their 2012 Double Barrel Chardonnay, which started its life in French oak and then moved to neutral oak. The result was a mellow and buttery chard, with fun spices on the nose.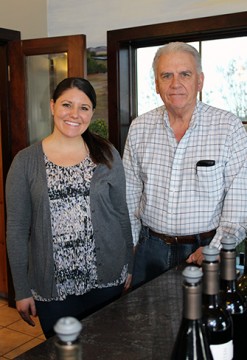 Delaynie and Rob started with the 2014 Sauvignon Blanc. They loved the aromas of pineapple and kiwi and the explosion of fruit on the palate. They gave it a 5 out of 5. And they're tough graders!
About then, we learned that the Van Ruiten family started growing grapes in the 50's, and some of those original Zinfandel vines are still producing wonderful grapes that become wonderful wines. We tasted the 2011 Reserve 'Sideways' Zinfandel and the other team tasted the 2013 Old Vine Zinfandel. We loved our choice, while Dee and Rob preferred the 2013 Cabernet-Shiraz blend by a fair margin.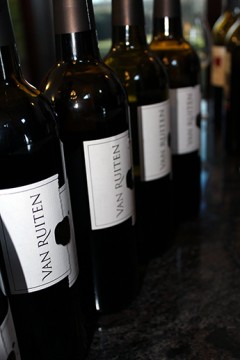 We also loved the 2012 Reserve Ancient Vines Carignane! Amazing layers of tart fruit (even hints of watermelon?), especially black currant, with good balance and a finish that lures you back for another sip. We next enjoyed a battle of the Cabs. We tasted a 2012 Reserve Cabernet Sauvignon and they tasted a 2013 Cab. Despite a difference in price, there was little difference in our enjoyment. In both cases, we enjoyed lots of blueberry and dark cherry notes with enough tannins to stand up to a nice barbecue.
Our last varietal face-off was comparing their 2012 Reserve Shiraz with their 2013 Cabernet/Shiraz blend. The blend earned a 5/5 for its black cherry and vanilla twang, while the Reserve earned honorable mention for the unique toffee notes and Cuban cigar-worthy finish.
We completed our tasting flights, disagreeing as to which tasting flight had more stars. We selected some wine to take home (taking advantage of some amazing sales!), even selected a vintage Christmas tree ornament for next year, and thanked Elyse and Gary for all the attention. Off we went, in search of our next winery!
---
About the Author
: John grills a mean steak and is always in the market for another wine fridge. Believes that if a winery has more than 10 employees, it's probably too big. Buys wine faster than he drinks it, but who cares?
---
It pays to subscribe!
We will send you a brief email whenever there's a new post, so you'll never miss an article. We promise not to be a pest. Unsubscribe any time you like. And, of course, we won't let ANYONE else use our subscriber list. By subscribing, you agree to our
Privacy Policy
.
So go ahead,
click here to SUBSCRIBE
!