Memorial Day weekend is full of promise and excitement. Add to that excitement the extra thrill of a wine club pickup, and you have the recipe for a great weekend. Properly enthused, we set off for the Rock Wall Wine Company to kick off summer.
Given the holiday weekend, we were not surprised to find the Rock Wall tasting room hopping. They manage their tasting area much like a restaurant, taking names to allocate space at the bar whenever the room fills up. We identified ourselves and wandered around the retail area for the few minutes until we were called to a space at the bar.
We took our places and met our wine guide Pierre. Very French. Quite exacting about his role as ambassador for the the Rock Wall brand. As he set us up with wine glasses and oriented us to their approach to a tasting flight, we learned that Pierre was a man of many talents. During the week, he exercises his PhD in Molecular Genetics. On the weekends he exercises his Certified Sommelier accreditation, illuminating the finer points of Rock Wall wines.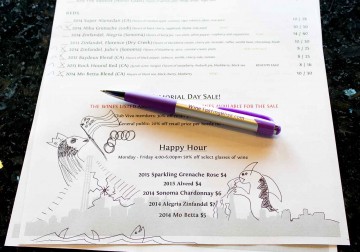 The Rock Wall Wine Company has a very large tasting menu. Visitors are invited to select six wines from the list for sampling. With four of us tasting, we were easily able to visit every wine at least once. After a palate tuning with their 2015 Sparkling Blanc de Blancs or 2015 Sparkling Grenache Rosé, we dove (figuratively, of course) into their reds.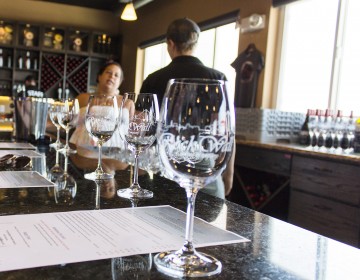 Their 2014 Super Alamedan was a great start to the parade of red wines. Fabulous fruit flavors on a base of caramel. Nice minerality with a spicy pepper finish to keep things interesting. The 2014 Abba Grenache was herbaceous and full of dark pitted fruit notes. We all felt that this would be a perfect pairing with Mom's Chicken Herby.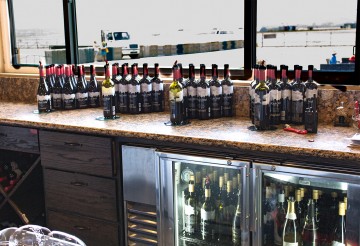 We tasted our way through their impressive list of Zinfandels: Alegria, Florence and Julie's. Although each one had its strong points, the fan favorite was their 2014 Julie's Zinfandel. One of us exclaimed, "This one is an adventure, really!" As we tasted their Zins, we were once again reminded that aeration is critical to maximizing the flavor of wine. When Julie's Zin was pronounced the best, some of us were confused. We traced the disconnect to the fact that half of us tasted the end of a bottle and the other half tasted the start of the next bottle. These wines, like most, really benefit from some time in the air. Don't forget to swirl!
We completed our tasting flight, now it was time for some food and views. With more Rock Wall wine, of course. We have commented previously on the amazing views from the tasting room. The views are even better from the outdoor area between the winery and the bay. We purchased a bottle of Julie's Zin and made our way outdoors to Scolari's At The Point, which is a stationary high-end food truck. We each made our selection from their amazing menu, paid our tab, and received a whimsical sign for our table. The sign (ours said "les oeufs" and had a cartoon drawing of a dozen eggs) allowed the runners to accurately deliver our food once it was prepared. We feasted on our sandwiches, enjoyed our Julie's Zin, and took in all the beauty of the City by the Bay.

What an amazing way to spend Memorial Day!
---
About the Author
: John grills a mean steak and is always in the market for another wine fridge. Believes that if a winery has more than 10 employees, it's probably too big. Buys wine faster than he drinks it, but who cares?
---
It pays to subscribe!
We will send you a brief email whenever there's a new post, so you'll never miss an article. We promise not to be a pest. Unsubscribe any time you like. And, of course, we won't let ANYONE else use our subscriber list. By subscribing, you agree to our
Privacy Policy
.
So go ahead,
click here to SUBSCRIBE
!