The coming of summer heralds many good things. Not the least of these good things is the latest crop of summer wine club parties! One of the best of the crop this summer was the club release party at Darcie Kent Vineyards.
Capping off a whirlwind weekend that saw us touring wineries in Amador County and Murphys and attending an Eagle Ridge Vineyard release party, we made it to the Darcie Kent Vineyards release party a bit later than usual. We were thrilled to see that the party was still in full swing!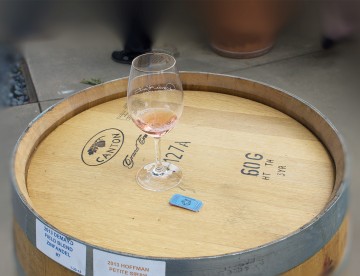 We checked in, and received our wine glasses and something new: tickets. These tickets were provided to trade for the various food pairings offered in the tent. At first this put us off a bit. Soon we noticed that the lines for food were nearly nonexistent. Since we were at the party for the fun and wine pairings, and not for an all-you-can-eat buffet, this seemed like a creative solution to a vexing problem.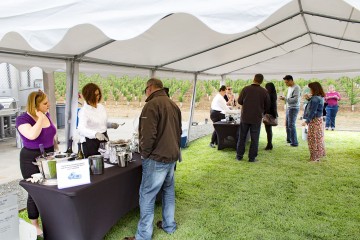 For this party, the food pairings were created by Eduardo Posada, chef/owner of Posada restaurant in Livermore. Eduardo is developing quite a reputation for food pairings, partnering with several of the valley's leading vintners. For this party, he produced the following pairings for our enjoyment:
 2014 DeMayo Chardonnay paired with Stone Ground Cheddar Cheese Grits and Shrimp.
2013 Tesla Neighbors Petite Sirah paired with Queso Fresco in a Blackberry Mole and then topped with a drizzle of Mesquite Smoked Honey and Toasted Sesame Seeds.
2013 Clone 337 Cabernet Sauvignon paired with Open Fire Roasted Vegetable Bisque with Carne Asada topped with a dollop of Smoked Black Currant Yogurt.
2013 Field Blend Zinfandel paired with a Pulled Pork Carnitas Slider in a Tomatillo Sauce topped with Chipotle Aioli Slaw.
A Darcie Kent party nearly always includes live music, and this edition was no exception. This time the tunes were provided by instructors and students from nearby Las Positas College. This ensemble included sax, trumpets, bass guitar, keyboard and drums, with several musicians also providing vocals. They delivered very credible versions of jazz standards and show tunes, serving as a happy background for our wine and food pairings!
After spending all of our tickets and sampling each of the wines at least once (ask me no questions and I'll tell you no lies), we made our way to the barn. As usual, they were pouring wines that were on special markdown by the case lot. Many of our favorites were reaching the peak of their drinkability and were ready to find a home.
Another mainstay of a Darcie Kent party is a mini-exhibition of Darcie's artwork. We spent some time enjoying the latest pieces in the collection. We loved the rich colors and local imagery captured in these oil paintings. And nothing adds to our appreciation of fine art quite like sipping on some fine wine. Talk about a perfect pairing!
At that point, we had tasted all of the wine, sampled all of the food pairings, listened to the collegiate music, and visually feasted on Darcie's paintings. It was time to pick up our club pack of wine and set off into the sunset.
---
About the Author
: John grills a mean steak and is always in the market for another wine fridge. Believes that if a winery has more than 10 employees, it's probably too big. Buys wine faster than he drinks it, but who cares?
---
It pays to subscribe!
We will send you a brief email whenever there's a new post, so you'll never miss an article. We promise not to be a pest. Unsubscribe any time you like. And, of course, we won't let ANYONE else use our subscriber list. By subscribing, you agree to our
Privacy Policy
.
So go ahead,
click here to SUBSCRIBE
!