Spring comes early to California. While most of the country is still dealing with a snowy winter, Northern California welcomes sunshine and warm breezes in early March. Once the chill is off the vineyards there's just one thing to do: go taste some wine OUTDOORS!

We constructed our winery tour list to focus on outdoor tasting opportunities. The green hillsides and budding grapevines provided the ideal backdrop for sampling the newest wines from the area. The Livermore area was rich with outdoor tastings, so the list was more than ample.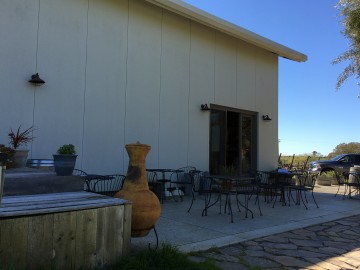 Our first stop was Les Chenes Estate Vineyards. Owners Richard and Candice Dixon have a great formula: Richard creates wonderful Rhone style wines and then Candice pairs amazing cheeses with each pour. We checked in and selected a picnic table on the edge of the patio, closest to the grape vines. As usual, we bought more cheese than wine, selecting several Champagne Cheddars and the stellar 2104 Petit Verdot.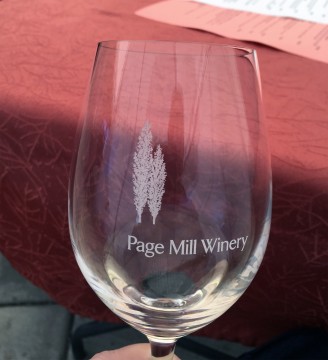 Another favorite warm-weather tasting stop is Page Mill Winery. Although the tasting room has a more than ample indoor bar, the covered outdoor area was our goal. We quickly found an empty table equipped with some comfy chairs with a nice view of the spring day and settled in for our tasting. Wine guide Lori welcomed us and got everyone started with their 2015 Chardonnay. This smooth, Rhone style wine made friends with everyone at the table set us up for an eclectic tasting flight. Our second taste was a new release, their 2015 Angela's Cuvée, a dry rosé that was a perfect match for the warm breezes.
We tasted through the heart of their menu, with particular favorites of the day their 2015 Pinot Noir from Sonoma Mountain and their 2014 Petite Sirah. Both wines are available for club members only, demonstrating yet another reason our family has so many winery memberships! We also loved their zesty Zinfandels and Côte Vineyard Merlot, but we could only fit a limited number of bottles in our long-suffering wine racks. We made the hard choices, purchased our wine and said goodbye to Lori.
Another summer of wine tasting is right around the corner!
---
So have we mentioned the fun things we have up our sleeves for our wonderful subscribers? Join our wineless wine club! It's free, you'll learn of our new articles the day they're published, and we will soon give you access to exclusive content. So go ahead, click here to SUBSCRIBE!