Please note that this winery has closed.
We've already written about how much we love Eckert wines. Great, well-priced wines,  made by friendly and genuine people. What's not to like? But Mike and Vickie Eckert have figured out how to add a little more fun to the wine tasting process: Bottle Your Own! We first discovered the joys of the Eckert bottle-your-own event a few years back when our daughter graduated and we were preparing for a major party. Now the holidays are approaching, and what makes a better gift than self-bottled commemorative wine? Keep the secret, though, will you? At least until Christmas?
Our first Bottle Your Own experience involved a nice Malbec. This time, Mike put together a blend of 40% Malbec, 40% Pinot and 20% Zin. The result is delicious, with nice fruit (especially some plum notes) and a surprising hint of port finish. A great choice for sip and sing (OK, I made that up, it doesn't exist) or pairing with a massive Christmas feast.
Bottling your own wine sounds difficult. We will try to maintain that illusion for our friends who receive this wine, but it turns out that the Eckerts make it really easy. The wine is resting comfortably in a stainless steel vat, just aching to be bottled. That's where the audience participation begins.
Rob fills a bottle
Step one: move the wine into the bottle. Silly me; I expected that one used a pump to push the wine from the vat into the bottle. I was wrong! Mike has a clever vacuum pump arrangement that pulls the air out of the wine bottle and uses that vacuum to lure the wine into the bottle. The gadget fills the bottle, draws the wine foam off of the top, and then shuts off respectfully. All you need to do is place the bottle into the filler, watch the filling process like you do this every day, and then remove the bottle when it is full.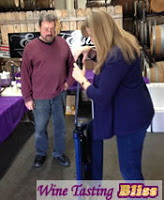 Judi adds a cork
Step two is equally amazing. The bottle needs a cork, and Mike has just the gadget for that. Did you ever wonder how that cork gets skinny, just long enough to slide into the bottle neck? This device makes it happen. First you place the filled wine bottle onto a spring-loaded platform, adjusting it to be directly below what can only be described as a square circle. The cork is placed in this square circle, with steel jaws on every side. A long handle is cranked over, which brings the jaws toward the center, squeezing the cork into a skinny version of itself. The end of the cranking also pushes a piston down on top of the cork, forcing it into the wine bottle. The whole process takes about one second, but the result is amazing: the wine bottle is now securely corked!
Sarah celebrates success
Step three is the only step that doesn't require one of Mike's clever gadgets: celebrate the result! You've worked very hard (we're sticking with that story) and you now have a wonderful bottle of wine to show for your efforts. The Eckerts have the California-mandated labeling for the back of the bottle, which leaves a lovely space on the other side for your personal commemorative label. Hint: office supply stores carry lovely 4″ x 6″ peel and stick labels that work in your home printer. A little time with the graphics program of your choice and you can have a very collectible custom-labeled wine bottle.
A few minutes of fun, and you have a lovely bottle of wine and an impressive-sounding story to tell as you enjoy it later. But remember our party line (and we're sticking to it), this is very difficult and only available to celebrities. Bottling your own wine: another good reason to join the Eckert wine club!
---
About the Author
: John grills a mean steak and is always in the market for another wine fridge. Believes that if a winery has more than 10 employees, it's probably too big. Buys wine faster than he drinks it, but who cares?
---
It pays to subscribe!
We will send you a brief email whenever there's a new post, so you'll never miss an article. We promise not to be a pest. Unsubscribe any time you like. And, of course, we won't let ANYONE else use our subscriber list. By subscribing, you agree to our
Privacy Policy
.
So go ahead,
click here to SUBSCRIBE
!