The picturesque downtown area of Lodi is home to boutique shops, brew pubs and, happily, winery tasting rooms. During our recent visit we were able to enjoy two out of three of these attractions. You guessed it, we skipped the boutiques. Our first stop was an amazing visit to the Jeremy Wine Company.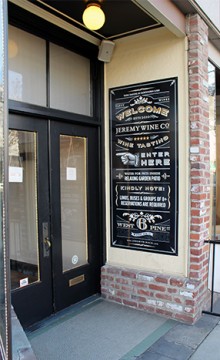 We started our first wine tasting tour of 2016 at the Van Ruiten Family Winery. From there, we drove to downtown Lodi and found the Jeremy Wine Company tasting room. The first thing that we noticed as we entered the Jeremy Wine Company was the amazing attention to visual design. From the ornate entry signage, to the the faux Cardinal perched on a ceiling-mounted branch, to the formally balanced bar complete with wine taps (yes, I am not making this up!), everything came together beautifully. This was certainly not a sterile warehouse space! It made a lot of sense when we learned that the founder/winemaker, Jeremy Trettevik, had an extensive prior career in visual  design. We were all in a great frame of mind even before we tasted any wine.
We found a space at the bar and met wine guide Mark, who immediately made us feel welcome. He gave us a quick introduction to the winery. He described the winemaker's approach to wine making was to make the fruit the star. To us, that sounded like a sound approach! Mark set up our first taste, a nice 2014 Albariño Lodi. We appreciated the delicate peach and strawberry notes and knew we had chosen our second winery very well.
Our next taste was their Jeremiah's Jug. This was a fascinating packaging concept: a refillable jug filled from the bar taps with a nice table wine.  Think growlers at a craft brewery, applied to wine. This blend of 60% Syrah, 20% Petite Sirah and 20% Tempranillo had layers of dark cherry, blackberry and raisin. This would have come home with us even without the clever packaging! Mark told us about a difficult time in the recent past when the winery ran out of Jeremiah's Jug. There was a great sigh of relief when the taps once again flowed with the next vintage.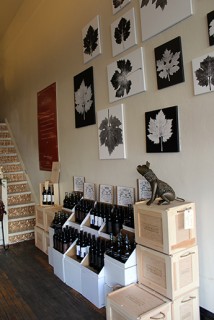 We next tasted a blend called The Gentleman. This was a 33/33/33 blend of Nebbiolo, Barbera and Sangiovese grapes from Lake County. Rob called this a "surprise in a glass" with some nice complexity and a spicy finish. A real contender for "taste of the winery" honors.
Their 2013 Termpranilo from Amador County grapes was a lot of fun! Spice, leather, plum and tannins, all cascading across the tongue.  Also from Amador County, although at an altitude of 1,600 feet above sea level, the 2013 Barbera was light and bright, with a sour cherry finish. A truly unique wine!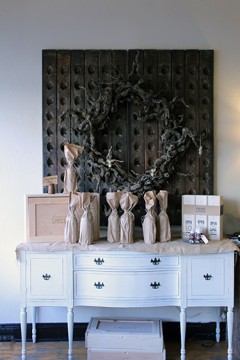 Next up was their 2013 5 Blend, a wine that truly deserves the name. This blend has 29% Petit Verdot, 29% Petite Sirah, 15% Sangiovese, 14% Barbera and 14% Souzau. Despite the jumble of components, we found well-balanced layers of fruit and a wonderful, lingering finish.
We concluded our tasting with a bonus pour, their 2013 Primitivo. Made from grapes from an Amador County vineyard half a mile above sea level, we found great fruit, with plums and blackberries leading the charge. This was definitely a case of "last, but not least". We awarded "taste of the winery" honors and bought a bottle to add to the Jeremiah's Jug we already had in our on-deck circle.
It was now time for some lunch, so we took a final look around the bright, airy tasting room, thanked Mark and set of in search of something delicious on a plate. Our next winery was not far away….
---
About the Author
: John grills a mean steak and is always in the market for another wine fridge. Believes that if a winery has more than 10 employees, it's probably too big. Buys wine faster than he drinks it, but who cares?
---
It pays to subscribe!
We will send you a brief email whenever there's a new post, so you'll never miss an article. We promise not to be a pest. Unsubscribe any time you like. And, of course, we won't let ANYONE else use our subscriber list. By subscribing, you agree to our
Privacy Policy
.
So go ahead,
click here to SUBSCRIBE
!