The Livermore Valley wine industry is growing! New wineries are sprouting up, established wineries are growing, positive changes are everywhere. Several wineries have recently moved to new and larger tasting rooms. Following a fun tasting at the McKahn Family Cellars' new tasting room, we kept with the theme and visited the new tasting room for Wood Family Vineyards.
Wood Family Vineyards has been making and selling wine for many years, with a very limited number of tasting weekends permitted by the Home Owners' Agreement where the winery was located. This new tasting room had previously hosted a recent Wind Down Wednesday, but this was our first visit to the facility since all of the tasting room accouterments were installed. The new tasting room is a festive space, with red walls, lots of wood, and a variety of ways to enjoy a tasting. There were several comfy couches (in red, no less) scattered wine barrel tables and two expansive bars (again featuring wine barrels) along the walls.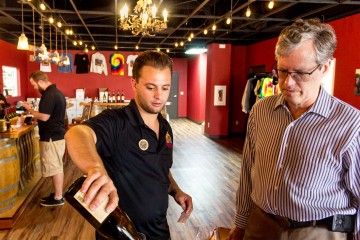 We selected a wine barrel table and settled in for our tasting. We were greeted by wine guide Danté, who set us up with glasses and poured their 2015 Chardonnay. This was a traditional Chardonnay, with some butter and an off-dry finish. Their 2014 Grenache, made with grapes from the Ghielmetti vineyard. This wine was a fun fruit bomb, with a lot to like! Danté told us that all of their Grenache in 2015 was destined for their GSM (named by its components of Grenache, Syrah and Mourvedre). Therefore, no Grenache wine next year!
About then, we met Ben, the Wood Family cellar master. Ben, a graduate in creative writing, told us that he started with the Wood Family as a harvest season temporary worker. He was hired to help with the harvest and crush. It seems that his work ethic and genuine interest in wine caught someone's eye, because he is now a full time winery employee. Living the dream!
Next up was their 2014 Cabernet Franc. A 100% Cab Franc wine, we loved the dark fruit notes and the clean finish. A bottle of this lovely wine led off our "take home" list. Their 2014 "El Loco Rojo" Red (a blend containing 58% Cabernet Sauvignon, 22% Cabernet Franc, 10% Merlot,  5% Malbec and 5% Petit Verdot) was named in honor of a family uncle. Most families have a least one eccentric uncle, and the Wood family is apparently no exception. We enjoyed the raspberry aromas and flavors with nice plum and leather on the finish. Fine by itself, but sturdy enough for a meal.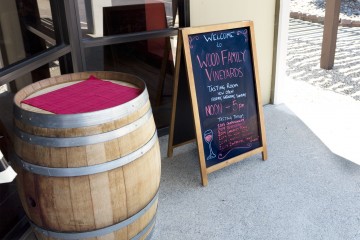 We next tasted their 2014 Cabernet Sauvignon. Made with a splash of Merlot and Syrah (8% each) for extra character, this wine impressed us with mellow cherry and plum notes. If your friend doesn't like Cabs, serve this one! Our final taste was their 2014 "Muy Bueno" Zinfandel. Medium sweet, with a nice punch of pepper, this was pronounced, "lip smacking good" by one of our tasters.
We discussed our "take home" list for a bit, purchased the final candidates, and thanked Danté and Ben for their help. This new tasting room will easily join our list of regulars.
---
So have we mentioned the fun things we have up our sleeves for our wonderful subscribers? Join our wineless wine club! It's free, you'll learn of our new articles the day they're published, and we will soon give you access to exclusive content. So go ahead, click here to SUBSCRIBE!