One of the fun side-effects of Livermore's annual Taste Our Terroir weekend is being reminded of the amazing local wineries that we haven't visited in a while. That was exactly what happened when we tasted at the Dante Robere Vineyards table during the Quest for Pairing Excellence. We agreed that we had been away far too long!
We have been fans of Dante Robere Vineyards since they were pouring in the Eagle Ridge tasting room. We've visited their new property a few times, but for some inexplicable reason we had not been back in too many months. Seeing Dan and Bob at Taste Our Terroir was just the catalyst we needed to immediately plan another visit to their incredible winery. Oh, the stresses of writing a wine blog!
It was hot and sunny when we arrived, so enjoying the front patio wasn't our plan. Instead, we went indoors, where it was cool and elegant. The back wall was highlighted with fun oversize postcards with Wine Enthusiast reviews of their wines. The wrap-around bar provides comfortable tasting space for dozens of visitors, but on an early Friday afternoon there were only two other groups. That gave us one entire leg of the bar to ourselves.
Bob (Robere) Bossi popped out from the back room to greet us and then excused himself to continue his work on an air conditioner. We agreed with his priorities; wine does not like to get warm! We were in good hands, though, as we adopted our typical "divide and conquer" approach to their ample tasting menu. We each picked favorites from their list and shared glasses. A tasting menu like this deserves some detailed appreciation.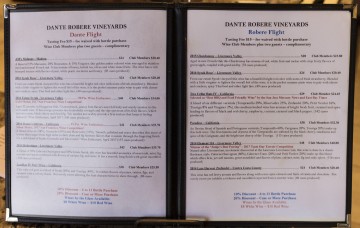 We started with their 2016 Syrah Rosé, a fun starter with raspberries on the nose, joined by blackberries, cherries and strawberries on the tongue. We love the new trend in dry rosés! I jumped in with their 2014 Syrah, with punchy fruit and pepper and a tobacco and leather finish. This is a wine that can handle spicy food. The Two Cellar Rats IV, a blend of Tempranillo, Mourvedre, Zinfandel, Petit Verdot, Touriga, and Viognier, was warm and spicy, with bright cherry notes across the top. We thought that this wine would pair nicely with desserts!
Next up was their Paradiso, described as an Iberian blend of Tempranillo, Carignane, and Touriga. We enjoyed the subtle layering of flavors and the nuanced tannins. The 2014 Element 116 was next. This was the award-winning wine at the Quest for Pairing Excellence. It was named after Livermorium, the element (number 116 on the periodic table, get it?) recently discovered by nearby Lawrence Livermore National Laboratory. It is a blend of Cabernet Sauvignon, Cabernet Franc, and Petit Verdot. We found it delicious, a bit young, with good fruit and depth of character. Caramel aromas leading to oak and tobacco. This is going to be truly great in a few years. Yes, one of these joined our take home list.
On the "ready to drink tonight" list was their 2014 Dante's Inferno. A blend of Syrah, Grenache, and Mourvedre, we loved the dark plum and fig notes, with a bit of heat on the finish. This is a great introduction to the winery if you only have time to taste one wine! We next tasted the 2014 Robertage, a Cabernet Sauvignon/Syrah blend. This wine started mid-sweet and then immediately slid to a lingering dusky finish. This, too, went on our take home list. Our final taste was the LexiKat IV Port. Aromas of raisin with classic port flavors throughout. We both thought that there was a nod to Jim Perry (of Eagle Ridge) in every bottle.
We were so glad that we FINALLY made it back to Dante Robere! We purchased our wines and set off for our next tasting, resolving to never let months pass without another visit to DR.
---
About the Author
: John grills a mean steak and is always in the market for another wine fridge. Believes that if a winery has more than 10 employees, it's probably too big. Buys wine faster than he drinks it, but who cares?
---
It pays to subscribe!
We will send you a brief email whenever there's a new post, so you'll never miss an article. We promise not to be a pest. Unsubscribe any time you like. And, of course, we won't let ANYONE else use our subscriber list. By subscribing, you agree to our
Privacy Policy
.
So go ahead,
click here to SUBSCRIBE
!