The premier weekend of the Livermore Valley wine scene had arrived: the Taste Our Terroir weekend. The kick-off event, the Quest for Pairing Excellence, showcased 20 local wine makers and chefs and their very best collaborations. It was an evening not to be missed.
This annual food and wine pairing competition is the starting point for an extended weekend of wine events, all coordinated by the Livermore Valley Winegrowers Association. Twenty local wineries were paired with local chefs for a pairing competition judged by food and wine experts and the attendees themselves. This year, the judges were Catherine Fallis of PlanetGrape.com, Carolyn Jung of FoodGal.com and Laura Levy Shatkin of Napa Sonoma Magazine.
The Quest for Pairing Excellence event sold out once again, with over 700 attendees. Two types of tickets were available: general admission and VIP access, which provided a one hour head start on the entire evening. We were lucky enough to score VIP tickets, so we queued up at Casa Real a few minutes before opening and were thrilled to learn that Elliston Vineyards was providing a splash of sparkling wine for us as we waited.
We mingled and sipped our sparkling in the Ruby Hill Winery patio, excited about the experience about to begin. It was a lovely summer evening, but we were so focused on the upcoming pairing event that we barely noticed the blue skies and gentle breezes. A perfect Northern California setting. This is why we tolerate the high cost of living here.
Just as we finished our sparkling wine, the gates were opened and all the VIP ticket holders streamed into the courtyard for some preliminary wine tasting before the pairing venue was opened. Minutes later, we were admitted into the Casa Real event space. We immediately noticed one new feature: electronic voting! In past years, attendees received poker chips to indicate their favorite pairings. This year, there was an electronic voting app running on tablets along the back bar. Yes, there really is an app for everything!
Oh my, what pairings we sampled! Our favorite wineries, our favorite chefs, how great is that? We used our standard strategy of racing to the far corner of the room, seeking out tables without a throng of happy tasters. We circled the room and tasted EVERYTHING! Here is a quick look at our experience:

















Before we knew it, the dessert room was open. Some call it, "Death by chocolate" but there were a few non-chocolate desserts offered. The food was compliments of Sysco and there were several local wineries in the room with Port. Yes, Port! The only way to improve chocolate? Add Port. What an amazing evening! We filled our plates and wandered out to the garden area to enjoy the desserts and sample more of the wines being poured outside.










The Awards
Although all of the attendees had a wonderful experience, this event was structured as a competition. That means that there were winners and awards. The judges made these decisions: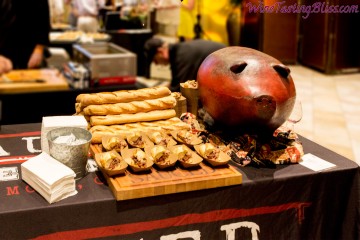 Best Classic Pairing
Nottingham Cellars and Sauced BBQ and Spirits
2014 Cabernet Sauvignon, Livermore Valley (Collin Cranor, winemaker) Smoked brisket French dip layered with horseradish cream, chipotle blackberry sauce atop a baguette (Brenden Scanlan, executive chef and owner)
Most Innovative Pairing
Longevity Wines and BackDoor Bistro
2016 Vintner's Select Pinot Grigio, Livermore Valley (Phil Long, winemaker) Seared pork belly with local stone fruit pico de gallo and green goddess sauce (Lindsey Chelini, head chef and owner)
Judges' Best Pairing
Dante Robere Vineyards and Sabio on Main
2014 Element 116 Bordeaux Blend, Livermore Valley (Dan Rosenberg and Bob Bossi, winemakers) Duck confit taco in a duck fat tortilla with a plum and mint pico de gallo (Francis Hogan, executive chef)
The People's Choice Awards (based on the votes from attendees) were given to:
Best White Wine Pairing
Occasio Winery and Forno Vecchio
2015 Chardonnay, Livermore Valley (Dave Hendrickson, winemaker) Seared scallops with candied bacon and cauliflower puree garnished with spicy citrus microgreens (Jason Landas, executive chef)
Best Red Wine Pairing
Wood Family Vineyards and First Street Alehouse
2014 El Loco Rojo, Livermore Valley (Rhonda Wood, winemaker) Char siu taco with marinated pork wrapped in a tortilla and topped with a honey sriracha aioli and cilantro (David Cortes, executive chef)
So much to see and taste! Here are a few final photos from an amazing night. Now counting the days until next year's event!










---
Want to see more Taste Our Terroir action? Check this out!
---
About the Author
: John grills a mean steak and is always in the market for another wine fridge. Believes that if a winery has more than 10 employees, it's probably too big. Buys wine faster than he drinks it, but who cares?
---
It pays to subscribe!
We will send you a brief email whenever there's a new post, so you'll never miss an article. We promise not to be a pest. Unsubscribe any time you like. And, of course, we won't let ANYONE else use our subscriber list. By subscribing, you agree to our
Privacy Policy
.
So go ahead,
click here to SUBSCRIBE
!