Our suggestions for Thanksgiving wine pairings were very well received, so it seemed natural to recommend some of our favorite pairings for Christmas dinner. From our family to yours!
Like Thanksgiving, our celebration of Christmas is an all day affair. Starting in pajamas and many times ending in pajamas as well, outfits and activities change throughout the day, so the wines must follow suit. It seems that every passing hour welcomes yet another round of delicious food options, so our pairing skill is truly challenged!
Christmas day at our house starts early, with an excited examination of stocking stuffers, followed by several types of quiche.  After some morning hydration with sparkling water or s cola of choice, we are ready to start our long arc of wine pairings. As frequent readers can already guess, we start with champagne. For Christmas day we bring out the "good stuff" to start. For this year, we will probably pop open some champagne that we picked up during our recent tasting at Domaine Carneros. Keeping with the holiday theme, though, some of us might add just a splash of pomegranate juice to infuse the sparkling wine a lovely red glow.
Following the quiche and champagne, we advance to opening gifts. With our tradition of opening one gift at time, with the youngest family members delivering packages and then starting the unwrapping, this phase of the day can take several hours. Wise family members use this time to rehydrate with ice water to prepare for the coming food and wine courses.
After all of the presents are opened and the mountain of wrapping paper collected, it is (of course) time for more food! At our house, appetizers are typically a festival of dried meats and cheeses, with pickles, olives and cornichons to add some salt and sour. Contributing some carbohydrates are crackers and a secret family recipe for an amazing concoction called "beef dip" that combines dried beef, cream cheese and lovely (secret) stuff. Standing up to all those assertive flavors is a challenge, so we normally open some petite sirah and a  dry rosé. We particularly enjoy the slight effervescence of the Eagle Ridge 2011 Petite Sirah and the crisp fruit of the Darcie Kent 2016 Victories Rosé in these situations.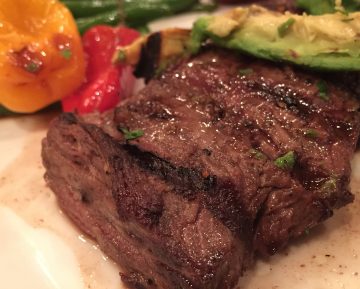 A few hours later, it is time for the main meal. The entrée varies from year to year, depending on what massive chunk of beef can be found. As long as the cut of beef can be prepared on our more-than-ample BBQ and feed the entire family, it can get the nod. Past years have seen rib eye roasts, standing rib roasts, even a half-dozen New York steaks.
Side dishes abound, with several types of potatoes and numerous veggies. Taking a position of honor is Judi's Bearnaise sauce, which gets drizzled generously on the beef. Wine pairings for this feast are a bit free-form. Some family members continue with whatever they have been enjoying previously. Others enjoy a lively Montepulciano, most likely a favorite, sourced from Ayrael Vieux. The burst of fruit with an immediately dry finish provides a great backdrop for each amazing dish.
After dinner we retire to the living room for some friendly games. To be honest, the games are played by friends, but the competition is fierce! There are no prizes, but the Super Bowl is contested with less passion. Voices are raised, high-fives abound, victory dances are performed. Humility is scarce.
Thankfully, dessert is served just in time to avoid even a minor squabble. That means pies, and more than one. There's a good chance of a pecan pie, with chocolate pie close behind. German chocolate cakes made in miniature house shapes are keenly desired. Christmas cookies are also available if pie or cake seems to be just too much too soon. All of this sweet just begs for a tawny port! In honor of the holiday, this year we are thinking of serving the 2004 Tawny Port from Savannah Chanelle Vineyards. A truly special Port for a truly special day.
Following dessert, attentions shift to packaging up left-overs, sorting and boxing everyone's presents, and hugging just once more. Time to get some sleep and try to get ready for the next big event a mere week away: New Years!
We hope that you have a very merry Christmas!
---
About the Author
: John grills a mean steak and is always in the market for another wine fridge. Believes that if a winery has more than 10 employees, it's probably too big. Buys wine faster than he drinks it, but who cares?
---
It pays to subscribe!
We will send you a brief email whenever there's a new post, so you'll never miss an article. We promise not to be a pest. Unsubscribe any time you like. And, of course, we won't let ANYONE else use our subscriber list. By subscribing, you agree to our
Privacy Policy
.
So go ahead,
click here to SUBSCRIBE
!