Ever since I joined the Darcie Kent wine club, I've been darkening their door almost more than is socially acceptable. I like to toe the line between "hey, good to see you again," and "this girl is REALLY back again?!" Thus far in 2017, I have been very successful in this goal. That's why when it was time for the quarterly release party, I pulled up promptly at noon on Saturday like: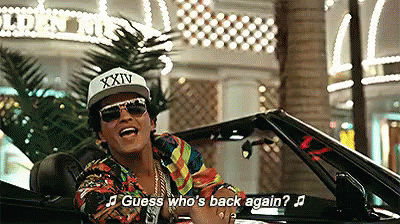 The excitement level of the crew was off the charts, because we knew we were taking home a bottle of rosé in our member's package. Nothing says "summer's here" like sipping rosé on the gorgeous covered patio at Darcie with all our favorite wine tasting people.
Matt Bolton provided the tunes for the event, and we really enjoyed the eclectic mix of songs and his raspy vocals. I didn't get a chance to grill him about his potential relationship to Michael Bolton, so he's gotta come back to Darcie at some point. Check him out here.
The food spread was delicious as always, featuring the standout star: Monte Cristo sandwiches! They were accessorized with a Merlot jam, making me remember that grapes are used for non-wine things too. The stuffed mushrooms were a creative (and vegetarian-friendly) option, along with the picture beef and mashed potatoes. This celiac blogger especially loved the gluten-free cracker assortment at the cheese station! Given that I spend 95% of every social function within 3 feet of the cheese station, the cracker situation was perfect for me. Roscoe, the Darcie doodle that has officially stolen all of our hearts, was also making the rounds to ensure that everyone was having a great time. Really, can anyone look at that pup and not love life?
After soaking up the sun and chowing down, we headed into the barrel room to taste the sale wines…. and to meet a surprise guest! We were excited to see that gold medalist Peggy Fleming was standing inside, signing bottles and taking photos. She is the namesake behind the recently released 2016 Victories rosé. For those who haven't, check out Peggy's amazing ice skating on YouTube, and you'll see "Victories" is the perfect name! Darcie Kent describes this malbec rosé as "display[ing] watermelon, rosebud, and cranberry flavors and aromas, with an electric mineral palate." I love its balance, bright pops of fruit, and lack of syrupy aftertaste.
This release party had it all: food, puppies, a celeb sighting, great tunes and, of course, some incredible wine! We're never disappointed by Darcie Kent events and are already waiting on the next one.
It pays to subscribe!
We will send you a brief email whenever there's a new post, so you'll never miss an article. We promise not to be a pest. Unsubscribe any time you like. And, of course, we won't let ANYONE else use our subscriber list. By subscribing, you agree to our
Privacy Policy
.
So go ahead,
click here to SUBSCRIBE
!