Some wineries run hot and cold, at least for us. Sometimes they're a lot of fun, other times not so much. Other wineries, though, can be counted on to deliver a great tasting experience every time. Recently, we really needed a good tasting to save the day, so we went to Dante Robere. They delivered a great tasting once again!
Summer was upon us, and the wine tasting season was in full swing. We love exploring new wineries, but sometimes we want the comfort of knowing the venue, knowing the people, and knowing the wine. We have known Bob and Dan of Dante Robere since their days pouring at Eagle Ridge Vineyard. Now that they have their own beautiful tasting room they are their own destination.
We entered the sun-lit tasting room to find owner/winemaker Bob Bossi greeting guests, pouring wine, polishing wine glass, ringing up sales, and generally doing everything that needs to get done. He welcomed us by name and set us up with glasses. As usual at Dante Robere, we ignored the various tasting flights and just asked Bob to pour us what we would like. That has proven to be a successful strategy. Try it!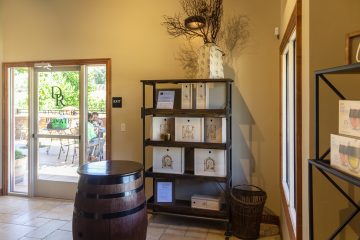 Bob started us with their 2017 Rosé of Grenache. An immediate favorite, this light and zesty fruit explosion beged to be paired with a pizza and a good movie. One taste into flight and we had an entry on our Take Home list! We shifted to the 2015 Grenache and added to our Take Home list. Lots of strawberry and honeysuckle notes, with some pepper in the middle and just the right amount of acid on the finish. A formidable Grenache!
The 2015 Touriga showed mint and berry aromas, leading to a rich, almost menthol fire of tea, plums and some spice we could not identify. A great entry if you're playing "Name that varietal" with friends. Delicious and mysterious. Their NV Two Cellar Rats V maintained the long tradition of delivering an amazing blend. Made from  Petite Sirah, Zinfandel, Syrah, Carignane, Touriga, Grenache and Counoise (whew!), we loved the smoke and fig aromas and the teasing hints of cherry and plum.
Their 2015 Dante's Inferno showed great promise, with plums and light pepper finishing off with gripping tannins. Two more years should make this an incredible wine. We then tasted a favorite varietal, their 2016 Carignane. This wonderful food wine had great aromas of tobacco and leather, and complex layers of fruit finishing with just a hint of chocolate. Although young, this wine is very drinkable now!
Next up was their 2015 Roberitage, a 50/50 blend of Cabernet Sauvignon and Syrah. Jumping onto our Take Home list, we loved the dusty and vegetal nose, with cranberries, lychee, blackberry and tobacco all taking turns teasing the palate. Complex and challenging, with a pleasant minerality underlying all the fruit. Bob then poured their 2015 Estate Syrah. He mentioned that this wine was aged in Hungarian oak, and we could taste the extra bit of exotic spiciness. Starting off with a great Syrah aroma, we enjoyed the playful and subtle spiciness that danced across our tongues. Yes, this too joined our Take Home list. Bob poured their 2015 Estate Reserve Syrah, this one aged in French oak. An amazing wine, we appreciated the heightened fruit and spice with a lingering berry finish.
We completed our tasting with their LexiKat IV Port. A lovely and classic ruby Port, with restraint and subtlety. A testament to good wine making, this Port hit all the right notes without going too far in any direction. We gave Bob our somewhat over-the-top list of wines for purchase, happy to complete our day of wine tasting on such a high note. Dante Robere came through again!
---
About the Author
: John grills a mean steak and is always in the market for another wine fridge. Believes that if a winery has more than 10 employees, it's probably too big. Buys wine faster than he drinks it, but who cares?
---
It pays to subscribe!
We will send you a brief email whenever there's a new post, so you'll never miss an article. We promise not to be a pest. Unsubscribe any time you like. And, of course, we won't let ANYONE else use our subscriber list. By subscribing, you agree to our
Privacy Policy
.
So go ahead,
click here to SUBSCRIBE
!