In many parts of the country, November brings snow storms
and the natural urge to nest. Happily, Northern California offers a different
November experience. The days are cooler, yes, but hitting 65 degrees on a
sunny afternoon makes for some wonderful wine tasting. Here is how we spent a
recent Sunday afternoon.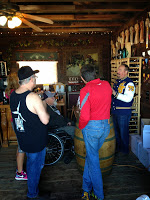 We started our tour at White Crane. This is one of the more
rustic tasting rooms in Livermore, and we love how the tasting room is nestled
into the vineyard. There's a cozy tasting room, with the walls covered by
awards and prize ribbons collected over the years. Owner/winemaker Nick
Nardolillo produces wine under two labels: Winery 21 and White Crane. Their Winery 21 label features a sparkling
wine and some value-priced reds and whites. Nick calls these his "wedding"
wines. We start every visit with a taste of the Winery 21 sparkling wine.
Another regular feature of a visit to White crane is
barrel tasting. This is a great way to get a jump on the next wine release and
even purchase futures. Buying a future means that you are paying now for a wine
to be bottled later, often at a hefty discount. We are big fans of futures, but are less than reliable
about actually picking up our wine once it is ready. At one point, we didn't
pick up our future for two years! Luckily, Nick's bookkeeping is better than
our memory. The wine was still set aside for us when we discovered our mistake.
Following a relaxing time at White Crane, we made our way
to Darcie Kent Vineyards. Our cover story (as if we needed one) was that we
wanted to pick up more of their Sauvignon Blanc. As you might remember from
our previous article
, the grapes for this wine are grown beside a farm field that
has raised jalapenos for more than 65 years. The influence of the jalapenos is
unmistakable, and we found that it adds an amazing something special to our
family béarnaise sauce recipe. After a
warm welcome from our tasting guide for the day, Gregg, we learned that the
Sauvignon Blanc was running out. Not to worry, though, they did have a few
cases still in inventory, so one case made its way into our trunk.
We enjoyed the Madden Ranch Petite Sirah (included in our wine
club pack) and a lovely Infinite Stone Cabernet Franc. We also spent a few minutes admiring on of Darcie's
oil paintings (and trying to visualize it on our wall), then we purchased our
case of Sauvignon Blanc and club pack and headed out.
With Thanksgiving just around the corner, we needed (OK,
we wanted) to pick up more sparkling wine. Our family enjoys a wide variety of
wines, but sparkling wine is our go-to beverage. As a result, we made the Ruby
Hill Winery our last stop on the way home. Their sparkling wine is very popular
at our house, and with their wine club discount and case discount, it prices
out on par with factory-produced champagnes.
We really appreciate how warmly we are received by the
Ruby Hill staff. We were there to pick up a case of wine, but the staff was so
welcoming that we couldn't turn down their tasting offer. So we checked out a
few of their newer releases and, yes, their Bella Gemma port. We always
remember to request the port in the amazing chocolate cup. What a concept:
lovely port served in a delicious chocolate thimble!
So we prepared for Thanksgiving in a uniquely Californian
way: wine tasting! We hope that you and yours had a great Thanksgiving too!
---
About the Author
: John grills a mean steak and is always in the market for another wine fridge. Believes that if a winery has more than 10 employees, it's probably too big. Buys wine faster than he drinks it, but who cares?
---
It pays to subscribe!
We will send you a brief email whenever there's a new post, so you'll never miss an article. We promise not to be a pest. Unsubscribe any time you like. And, of course, we won't let ANYONE else use our subscriber list. By subscribing, you agree to our
Privacy Policy
.
So go ahead,
click here to SUBSCRIBE
!