Since many of our clan have endured working retail jobs,
we are honor-bound to skip the "Black Friday" sales and participate in other
traditions of the season. For us, of course, that usually means wine tasting.
This year was no exception.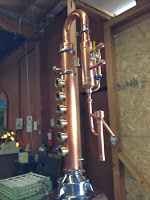 A Distillation Column
Our first stop was to the Eckert Estate Winery. The
Eckerts have been working for about a year to obtain a license to create and
sell distilled spirits, in addition to their existing wine making license. This
journey has not been without its starts and stops! At long last, though, it
seems that Mike is mere weeks from having all of the federal and state
approvals! His excitement was most tangible in the two distillation columns
that flanked the front door. These brass giants are necessary for distillation,
and we are excited to taste the results. Our excitement must wait, though,
because the final paperwork isn't in hand. Sounds like a great excuse to
return, right?
Although our cover story for visiting was their "bottle your
own" event, we tasted our way through their catalog. We are never ones to pass
up an opportunity. We especially enjoyed their 2012 Viognier (a white with so
much character it should be a red), the 2010 Pinot Noir (great fruit and an
aroma to die for) and their 2007 Estate Cabernet.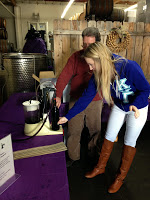 Bottle Safely in White Pants!
The "bottle your own" wine was based on cabernet grapes,
and we found nice fruit, with hints of plum and leather. The bottling process
is great! If you've never tried this, it is worth making a special trip the next time it's offered. Mike
had all of the equipment set up so that rank amateurs (like us) can
successfully bottle wine without so much as a drop spilled. And at $10 a
bottle, this is a great value, too. We also enjoy the challenge of creating
commemorative labels once we get it home. A great time was had by all.
Once we labeled and packed our wines into our trunk, we
made our way to Eagle Ridge. Always a favorite, this tasting room is even
better now that
Dante Robere has joined the fun
. Now visitors get to taste both
Eagle Ridge and Dante Robere wines, side by side. As usual, Jim was pouring his
Eagle Ridge wines and sharing his vast knowledge of wine making (I really do
learn something every trip) and Bob was pouring his Dante Robere wines and
teasing us with hints about their upcoming releases.
Autumn Comes to Eagle Ridge
On this visit we particularly like the Dante Robere 2012
Syrah Rose, with its strawberry nose, hints of lemon and pomegranate, and an
open invitation to roast up a few s'mores as a companion. We also renewed our
infatuation with the Eagle Ridge 2012 Pinot Grigio, said to "taste like summer"
by one of our tasters.
We also refereed a cage match between the Dante Robere
2010 Zinfandel and the Eagle Ridge 2009 and 2010 Zins. This was a disputed
result, with some judges favoring the balance of the Dante Robere contestant
and others giving the nod to 2009 Eagle Ridge combatant, based in an inarguable
reference to Hugo Boss in the tasting experience. You might want to reproduce
this epic battle.
Before we closed the day with Jim's two ports (an actual
requirement, unless you want to get on the wrong side of his two
granddaughters), we got a preview of next week's club release. This is a 2009
Petite Syrah, his first estate-grown Petite Syrah. A bit more pepper and
tannin, with a great berry nose. Can't wait to see what food gets paired with
this great new Petite! I guess we just MUST return next weekend!
So our last wine tasting of November came to a close. We
came home with a trunk full of wine and some very happy memories. Now, on to
December!
---
About the Author
: John grills a mean steak and is always in the market for another wine fridge. Believes that if a winery has more than 10 employees, it's probably too big. Buys wine faster than he drinks it, but who cares?
---
It pays to subscribe!
We will send you a brief email whenever there's a new post, so you'll never miss an article. We promise not to be a pest. Unsubscribe any time you like. And, of course, we won't let ANYONE else use our subscriber list. By subscribing, you agree to our
Privacy Policy
.
So go ahead,
click here to SUBSCRIBE
!