Because of living in the Tri-Valley area, I spend a lot of
time at Livermore Valley wineries.
Wonderful!  Yesterday, my husband
(John) and I bumped ourselves off our usual Tesla track and up into the Napa
Valley to see what the Christmas season was looking like a bit north of us.  Since Napa has a daunting number of wineries,
we limited our visit to a short stretch of Silverado Trail (this road runs
parallel to 29).  Their season is a touch
ahead of ours, so the vines have all been trimmed and tidied, all settled in
for a long winter's eve.  Beautiful!  Today's post holds notes on one Napa winery
we visited.  There will be three more
posts, each covering a Napa winery visited this first Friday of December.
Our first stop was
Black
Stallion Estate Winery
at 4089 Silverado Trail in Napa.  The tasting room is spectacularly elegant,
rich in woods and subtle lighting.   I
stopped upon entry simply to soak in the ambience.  Currently on display to one side of the
double horseshoe bar is a 30 foot Christmas tree by a crackling fire.  Opposite is a long hand-scraped table that invites
membership just to be able to sit at it, beyond which is the barrel room.  This drew our eye because Black Stallion
enwraps each barrel with a wide burgundy stripe.  Lovely!
All of this foreshadows full-bodied, rich wines in a choice
of 4 tastings.  I chose the Mixed, $15 for
4 generous pours; John selected the All Red, $20 for 4 good swirls.  The 2012
Napa Valley Rose' led my flight, a syrah with a nose of lavender and sweet grapefruit,
made for sipping.  Seriously, sipping and
sipping and sipping.  Black Stallion's merchandise buyer
offers inspired items to browse while sipping.
Shhh, do not tell a single soul – my daughter now has a gift under the
tree that I am positive will be one of her faves (no, she won't be drinking it,
not yet 21) that the Rose' led me to.
John's first pour was the 2011
Monte Rosso Zinfadel, full of plummy leather and raspberry, with an old-vines
spicy, peppery earthiness in flavor.  The
lilt of my Rose' was followed by a notice-me 2012 Napa Valley Viognier, fresh springtime in aromas and on the
tongue – white nectarines, lemon zest, and sweet spice.  The Zin led to a 2011 Napa Valley Merlot, a young red with a berry vanilla spice
scent and a dusty tannic dark fruit taste that Merlot lovers will applaud.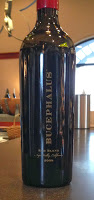 It was now my turn for a zin, the 2011 Rockpile Zinfadel, all caramel and
spice with a nice dry finish.  John's
glass next held the 2010 Napa Valley
Syrah.  His notes read "SuperSmooth
& Balanced. Great for steak."  Last
on the menu was a cab for each of us.  On
my Mixed Tasting was a 2010 Napa Valley
Cabernet Sauvignon, a full bodied and perky mouth feel with cherry, dark
fruit and coffee scents and flavors.  John's
2006 Napa Valley Cabernet Sauvignon
had balanced tannins, light fruit and a great finish.   I
totally recommend our pourer, Mike, who is highly wine-knowledgeable and
thoughtful beyond his years in history, social awareness,… See, not only
because he gave us a bonus pour off the Bucephalus Tasting menu ($30 for 4
Bucephalus Red Blends of different vintages).
The 2008 Bucephalus Red Blend
enchants with 89% Cabernet Sauvignon, 6% Merlot, 2% Cabernet Franc, 2% Syrah and
1% Malbec.  The balanced fruit delights
every part of one's nose and mouth, complex with exceptional clarity of flavor
and definitely the very best of the day's tastings.
Kristen Bartan is the winemaker for the
Black Stallion Estate Winery
.
Consistent in all of her wines is a supreme dexterity in bringing out the unique spices within each varietal.
Her appreciation for each grape tasted within each of her bottled
product matches the beauty of the winery itself.  The 32 acre estate was once home to The
Silverado Horseman's Center, with the former indoor riding track now housing
winemaking production.  Artisanship shows
in all areas of the
Black Stallion
Estate Winery
, making a visit there extremely worthwhile to all five
senses. Exquisite!Continue to
Part Two here
.
---
It pays to subscribe!
Get
10% off
your first blissful merchandise purchase immediately.
We will send you a brief email whenever there's a new post, so you'll never miss an article. Plus, you will receive periodic special discounts on our blissful merchandise. We promise not to be a pest. Unsubscribe any time you like. And, of course, we won't let ANYONE else use our subscriber list.
So go ahead,
click here to SUBSCRIBE
!
Winery address:
4089 Silverado Trail, Napa, CA 94558