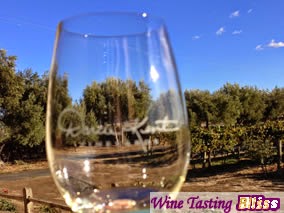 After growing up in Ohio, we REALLY enjoy California's version of autumn. Instead of relentless rain. chilly days and hunkering down indoors, we get to spend our sunny November days in shirt sleeves, visiting wineries. This is pretty amazing!
We ushered in November with an afternoon of wine tasting, starting by reintroducing ourselves to a Livermore landmark, Fenestra Winery. Fenestra has a wonderful facility, an especially great place to start or end a day of tasting. There are ample opportunities for strolling the grounds and some outdoor tables for a quick picnic if you're so inclined. Since we had just completed a nice brunch at the Railroad Cafe, we got right down to the business of tasting.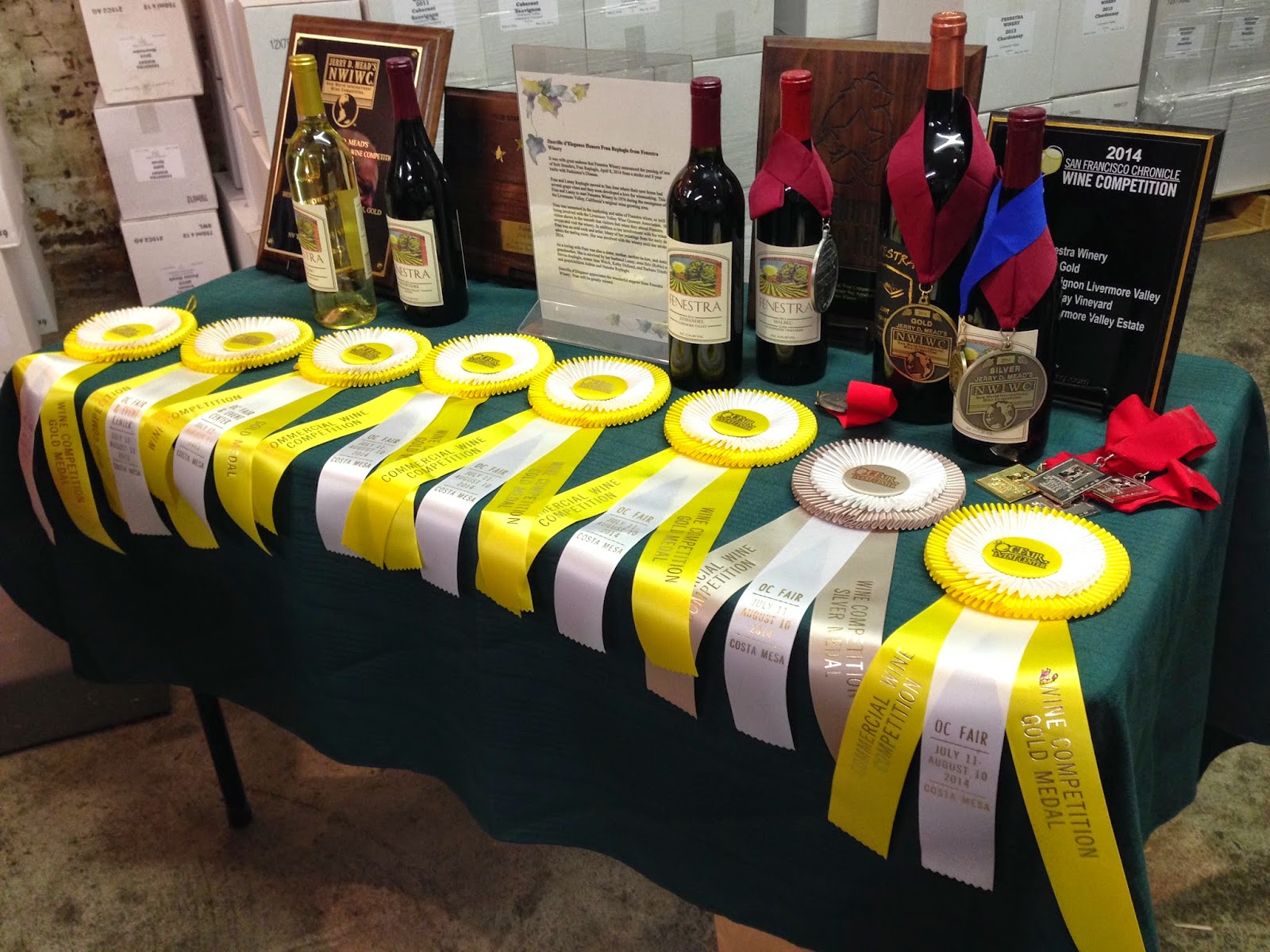 That's right, there are some ribbons!
The first thing that you notice when you enter the tasting room is the size of their wine list. To help make their selection more accessible, the room is arranged as a series of tables so that you walk down each table, tasting as you go.
We sipped our way through their tasting menu, especially enjoying their inventive blends. One blend is made up of so many varietals that the list fills an entire page! The hands-down favorite, though, was the 2011 Dolce Francesca. This is a wonderful dessert wine, named in loving memory of the owner's wife. A bottle of this lovely port-adjacent wine came home with us!
From Fenestra we made our way to the 3 Steves Winery. One of the newer wineries to join the valley, we had visited a few weeks earlier and found the tasting room jammed with happy people. Today's visit found the same festive mood, but with fewer patrons. That meant that we could have a conversation with the pouring staff and even spend a few minutes with a Steve!
We enjoyed tasting our way through the wine list while we learned more about the Steves and their wines. The Steves are facing a wonderful problem: their wines are earning awards and gaining fans faster than their wine inventory can grow. That means that they are looking at the possibility of running out of wine! Since production increases take years to deliver results, they have taken the dramatic step of suspending additions to their wine club. It's great to enjoy such early success, but agonizing to wait for those barrels full of juice to mature into wine.
A Possible Christmas Gift?
Although their wine is in short supply, the 3 Steves do have a fun-looking sports car available for immediate delivery. Anyone looking for a fun Christmas gift for a special someone? For the right price, I'm sure they would throw in the life-size cutout of the Steves. Not being sufficiently mechanically inclined, this is NOT on my wish list.
Darcie's Solar Panels are Up!
We then made our way to the Darcie Kent winery. A favorite stop on our tour, the facility is undergoing an amazing transformation. As we parked, we immediately noticed the new solar panels that lined the back property line. We knew from reading their newsletter that Darcie is committed to reducing their carbon footprint, and this solar array is just the first step toward getting off of the grid.
We sought out our favorite tasting spot: the tables on the front porch. The warm weather and the autumn leaves made the porch the place to be, to the point that the tasting room was empty and the porch was nearly full.
Our Pourer Michele
We found ourselves faced with a dilemma. Darcie Kent is clearing out their inventory to make room for new releases. That translated to no less than FOUR different case sales. Ouch. There were some amazing deals offered, yet our wine collection was bursting out of every corner of our house. What to do? Clearly, the best solution we could imagine was to encourage our tasting friends to take advantage of the great prices, so that we could enjoy the wine during our next visit to their house. Problem solved! It's wonderful having great friends with good taste in wine.
We tasted our way through the ever-evolving wine list and soaked up the setting sun. We committed to attending their upcoming wine club release party and made our way home. Tired, happy, and profoundly glad to be living in such a wonderful area.
---
About the Author
: John grills a mean steak and is always in the market for another wine fridge. Believes that if a winery has more than 10 employees, it's probably too big. Buys wine faster than he drinks it, but who cares?
---
It pays to subscribe!
We will send you a brief email whenever there's a new post, so you'll never miss an article. We promise not to be a pest. Unsubscribe any time you like. And, of course, we won't let ANYONE else use our subscriber list. By subscribing, you agree to our
Privacy Policy
.
So go ahead,
click here to SUBSCRIBE
!