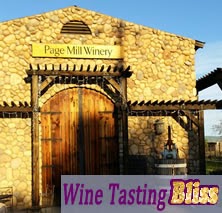 Following our fun- and fund-raising time at Swirl for a Cause, supporting the Tri-Valley Haven, we felt that we still had some wine tasting enthusiasm within us. Given our late start and leisurely pace at Swirl, time was of the essence. As we thought of wineries that we had recently overlooked, Page Mill Winery came to mind. We drove in to discover an unusually packed parking lot. To our delight, a BYOB (bring your own bottle) event was in progress. Woot!
Kimberlee Helping Out
BYOB is a great concept. Assistant Manager Kimberlee explained that you bring back clean, empty bottles and have them refilled with more wine! What a great way to recycle and enjoy wine at a reduced price. Mother Nature wins, we win, and a festive winery atmosphere is inevitable. We did not bring any empties, but were assured that they could provide suitable recycled bottles if we needed.
Before we tasted the BYOB blend, we sampled the 2013 Sauvignon Blanc. Surprisingly buttery, with a nice, clean finish. The 2013 Chardonnay was a hit with our group. Spending 75% of its time in stainless and only 25% in oak, this is a "new style" chard with less butter and more fruit. Yum!
Their 2013 Grenache was pronounced to be "full, round and mellow" by our group. Should pair nicely with soft cheeses or even a steak. The 2012 Zinfandel started off with notes of cherry jam and finished with a swoosh of alcohol that prepared your tongue for just about anything!
Where the Magic Happens
Another group favorite was the 2012 Merlot. Crisp and not too tannic, this Merlot calls out for a spicy tri-tip and a baked potato smothered in chives.
We had held out as long as we dared. It was time to taste the BYOB blend. This time they offered a blend of 60% Syrah, 30% Grenache, 5% Barbera and 5% Petite Sirah. A complex formula that resulted in a great wine! We bought four (recycled) bottles to enjoy in the coming months.
Great Winery Staff!
The atmosphere in the winery was festive and welcoming. Not only did the BYOB event bring out the best in people, the staff was uniformly upbeat and really engaged in explaining the wines that were being poured. They were excited about the wines, so we became excited about the wines.
The Page Mill wine club features six releases a year, which is a bit more than the average. We have cleared our club slate a bit recently so we are back in the market for another wine club, so the Page Mill club description came home with us for further consideration.
Thanks to everyone at Page Mill Winery! We can't wait to visit again.
---
About the Author
: John grills a mean steak and is always in the market for another wine fridge. Believes that if a winery has more than 10 employees, it's probably too big. Buys wine faster than he drinks it, but who cares?
---
It pays to subscribe!
We will send you a brief email whenever there's a new post, so you'll never miss an article. We promise not to be a pest. Unsubscribe any time you like. And, of course, we won't let ANYONE else use our subscriber list. By subscribing, you agree to our
Privacy Policy
.
So go ahead,
click here to SUBSCRIBE
!