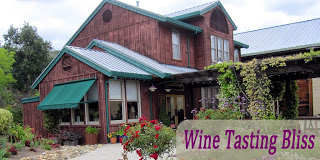 Following some great wine tasting at Four Winds Cellars and Twisted Oak Winery, we set off for a change of pace, both in approach to wine and overall experience. Our next stop was at Chatom Vineyards, a beautiful winery in the midst of a profound change. Happily the stress of change was nowhere to be found in the tasting room.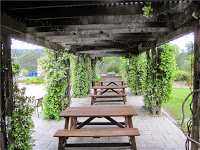 First, the upcoming change. The entry drive had an "Auction" sign alongside and the talk all over Murphys was all about speculating who would be the next owner at Chatom. Since it has been made very clear of the years that my strength in wine is ENTIRELY on the consuming side, this pending change was mildly interesting but in no way relevant to my life.
Our walk from the parking lot was unusually leisurely, because of all of the beautiful plants and hardscape. The jasmine plantings made every breath a joy, so by the time we reached the changing room we were a bit lightheaded from breathing so deeply. The jasmine-covered patio cover was so beautiful that it generated those feared words, "we need to do this in our yard!" Thanks a lot, Chatom, you set the bar impossibly high. Could you at least publish construction plans? The structure looks amazing, but pretty challenging to assemble from scratch.
The tasting room itself was a study in tasteful clutter. Everywhere your eye could fall was decorated almost as a still-life, including a life size wine taster doll. A bit troubling but fun. Some art, some wine accessories, so food for your picnic; not a visual cacophony but definitely active and stimulating! Strolling the tasting room while sipping some wine — life is good!
Wine guide Diane started us off with their 2013 Semillion. The honey and pear notes on the nose brought us right into the crisp melon and citrus zest elements on the palate. A great start!
Chatom Vineyards was tasting a substantial slate of wines, and it was hard to award "best taste" from the broad array of moderately-priced wines. Some nominees were the 2011 Touriga, with a finish so clean that a second sip is immediately required; their 2010 Syrah, with aromas that should be made into a perfume; and a 2010 Cabernet Sauvignon, with intriguing hints of berries and coffee. After some serious debate and some back-and-forth with tastings, we awarded the coveted best taste label to the Cab.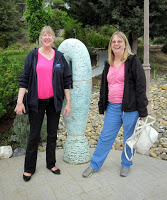 With the award phase of our tasting behind us, we completed our examination of the decorations and items for sale and made our way back to the parking lot. On the way, we discovered a bit of statuary that evoked quizzical looks and a few giggles. We couldn't walk past it without stopping for a quick picture. Any ideas as to the message intended by the artist? Give us your thoughts in the comments, we'll keep our ideas to ourselves for now.
Cheers, Chatom, good luck with the auction!
---
About the Author
: John grills a mean steak and is always in the market for another wine fridge. Believes that if a winery has more than 10 employees, it's probably too big. Buys wine faster than he drinks it, but who cares?
---
It pays to subscribe!
We will send you a brief email whenever there's a new post, so you'll never miss an article. We promise not to be a pest. Unsubscribe any time you like. And, of course, we won't let ANYONE else use our subscriber list. By subscribing, you agree to our
Privacy Policy
.
So go ahead,
click here to SUBSCRIBE
!