Time for another road trip! Our good friends, Laura and Bill (guest post coming soon) invited us to join them for a wine tasting weekend in the Murphys/Arnold area. So, let's see: we love their company, we love wine tasting, and… we don't really need any more reasons! Off we went to Murphys for a weekend of wine and fun. Our first stop: the idyllic Mineral Wines!
Punch down aerobics
Laura and Bill had visited Mineral Wines several times before, which is why we made the visit, but it was a first for us. We wound our way through the wilds of Angels Camp, finding the amusingly-named Dogtown Road, home of Mineral Wines. As we parked, it was clear that the harvest at Mineral Wines was in full swing. Tubs of aromatic grapes ready for punch-down were everywhere, with new barrels stacked on every open space. This was the picture of a working winery.
We parked and walked past all the wine making paraphernalia, down a winding path beside an attractive house, to a patio with a tasting bar. With an amazing view of a lake and rolling hills, plus some light jazz playing in the background, the tasting bar and shaded tables made for a great tasting before any wine hit our glasses!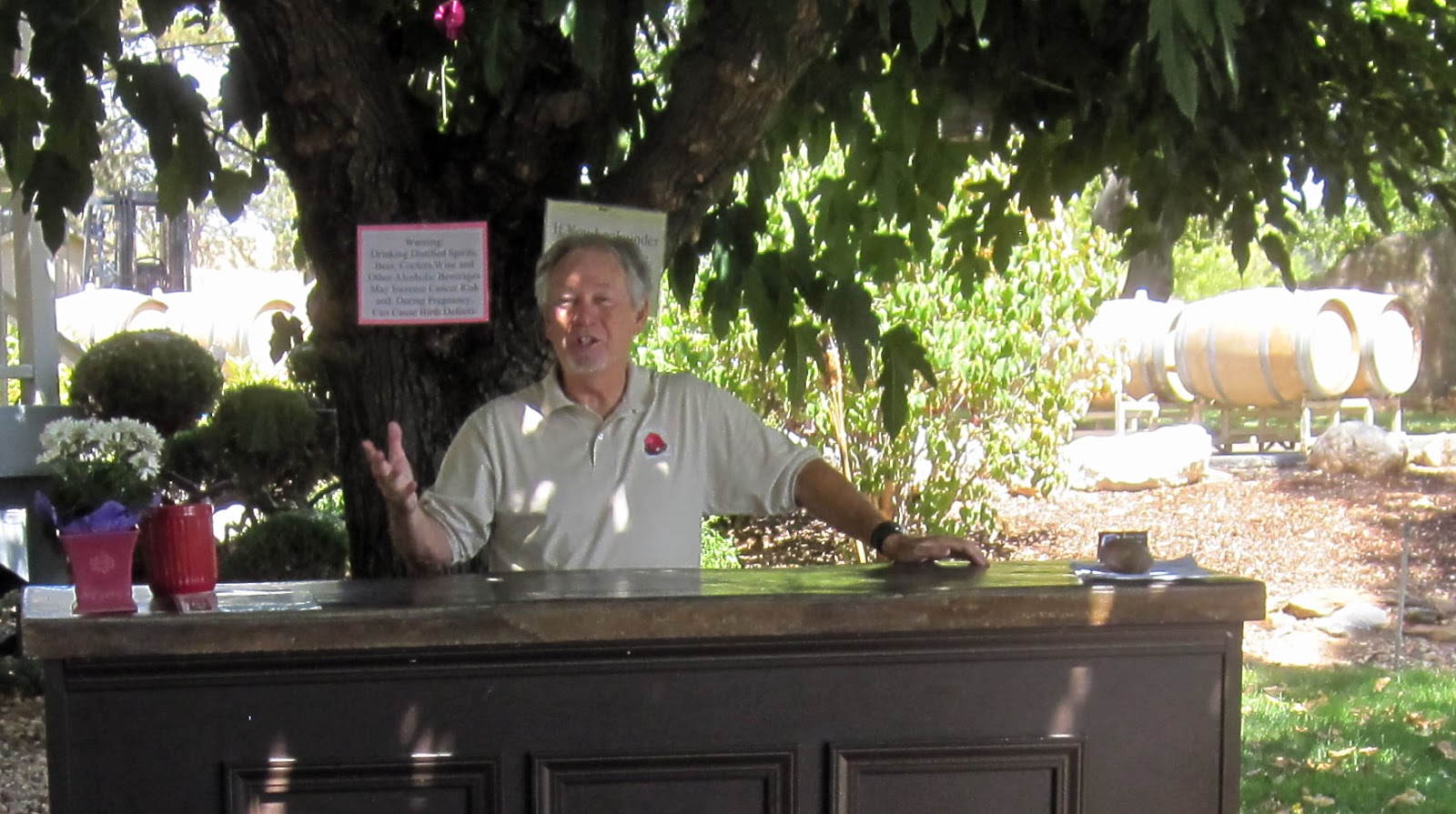 Daniel talking wine
We met our wine guide Daniel, who made us feel welcome immediately. We stood by the bar out of habit, but he insisted that we make ourselves comfortable at a tasting table. Given the view, and anticipating the beating that our feet take during a day of wine tasting, we were more than happy to comply.
As Daniel poured their 2013 Viognier (buttery with hints of pear and melon), we learned a bit about the owner, Brett Keller. An avid mineralogist, Brett married Andrea, who's father happened to have a vineyards. Boom! Minerals took a back seat to viticulture and Mineral Wines was born. Minerals continue to play a key role on wine labels, but otherwise, it is all about the wine. A lost for the gem world, possibly, but a very positive happenstance for wine lovers!
Next we tasted the 2013 Vino del Oro, a blend of 55% Roussanne and 45% Viognier. This was bold, with assertive fruit with a bit of pear on the back end, and an intriguing finish. This is an ideal wine for pairing with a steak and Bearnaise sauce. There's enough personality to stand up to some strong flavors, but not so overpowering as to blow out your palate.
Their 2012 Merlot was next. This Merlot was as mild as the Vino del Oro was aggressive. Super smooth, with low tannins and well-balanced acid. We especially enjoyed the cherry and plum notes. Daniel credited the hard, rocky soil for the great taste, saying that the "vineyard struggle" produced the unique flavor. This was a hit with all four of us!
We then tasted their 2013 Cabernet Franc. The aroma alone is reason to buy this wine! Once again, a great food wine, with pepper, tobacco and cherries jostling for attention, with a smooth, lingering finish. Daniel followed that with a 2010 Meritage. This was a blend of 58% Cabernet Sauvignon, 27% Cabernet Franc and 15% Merlot. We loved the complex interaction of flavors, with some surprise moments of sweetness.  This wine earned the coveted "taste of the winery" award. A number of bottles were placed on the "take home" list.
We thought that we were done with the tasting, but Daniel surprised us with a 2013 Petite Sirah. This wine won a Gold Medal at the Orange County Fair. The nose foreshadowed a great experience, and the flavor did not disappoint. Dry, with super fruit presence including hints of dark berries, we were instantly in love. We then learned that this wine is only available for sale as a future, meaning that the entire production would be sold out before release.
As we wrapped up our tasting, we learned that Brett Keller was opening a tasting room in downtown Murphys. This will do great things for the winery, with a huge increase in public attention, but we will miss this amazing setting. Daniel assured us that the patio would still be used for occasional tastings and club member events. So don't delay, visit before the move to Murphys in October so that you can enjoy this amazing setting. We are certainly glad we did!
---
About the Author
: John grills a mean steak and is always in the market for another wine fridge. Believes that if a winery has more than 10 employees, it's probably too big. Buys wine faster than he drinks it, but who cares?
---
click here to SUBSCRIBE
!