So how do you pamper Dad on Father's Day? The restaurants are jammed, the highways are parking lots, and even the wineries are over subscribed. If you are a Wine Tasting Bliss family, the answer is obvious: stay home and put on a vertical wine tasting! What more could Dad ask for, surrounded by family while enjoying wonderful wine!
Frequent visitors to this blog already know that we have a "not drinking" problem. That is our term for buying wine much faster than we drink it. That meant that when Judi came up with the idea of hosting a vertical tasting, a quick browse through our CellarTracker database showed that  we had not one, but five choices for a vertical tasting. Sometimes a not drinking problem pays off!
We had a difficult decision. Our wine collection had vertical tasting available from Eagle Ridge Vineyard (Petite Sirah, Cabernet Sauvignon and Zinfandel), Ruby Hill Winery (Cielo Viola and Intesa) and Darcie Kent (Merlot). After some careful consideration, we settled on a four vintage tasting of the Ruby Hill Intesa.
Our setting was simple, but functional. Everyone had several wine glasses, to better compare and contrast the vintages. Wine glass charms kept everything organized. There was plenty of food, with a focus on cheeses and dried meats, to keep our energy up. Especially important: water glasses and a big pitcher of ice water close at hand. Hydration is the key to a successful tasting, and we wanted everyone to have water within easy reach. Add the four wine bottles and a clipboard for capturing our thoughts, and the vertical tasting was ready to go!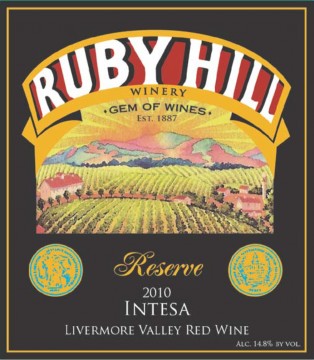 2010 Intesa: The senior-most vintage on the table. This was the kind of wine that builds a winemaker's reputation. It was jammy and luscious, with soft layers of fruit. It had just enough tannins to balance the fruit and acid. Some tasters kindly offered to take the leftover wine home with them, to save us storage space. Nice offer, but what is leftover wine?
2011 Intesa: When we first tasted this wine we were, surprisingly, disappointed. The herbal notes overwhelmed everything else and nobody wanted a second taste. Then it hit us: DECANT! Our son and daughter-in-law had given us a lovely crystal decanter years earlier, so we had exactly what we needed. Some time looking amazing in the crystal decanter, and the wine transformed into something amazing. This was much lighter in every way than the 2010 big brother. Golden raisin and honey notes, with hints of blackberry and green pepper.
2012 Intesa: This was a favorite going in the vertical tasting. We have tasted a lot of this, both at home and in the winery. We loved the depth and fruity complexity that is developing with some age, with leather and cabbage on the finish. Right now, this wine is a perfect pairing with smoked pork chops. In a few years, this one will become legendary.
2013 Intesa: The rookie of the vertical! We typically lay down our reds for more time than this wine has been around, but we were having a vertical tasting, so a range of vintages outweighed our normal inclination about aging. We were not shocked to find higher acid and a slightly oily mouth feel when we first opened it. We paced ourselves, and after an hour or so, it opened up nicely, showing softer edges. It still needs some time to develop the classic Ruby Hill Intesa depth and complexity, but we are very excited to see how this matures.
After several hours of fun stories, great food and amazing wine, we completed our vertical tasting. Final decision: drink the 2010 now, then drink the 2011 after decanting, and lay down the 2012 and 2013 for another year or two.
But spend EVERY Father's Day surrounded by family and enjoying another vertical tasting! Cheers!
---
About the Author
: John grills a mean steak and is always in the market for another wine fridge. Believes that if a winery has more than 10 employees, it's probably too big. Buys wine faster than he drinks it, but who cares?
---
It pays to subscribe!
We will send you a brief email whenever there's a new post, so you'll never miss an article. We promise not to be a pest. Unsubscribe any time you like. And, of course, we won't let ANYONE else use our subscriber list. By subscribing, you agree to our
Privacy Policy
.
So go ahead,
click here to SUBSCRIBE
!