As Sarah mentioned in her Toast Thursday, the Paragon Outlets opened last Thursday. As part of the massive (and traffic snarling) grand opening weekend, local wineries got together for "Sunset Sip and Shop". This fund raiser for the Livermore Valley Winegrowers Association featured 15 wineries each pouring a white and a red. All you needed was a wristband and a commemorative glass! We couldn't resist; we had to brave the traffic and the cold to check it out.
Our first challenge was actually getting to the mall. CalTrans had been posting a "Sig-Alert" since early Thursday morning, indicating that traffic was at a stand-still on the freeway. Although we were only one exit from the mall, that short trip could easily take 45 minutes. That meant that we had to get creative. We zigged and zagged through back streets until we found ourselves at the parking lot entrance.
Given the massive response to the grand opening events, parking exploded beyond the paved lot onto dirt lots beside and behind the mall. It looked like a long and sloppy walk was in store for us. However, circumventing some traffic laws and a few orange cones led us to an open parking spot mere feet from the mall entrance. We were ready to sip!
First task: find the check-in station. Armed with our on-line receipt and our ID's (yes, we were carded for the first time in decades), we sought out our wristbands and commemorative glasses. The wristband disappeared under our coats, never to be seen again. Yes, we are wimps. The air temp was in the 50's, so we were bundled up for arctic conditions. Luckily our lovely glasses were the only identification we needed as we strolled the mall.
We were ready for a night of wine tasting bliss. The event included a great list of wineries: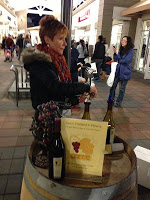 Each winery was located along the racetrack-like inner walkway of the mall. It took us a few minutes to learn how to find the wine pouring stations. The map provided with our admission wasn't much help, as any relation between the map and reality was strictly coincidental. Soon it dawned on us: just look for happy people drinking wine. That strategy never let us down.
By chance, our first tasting was at the Garre barrel. Yes, barrel. Each winery had a wine barrel as their pouring table, so space was at a premium. We sampled their sparking wine to get the evening started. Not content with merely pouring some lovely wine for us, they also handed out coupons for free tastings at their winery. This was a theme that was repeated at several other stations, including Nottingham Cellars and Mitchell Katz.
We strolled around the mall, stopping every 50 yards or so to sample another local wine. Many of the stores had lines out the door, with a lot of cold, tired, bag-carrying shoppers looking longingly at our wine glasses. It seemed a bit unfair. Our line to wine tasting rarely exceed a few people, while the line at Starbucks was 30 people deep.
As the evening progressed and we enjoyed wines from many of our favorite wineries, we noticed something odd. The cool night air chilled the white wine well, but actually brought the reds below typical tasting temperature. It took us a while before we understood why all of the reds were so restrained. Not a problem typical of wine tasting in Northern California. Oh, the sacrifices we make for our wine!
We finally rounded our final turn. We had tasted all 15 wineries, sampled about 20 wines, and learned a bit about our newest mall. We may visit again, once the traffic dies down. I'm thinking April.
---
About the Author
: John grills a mean steak and is always in the market for another wine fridge. Believes that if a winery has more than 10 employees, it's probably too big. Buys wine faster than he drinks it, but who cares?
---
click here to SUBSCRIBE
!