Chouinard Winery proves that following the crowd isn't the
only path to success.  Instead, they have focused on their wine-making passion and delivered excellence across a shockingly large slate of wines. Improbably located in Castro Valley, a dozen or so miles from the more famous Livermore valley, this is a winery that is
well worth the drive.
Chouinard Winery
33853 Palomares Road
Castro Valley, CA 94552
(510) 582-9900
Saturday-Sunday, Noon to 5:00pm
No tasting fee
The Chouinard Winery is small in nearly every aspect: the facility is small (really a small barn that's been repurposed), the staff is small (hint: most of them are named Chouinard), even the parking lot is small. One deviation from the "small" theme: the wine list is HUGE! The day we
visited, their price list featured 19 wines.  The Chouinards were feeling generous and we weren't planning on visiting other wineries, so we sampled nearly every wine!
Mom and Dad Chouinard work the tasting room. Son Chouinard
works in back, as the winemaker. That is not to imply that Mom and Dad don't keep they hand in, crafting some wines of their own, but son Damian carries the winemaker title and does most of the magic in the back room.
We started with their California Champagne (of course). Light and fruity, this was a wonderful way to wake up our palates. We went directly on to their Viognier. Made from Lodi fruit, this was mellow and well rounded with hints of pear.
We loved the Chenin Blanc, with a slightly sweet start and a swirl of apple, apricot and cherry
notes.  It is hard to image a wine drinker who doesn't find something to like about this wine. An especially good choice with a wine and cheese plate.
Although we're not typically fans of Gewurztraminer, we gave it a try (you have to admire our pluck, right?). To our delight the Chouinard Gewurtraminer was not too sweet, and even a bit spicy.  A hint of lemon and some of us even imagined a bit of diesel in the nose.
We couldn't resist trying their Barbera Rose. The Barbera grape is rarely featured in a rose, but this Paso Robles fruit produced a nicely balanced, fruit forward rose. We tasted
vanilla and a not-too-sweet finish. Lovely!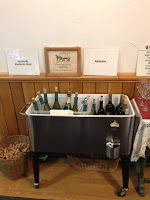 We pressed on, to the red wines. We first tasted the
Chouinard Red
. This is a blend, with 75% cab, 15% zin and 10% petite sirah. We found it a bit dusty, with a bit of plum. A bit more tannins than some of us prefer, with a dry finish. If you like a dry, crisp red, this wine is ideal for you!
Staying with the dry and tannic theme, we next tasted their Alicante Bouschet. This was another dry, almost dusty, red, with a lot of flavor to stand up to food. Maybe for our next tri-tip?
Moving on to the Old Vine Zinfandel, we discovered a zin with a great nose, well balanced fruit and a clean finish. If you like zins, you owe it to yourself to try this one.
We soldiered on through the rest of the reds, and just when we thought we were done, out came the ports! Yes, ports plural. I was in heaven! Remember, I'm the guy who swears that port can cure the common cold.
We first tried the Old Vine Zinfandel Port. Made from the same Lodi fruit as their table wine,
this port was light, slightly reminiscent of chocolate, and finished clean without any jammy leave-behind.
To be complete, we couldn't pass up the Petite Sirah Port. This is a port-lover's port! Lots of musty notes, with a dry finish that just begs for one more sip. Almost makes you wish
for a roaring fireplace, a good book and a blanket.
 So if you find yourself in Castro Valley and you're ready for a treat, check out the Chouinard
Winery. Not a big place, not a big staff, but, wow, what a big list of great
wines!
---
About the Author
: John grills a mean steak and is always in the market for another wine fridge. Believes that if a winery has more than 10 employees, it's probably too big. Buys wine faster than he drinks it, but who cares?
---
It pays to subscribe!
We will send you a brief email whenever there's a new post, so you'll never miss an article. We promise not to be a pest. Unsubscribe any time you like. And, of course, we won't let ANYONE else use our subscriber list. By subscribing, you agree to our
Privacy Policy
.
So go ahead,
click here to SUBSCRIBE
!