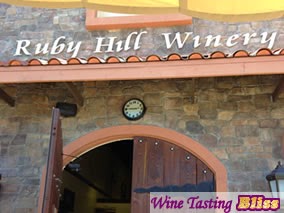 Sarah wanted to meet to talk about her coaching individuals through the 21-Day Fix (which she successfully followed to look drop-dead gorgeous for Delaynie's 21st birthday celebration in Las Vegas). What better place to meet than Ruby Hill Winery's Gem Member Patio?!
Needless to say, Sarah and I insisted on starting with Ruby Hill's NV Sparkling Wine. Rob and John happily humored us. The bubbly always empties quickly (sadly, no Judi -Pours when tasting), but our glasses were refreshed with the 2011 Pinot Bianco. It is a light, vibrant wine, redolent of summer fruit and perfect for summer sipping. Not to be missed is Ruby Hill's 2011 Pinot Grigio Reserve, with its warm caramel oaky base and soft citrus lilt.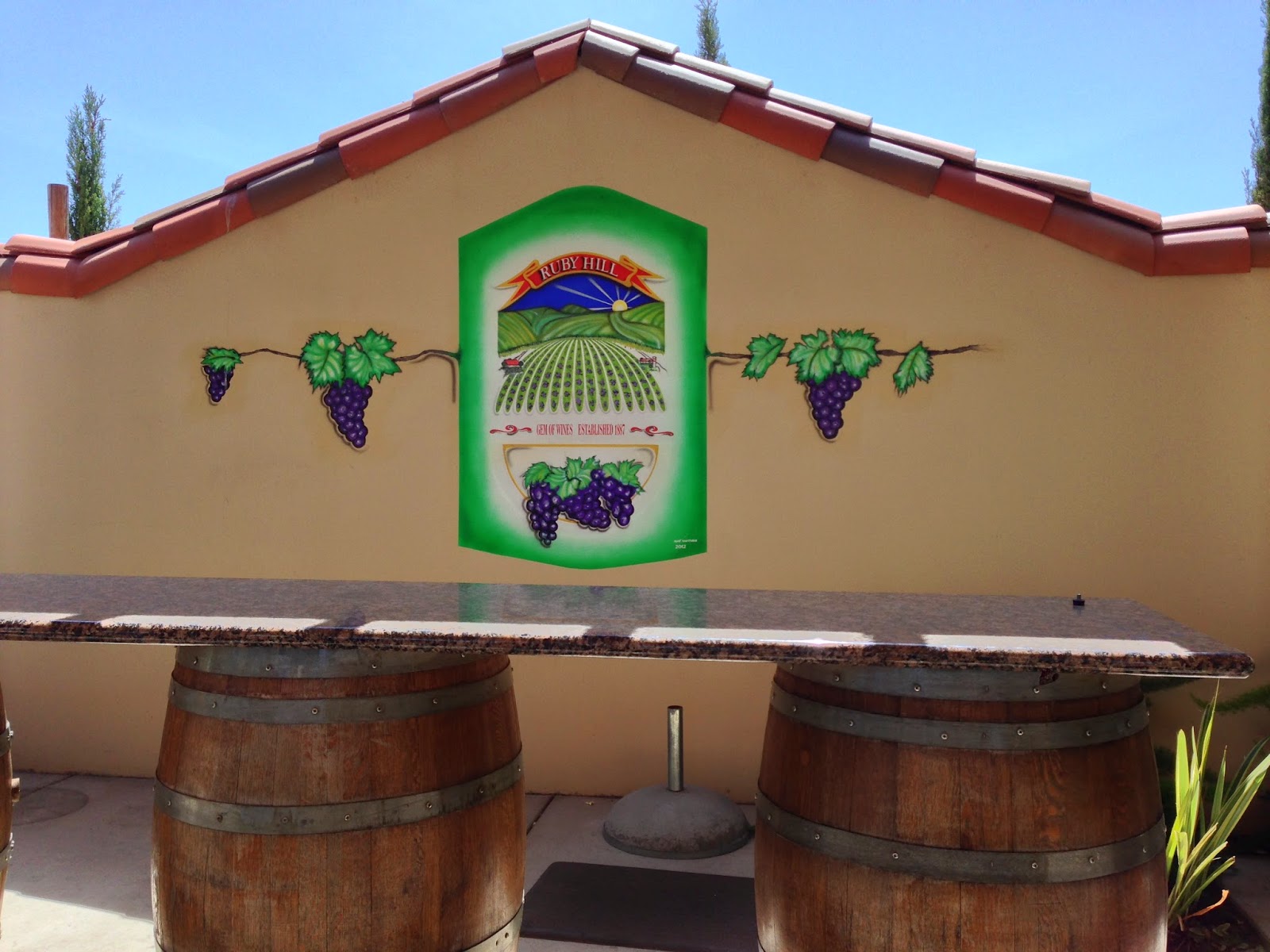 Our pourer suggested, correctly, that the Ruby Hill 2010 Elevato might offset the warmth of the mid-day patio. This Bordeaux-style blend of cab sauvignon, merlot, cab franc, malbec, and petite verdot spent 26 months on oak, lending tobacco and tannins to the fruit's currant, cherry, and herb tones.
The 2011 Intesa pulls together the complete mouth complexity of cabernet sauvignon and the juicy acidity of barbera, providing a full-bodied wine perfect for the grilled New York Strips of summer. We chose to finish with the 2012 Zinfandel Peacock Patch (the ZPP or ZiPPy sip, as we like to call it), 85% zinfandel from the Peacock Patch vineyard (the most western and first in line for the Golden Gate fog that rolls in and cools the vines), 8% petite syrah, and 7% merlot. Blackberries and wildflowers float on terroir-given stone and oak-imparted tannins, making the mouth sing with the fruit and ZiPP of zinfandel. A lovely finish for a lovely afternoon on a lovely patio at the lovely Ruby Hill Winery.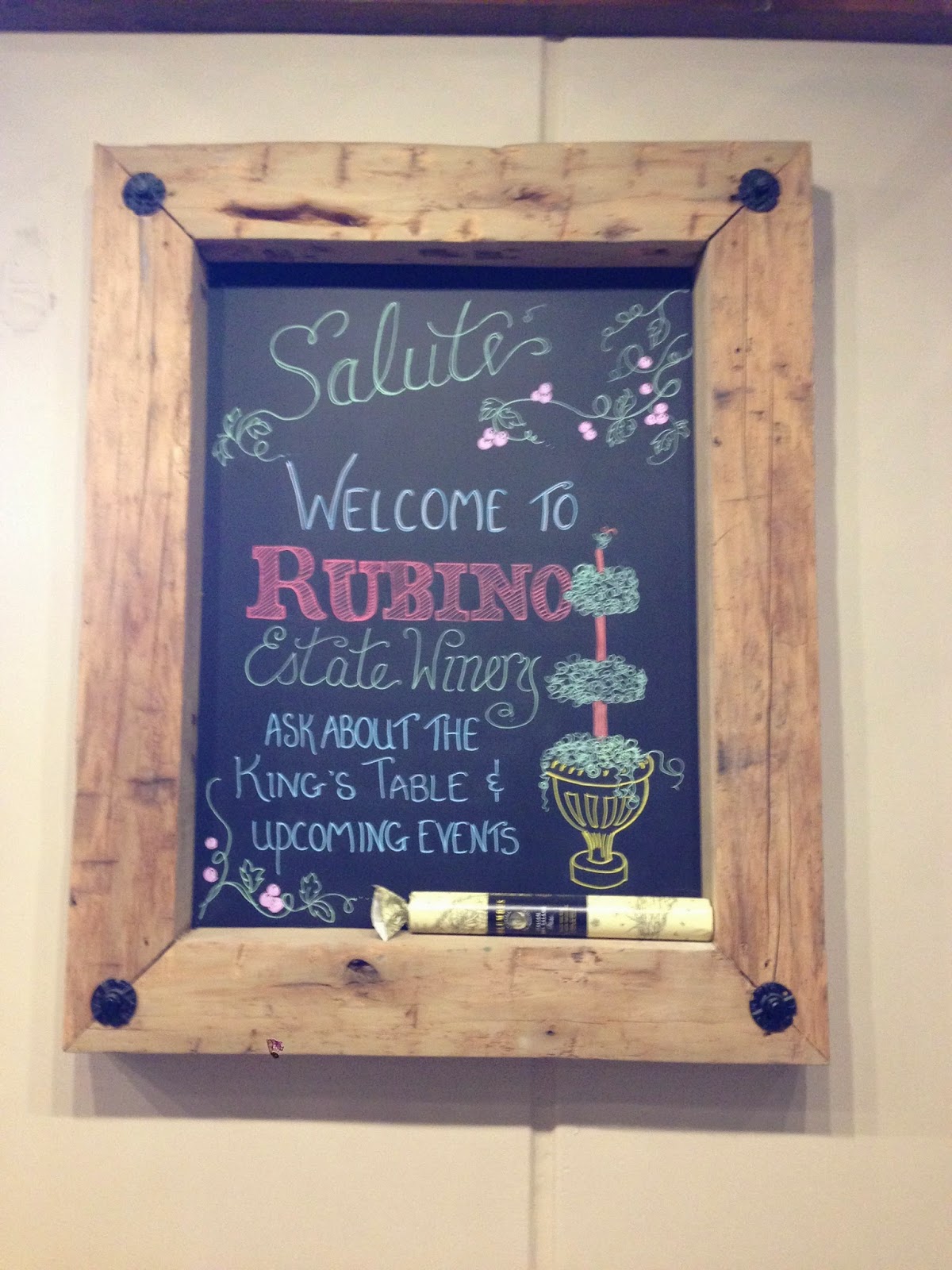 As we walked to the car, it was unanimous that we visit another winery. Rubino Estates Winery is just down the street and, since it was a bit after 4:00, seemed the perfect place to go. Happily, we again started with a sparkling wine, Rubino's NV Brut. YUM! Again, YUM! Rubino, very intelligently, offers another sparkling, their 2012 Moscato, a sweeter sparkling and a fave of my sweet, sweet friend, Laura. Of course, we tasted in her honor and enjoyed it immensely.
The next pour was the 2012 Pinot Grigio ASR (Reserved), a very nicely balanced and complex white that would be excellent with grilled Cornish hens with an orange marmalade and dijon mustard marinade. Perhaps the 18 months it spent on oak provides the depth necessary to complement the smoky, sweet flavors. The Rubino 2011 Chardonnay CCR provided us with a gleeful surprise. On the nose it was all butter and oak, as one might expect from a chardonnay. Then is was all lemon and grape, clean and pure, clear and light on the tongue. This was one of my favorites today.
Eager for a red, we next tried the 2011 Sangiovese LVR. New this week, this red is fruity and young and absolutely excellent. Some had to come home with us. The 2012 Zinfandel LVR is 75% property-grown zin grapes and 25% Livermore grown barbera grapes. The legs on the 2011 Cabernet NVR are beautiful. We swirled and enjoyed the view, learning that the cab grapes come from Napa's Calistoga region and are blended (83%, 17%) with estate-grown sangiovese grapes. Leather and grass aromas floated from the glass. Blackberry with an edge of cranberry landed in the mouth, with a refreshing acidic finish.
Another surprise awaited us with the NV Cabernet Dessert Wine. As our server portioned out butterscotch chips, our eyebrows rose. Isn't chocolate usually served with dessert wines? Hmmm's turned to mmmm's as the butterscotch flavors enhanced the chocolatey, figgy fruit of the cabernet and barbera grapes (83%, 17% again) and the warmth of the fortifying brandy (from St George on Alameda). Thank you, Lori and all the knowledgeable servers/pourers at Rubino Estates Winery for a delightful finish!
---
About the Author
: Judi never does anything short, be it children (even at 5' 10", all 3 kids outgrew her), a voicemail message, a menu for family & friends, a day of visiting wineries, or a wine pour. Especially the latter; wine glasses are large for a reason! Her daughter-in-laws and their friends have a measure called The Judi-Pour. That means we have blessedly good relationships, 'cuz her name could be attached to worse. Sparkling wines are my go-to, but there is always a time for a peppery Pinot Noir or a crisp Pinot Grigio. Or a chill Sauvignon Blanc poolside or a toasty Cab in hand while playing bocce or a frizzante after work or.....
---
It pays to subscribe!
We will send you a brief email whenever there's a new post, so you'll never miss an article. We promise not to be a pest. Unsubscribe any time you like. And, of course, we won't let ANYONE else use our subscriber list. By subscribing, you agree to our
Privacy Policy
.
So go ahead,
click here to SUBSCRIBE
!