Laura and Bill are godparents to our children, Brian and Delaynie, while
Robby is watched over by the United Church of Christ
congregation in Redfield, South Dakota.  John's Uncle Paul was pastor
there for many, many years and baptized Robby in his arms at their fount.
24 years later Uncle Paul married Robby and Sarah with one arm in a sling on a
117+ degree day in Garre' Winery's vineyard in Livermore.  Both days are memorable in the best of ways.
Back to current day, Brian and Delaynie are fortunate to have local, very
involved godparents.  Delaynie is heading back to UC for her Senior year
(and to 2 jobs, Student Senator and Manager of Creative Writing interns–color
us proud parents, color Delaynie busy as all heck!).  Her godparents are
going to miss her, so…   Laura planned the most lovely, fun-filled day
and evening at Rubino Estates Winery and Terra Mia Italian
restaurant as a Delaynie Send-Off.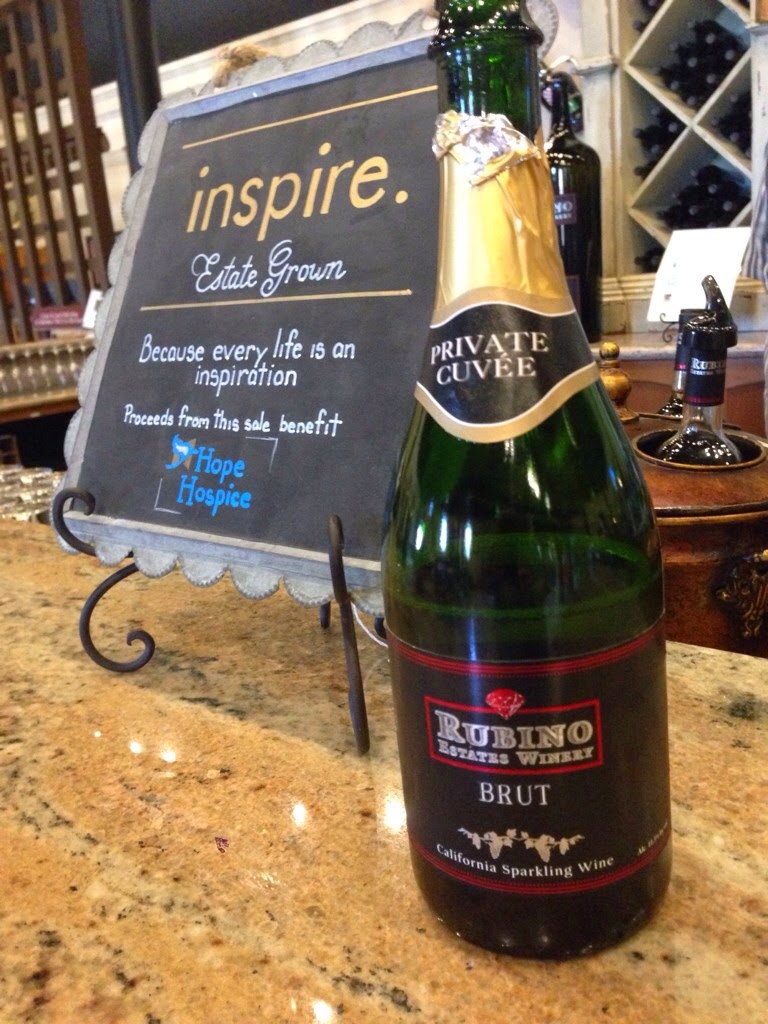 The 5 of us started by tasting an assortment of Rubino Estates Winery
wines (my favorite today was the Rubino 2010 Barbera, a club member
exclusive).  While sipping, the women picked out 2 cheeses (the Raspberry
Wisconsin cheese was delish!!!) and a tray of salami from the deli.  At
Rubino, this earned us a choice of complimentary breadsticks (the long, skinny
Italian kind — our choice), crackers, or a small pie. Rubino provided
us with a cutting board and cheese knife.  The men procured a bottle of Rubino
NV Brut Sparkling Wine, embedded in an ice-filled wine bucket and the
bocce/pallino balls.
Of course, the Rubino pourers happily filled our glasses with one
more tasting so we could sip our way out to the side of the building, where
Rubino has a gorgeous, incredibly level bocce court.  Wine casks provided
resting places for our food, bucket, and glasses,  The Guys team threw the
pallino, the small ball that players all try to get closest to when throwing
their larger bocce ball.  And the Gals team started their never-ending lead on
the scoreboard.  The guys made another bottle of the Rubino NV Brut
appear after a few rounds, thinking it might throw the Gals' game.  It
didn't, so they next tried plying their ladies with a bottle of Rubino 2012
Moscato.  After much fun, many toasts, and lots of
Pallino to bocce ball measuring, the Guys won in making their Gals extremely happy bocce winners.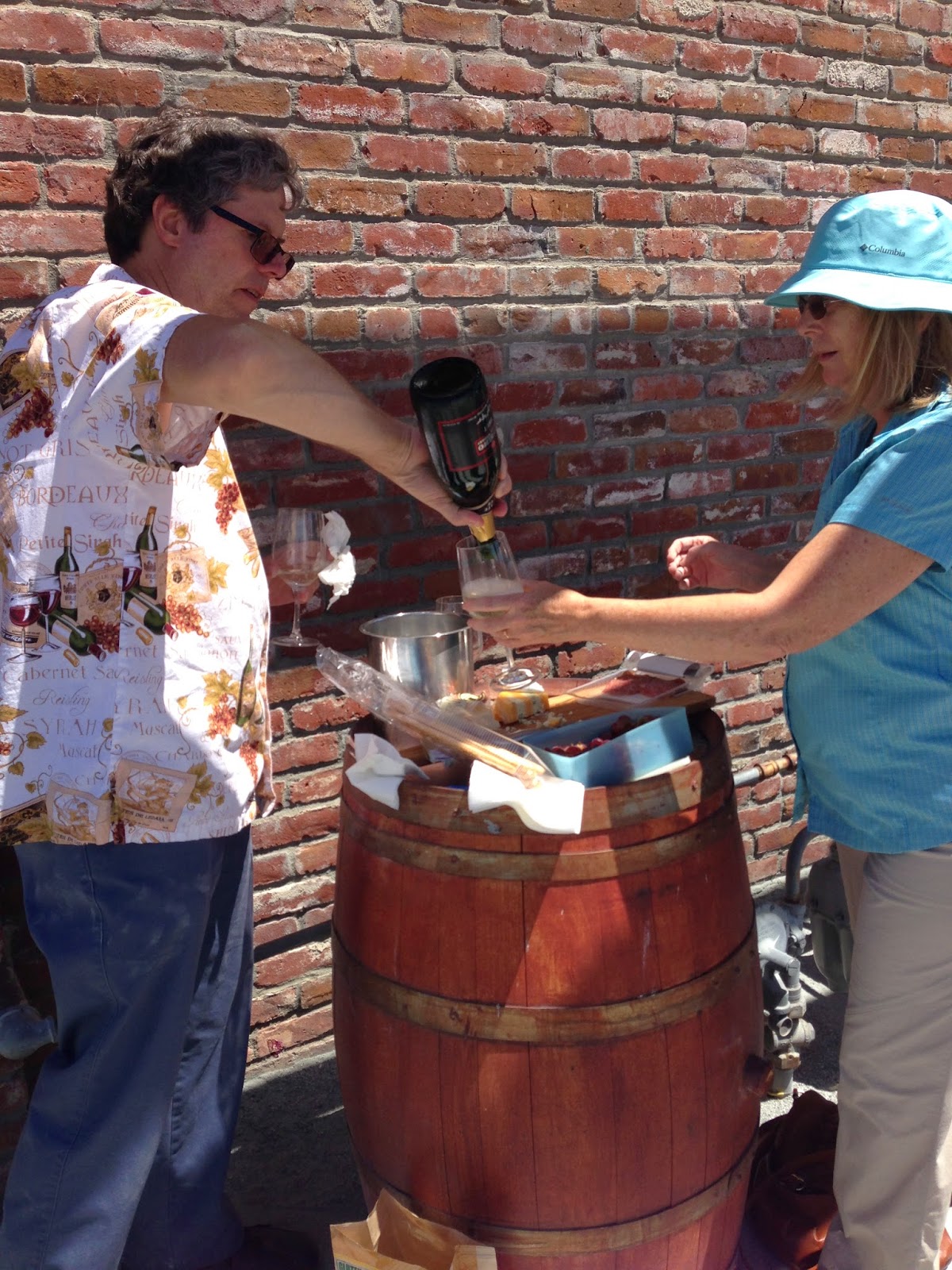 Cleaning up entailed returning Rubino's loaned items and finishing our
tasting with the not-to-be-missed  Rubino NV Cabernet Sauvignon Dessert
Wine served in dark chocolate cups. After our time on the bocce court, we
thoroughly enjoyed cooling off in the AC while sipping and visiting with
friends.  One of the great joys of tasting rooms is making new friends and
running into old friends.  On this day, one of John's (g)old friends was
at Rubino with his friends, new (silver–yay Girl Scouts!) friends for
us.
Supper led us to Terra Mia, a lovely and popular Italian restaurant
in Livermore.  Laura had richly redolent Osso Bucco, Delaynie had
gluten-free Ziti alla Callabrese (yes!!!–gluten free at an Italian
ristorante!!), John had heavenly cheesy Veal Scallopini, Bill had fresh
seafood-packed Linguine Tutto Mare, and I had hand-formed Tortellini alla
Crema.  All of us wore satisfied smiles, a touch of sun on our cheeks, and a tad tighter clothes.
Many, many thanks to Laura for planning (and Bill for supporting) a wonderful day for all of us to share,
making warm, loving memories to carry Delaynie through her last 4 harried quarters as an undergraduate!
---
About the Author
: Judi never does anything short, be it children (even at 5' 10", all 3 kids outgrew her), a voicemail message, a menu for family & friends, a day of visiting wineries, or a wine pour. Especially the latter; wine glasses are large for a reason! Her daughter-in-laws and their friends have a measure called The Judi-Pour. That means we have blessedly good relationships, 'cuz her name could be attached to worse. Sparkling wines are my go-to, but there is always a time for a peppery Pinot Noir or a crisp Pinot Grigio. Or a chill Sauvignon Blanc poolside or a toasty Cab in hand while playing bocce or a frizzante after work or.....
---
It pays to subscribe!
We will send you a brief email whenever there's a new post, so you'll never miss an article. We promise not to be a pest. Unsubscribe any time you like. And, of course, we won't let ANYONE else use our subscriber list. By subscribing, you agree to our
Privacy Policy
.
So go ahead,
click here to SUBSCRIBE
!