A highlight of any wine club membership is the associated wine release parties. In fact, we typically choose our memberships based primarily on the fun factor of these parties. The wine matters too, of course, but the parties are a real benefit of club membership. A recent proof point was the fun (and delicious) wine club release party at Eagle Ridge Vineyard.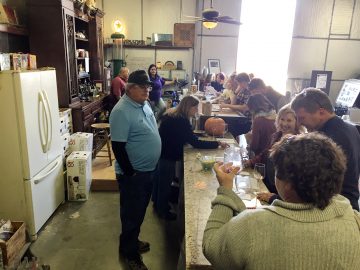 Regular readers of this blog will know that we are frequent visitors to Eagle Ridge Vineyard. Members for nearly a decade, we do our best to attend each release event, anxious to explore the latest vintages and the experience the food pairings chosen to for the party. On this day, we arrived to find a parking lot full of cars and a tasting room buzzing with happy wine lovers. The long granite tasting bar was chock-a-block with happy tasters and we could see the release party already in full swing in back.
To make a space for club members to enjoy their release party festivities, owner/winemaker Jim Perry moves the first stack of wine barrels forward, opening up a nice space behind. Add some tables for members and a space for a caterer in back and the setting is complete. We checked in with Cheryl Perry (who seemed to know every member's name as they walked in) and made our way back to the party area.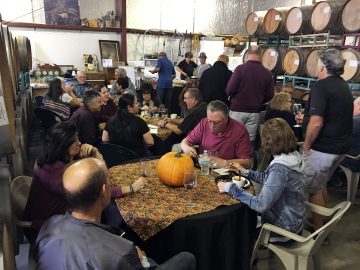 Nestled between the wine barrels we found tables full of club members, enthusiastically reviewing the wine and discussing the food pairings. Ever the inclusive group, we were welcomed at one of the tables with open seats. The tables had pumpkins and harvest-themed tablecloths, lending a nice autumnal feeling to the space. It was great to see how the club rolls had grown over the years. Good wine plus fun release events equals a successful wine club!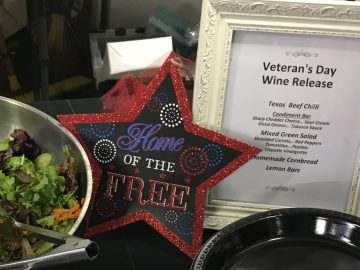 We were thrilled to see that Cabana Dave's was catering the event! As usual, the food pairing were thoughtfully curated. They were offering a green salad as a starter, with shredded carrots, red peppers, tomatillos, pepitas, and a champagne vinaigrette. The main event was some amazing Texas beef chili with all the fixings, with cornbread on the side. Wrapping up the menu: lemon bars!
Ah, but the wine! Jim released a 2015 Malbec and a 2015 Zinfandel. The Malbec was assertive and a bit spicy, with enough personality to pair perfectly with the chili. Full disclosure: getting the chili and the Malbec to run out at exactly the same time was difficult. It took several bowls of chili and several tastings of Malbec to get things to work out. And don't forget the cornbread, it played a vital role. This was truly a noble quest, and we succeeded, eventually.
The Zinfandel was a happy surprise! A burst of bright fruit up front, with restrained pepper on the finish. A bit more sweet to start than most Zins, with very pleasant, food-friendly notes throughout. We found that the Zin transformed the lemon bars, bringing up the lemon zest in the bars while highlighting the subtle interplay of fruit layers in the Zin. This wine turned everyone in the room into a lemon bar fanatic.
With a happy heart and a full stomach, we collected our new wine, thanked Jim and Cheryl and set off into a somewhat smoky Livermore. Once again, the wisdom of joining the Eagle Ridge Vineyard wine club was proven!
---
About the Author
: John grills a mean steak and is always in the market for another wine fridge. Believes that if a winery has more than 10 employees, it's probably too big. Buys wine faster than he drinks it, but who cares?
---
It pays to subscribe!
We will send you a brief email whenever there's a new post, so you'll never miss an article. We promise not to be a pest. Unsubscribe any time you like. And, of course, we won't let ANYONE else use our subscriber list. By subscribing, you agree to our
Privacy Policy
.
So go ahead,
click here to SUBSCRIBE
!