Our Valentine's Festival started strong, with brunch and two winery tastings on Saturday. Where could we go from there? Why, brunch and more winery visits on Sunday, of course. To add a bit of intrigue to our mission, we decided to leave the familiar behind and venture out to new (at least for us) wineries. That's the joy of the Livermore Valley wine region, there's always something new to discover!
We try not to go wine tasting on an empty stomach, so we started our day with brunch at the Poppy Ridge Golf Course restaurant. A perennial favorite with our group, the restaurant starts their brunch the right way, with a glass of champagne! The views are great, the Eggs Benedict is amazing, and the service is friendly. Quite a nice package, all at an affordable price. And when you're done, you are already in the heart of winery country, so we got our day off to a great start!
Courtney & Chris
While preparing for the day, I noticed that a new winery was opening for tasting this very weekend! This was much too fun to pass up, so we started our winery touring with this new label, called Caddis. The word Caddis is apparently associated with fishing lures (who knew?) but the winery is the creation of Chris Sorensen and Courtney Garcia (engaged to be married, no less), and they assured me that the wine contains absolutely NO FISH. Given my allergies, this was a relief (I kid, I kid). Chris has been making wine at Occasio for years, and is now branching out with his own label.
Caddiss is conveniently located right next to Wood Family Vineyards on Cedar Mountain Road off of Greenville. You park among the vines, which really got us in the mood.
We had a chance to chat with Chris and Courtney, and saw most of their extended family, either pouring or tasting. Quite a nice group! We tasted their 2011 Chardonnay first. We have noticed that newer Chardonnays are coming out with less overt oaky tones, a trend that we appreciate. This Chard followed that trend to our delight. There is a little toast at the end, but the butter is saved for the popcorn. We enjoyed the light citrus and melon notes and look forward to enjoying this on the patio come spring.
Next up was their 2010 Syrah. This presented a lot of fruit, with a clove and pepper base that gives it the character to hold its own when paired with tritip. This was a Gold Medal winner at the San Francisco Chronicle wine competition. This wine will only improve with time.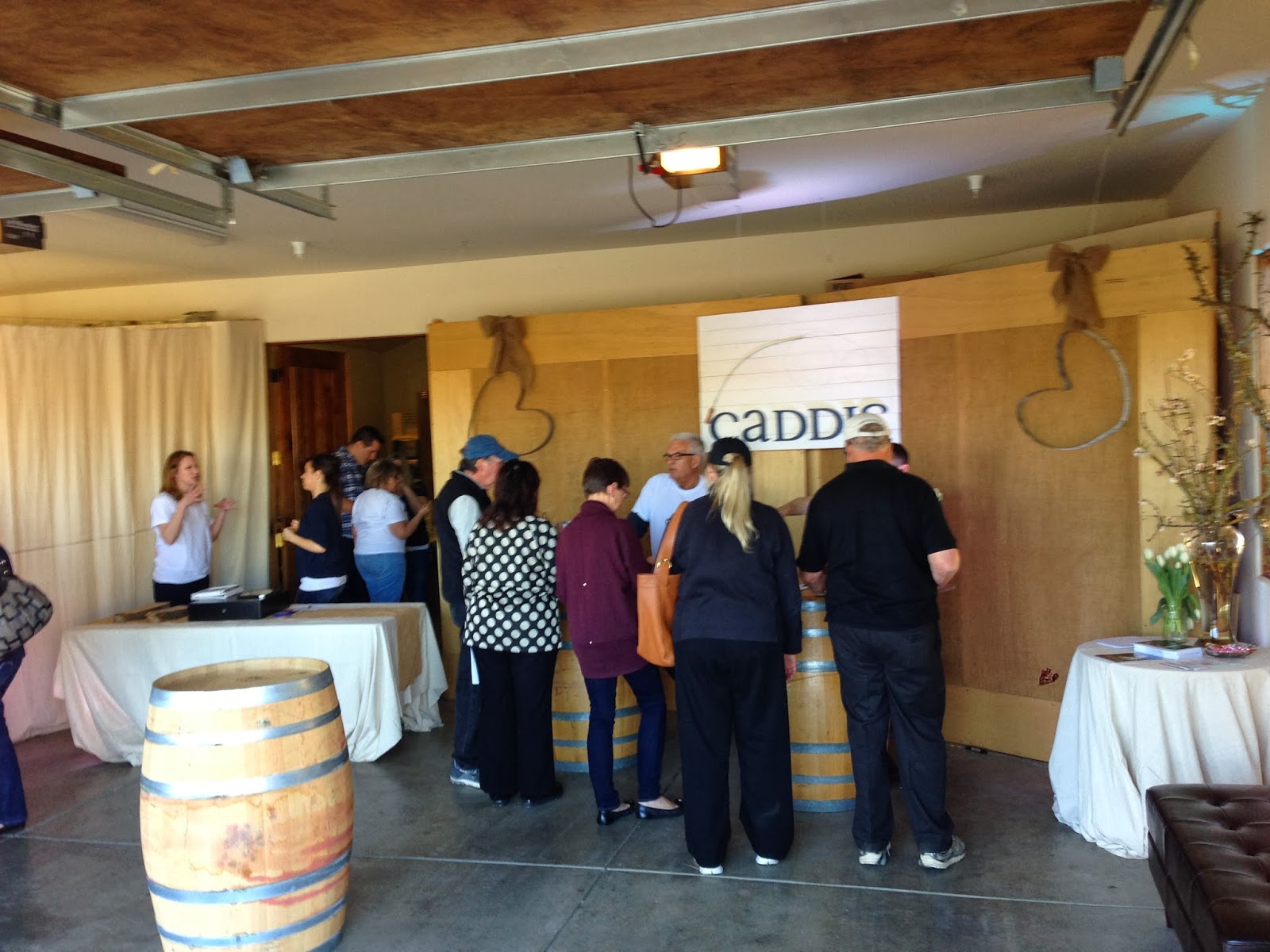 Chris calls his red blend "Better Together" and we tend to agree. Half Syrah and half Cab, we liked the depth and complexity. Something of a Zinfandel aroma and a berry finish! This won a Bronze Medal.
Winning Double Gold at the SF Chronicle competition is a 2011 Tempranillo. Young, but amazing, we found notes of blackberries and leather, with a dry and slightly acidic finish. An assertive wine, we immediately thought of pairing this with onion rings and a good football game on the TV. This Tempranillo will make Chris famous.
From Caddis, we made our way to Les Chenes Estate Vineyards. Located off of Tesla Road, past Eagle Ridge, we drove down the longest driveway in recorded history. If you visit (and you should) keep the faith. After quite a few private drives, you will come to Les Chenes. It is well worth the voyage!
We were greeted warmly by owner and winemaker Richard Dixon. To our delight, we learned that our tasting would be augmented with an artisanal cheese pairing. We're not talking about every-day cheeses, either. Each cheese had its own (never before tasted) character that really added to the enjoyment of each wine. Well done!
Winemaker Richard Never Stops
We started our tasting with a 2011 Deux Blancs. A blend of Chardonnay and Viognier, we decided that this wine had the start of a Chardonnay and the finish of a Viognier. Talk about the best of two worlds! This was paired with a Chardonnay Cheddar cheese with strawberry bits. A perfect pairing, especially for the back yard on an autumn afternoon.
Next up was their 2011 Reserve Estate Mourvedre. Made in the Provence style, this wine earned the distinction of being the first Mourvedre that my lovely bride enjoyed! Nicely done, Richard, this award is a long time in coming. Congratulations. This wine was paired with a Jalapeno Cayenne cheese that just about loosened my scalp. This cheese made a statement! Happily, the light and amazingly smooth Mourvedre tamed the peppery cheese-beast and created a lovely, balanced experience. We purchased some of this wine, but I'm pretty sure we didn't buy enough.
We moved on to their newest release, a 2011 Estate Syrah. Quite a nice Syrah, which we decided smelled "like wine was supposed to smell" which is not a common as it should be! A great balance of fruit, especially cherries, with a bit of tannin to round out the finish. Richard paired this wine with a Syrah and horseradish cheese, to good result.
The 2011 Primitivo was next. Paired with a Pepperoni cheddar (yes, you read that correctly), this wine presented a chorus of berries, spice and just a hint of smoke. We thought of sipping on this while we ate our way through a tub of French vanilla ice cream and watched a classic film.
A Dragon to eat crabby people
Last up was an Old Vine Dessert Wine. This is a Portuguese style Tawny Port that struck the perfect balance between depth and spice; classically flavorful but not jammy. Definitely need to add this to our "open when you catch a cold" port inventory!
The Dixons were friendly and knowledgable, the tasting room decor was intriguing and the crowd was happy. A truly memorable first tasting experience! Thank you Candice and Richard! You can expect to see us again soon.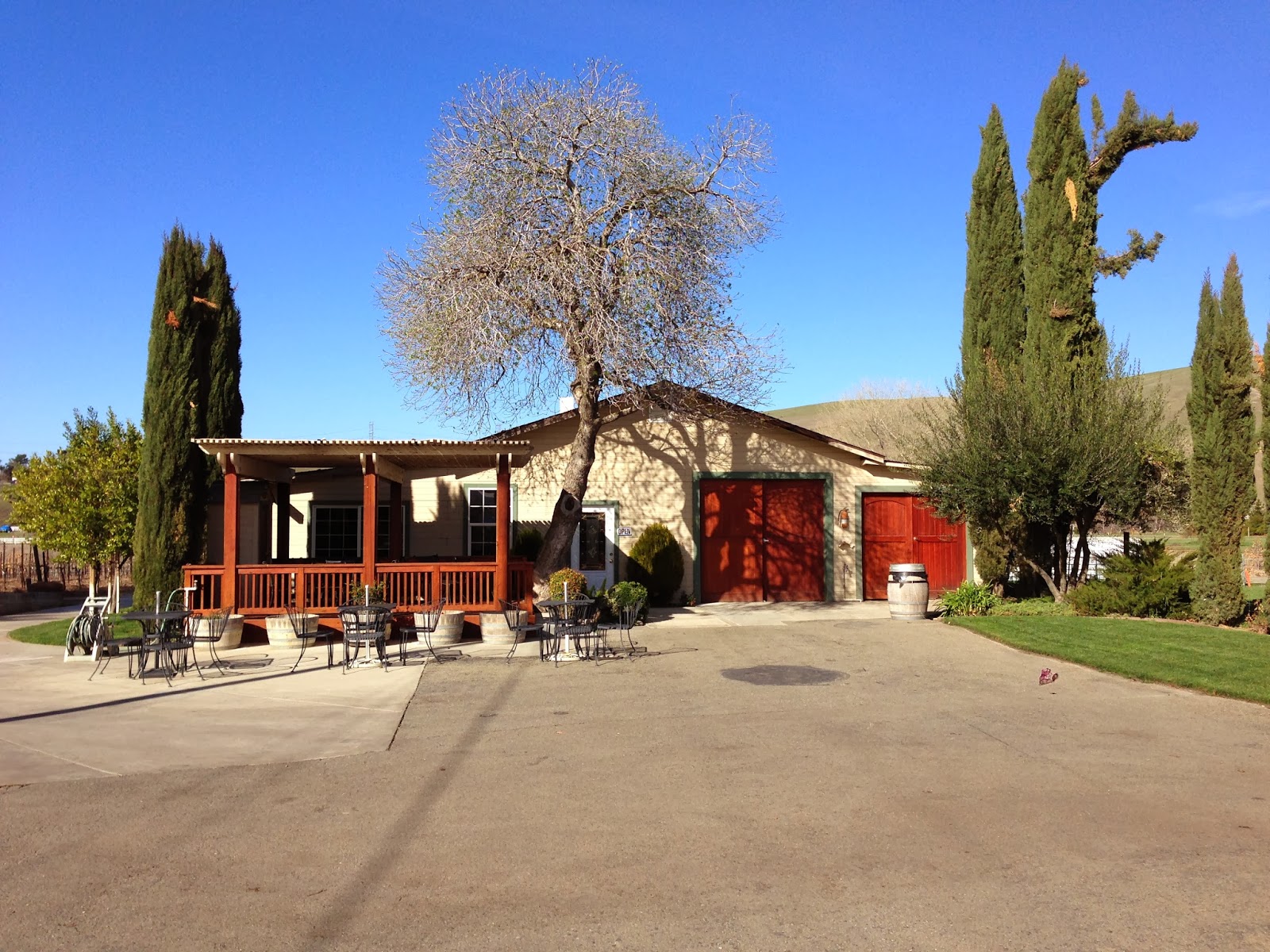 As we drove back from the wilds of Victoria Lane, we came upon Bodegas Aguirre Winery. For years we have been confusing Bodegas Aguirre with another winery, so we decided to stop in. What a lucky happenstance! We were welcomed by Laura, who's enthusiasm for the the wines was infectious. It was clear that we were in for a good time.
We started with a 2009 Chardonnay. This was a bit buttery, with hints of jalapeno, which we adored. We've raved about the jalapeno notes in other wines, and we can't wait to try this out in our Bearnaise Sauce recipe.
We moved on to their 2009 Pinot Noir. This wine has an interesting brownish color, with a faint rose petal aroma. We enjoyed the mild fruit, with a smokey, easy-to-drink attitude. Definitely a Drink Now wine!
The 2010 Estate Merlot was a group favorite. Light, with low tannins, we thought this was a Pinot disguised as a Merlot. This wine should appeal to any red wine lover. Well done!
Our next taste was their 2009 Malbec. Leaning more toward the Merlot side of the family tree, we found a chalky nose and lots of fruit. A slightly tannin finish left the palate ready for the next sip.
Carrying on, we tasted the 2010 Cabernet Sauvignon. This is a main stream Cab, with the fruit up front and nearly invisible finish. A great sipping Cab, or partner with a mild cheese plate.
Next up was the 2008 Petite Sirah. We found aromas of tobacco and pepper, with flavors dancing down the middle of the tongue. Lots of tannins on the finish. If you enjoy Petite Sirahs, check this one out.
Our visit concluded with a tasting of their Forte 6 Port. By chance, they had two bottles open, one opened the day before and one opened today. We tasted both, and our party was evenly split on which one we preferred. I guess you can't go wrong, then! This is an accessible port, made from Pinot and Chardonnay grapes from Carneros.
We said our goodbyes and headed out for our final stop: the hidden gem of Tenuta Vineyards. Tenuta is quite hidden, in fact, since it is at the end of a private drive chock full of "go away" signage. We kept the faith and were rewarded with the welcome sight of the Tenuta tasting room. Even at the end of the day, the tasting room was full of happy people tasting their way through a truly daunting wine list.
We started our tasting experience with their Sparkling (of course), a blend of Chardonnay and Pinot Grigio grapes. Light and refreshing, we found peach and grapefruit notes. Even with our palates jaded by a full afternoon of tasting, this revived us and got us ready to take on winery.
We moved on to their 2012 Estate Chardonnay. This was another "new style" Chard, which we appreciated. We think we detected a bit of mesquite in the aroma, with just the right amount of oak and honey for a full-bodied Chardonnay.
Next up was their non-vintage Aria. This was blended from 60% Pinot Grigio, 30% Sauvignon Blanc and 10% French Colombard grapes. A great "sipping by the pool" white wine, we enjoyed hints of peach, basil and toast.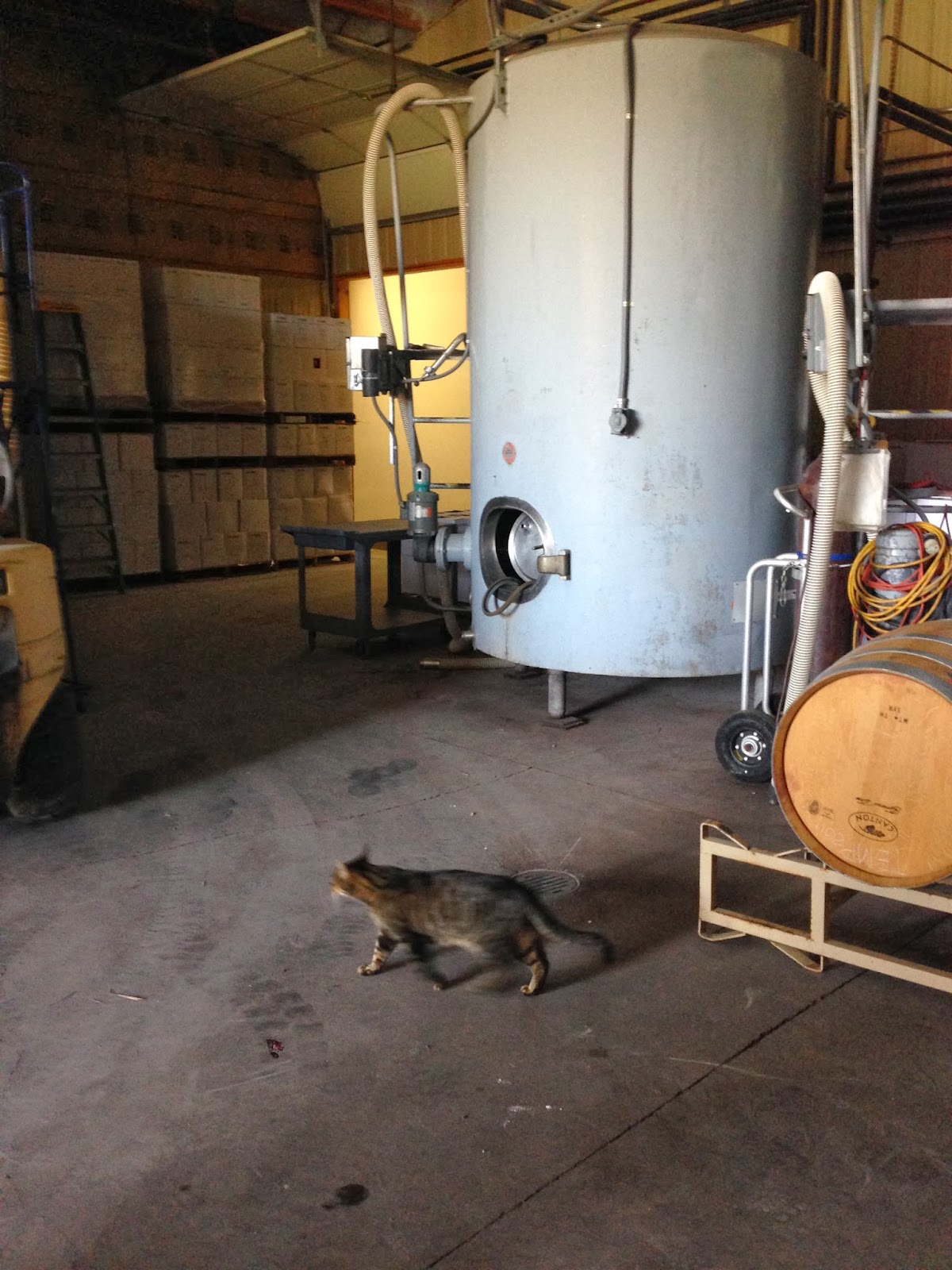 Butters the Cat
At this point, we were invited to take a tour of the facility. We are big fans of winery tours, but this one exceeded all of our expectations. Rich was engaging, informative and a whole lot of fun. The only fly in the ointment was his failed attempt to get Butters, the winery cat, to perform tricks. Anyone who has ever tried to get a cat to perform tricks on command understands the situation.
We learned from Rich that Tenuta is the third-largest wine producer in Livermore, behind Concannon and Wente. This was surprising until we learned that much of Tenuta's production is actually done on behalf of client wineries. Tenuta provides the equipment, tanks, barrels, topping services and bottling. The clients provide the grapes and the recipe. Sounds like a great way to get into the business! Now if I only had the talent of a wine maker.
Barrel Tasting Joys
We tasted two barrels while we were in the facility: a Petite Sirah and a Black Mamba Light. The Petite Sirah shows promise, with a hint of cinnamon raisin toast. The Black Mamba Light is actually their port blend, but not fortified as port. This was an interesting, fruit forward, mid-sweet wine. The Black Mamba gets its name from a comment made by a customer that drinking it in quantity made him feel like he was bitten by a Black Mamba snake. No reference to Kobe Bryant at all.
When we returned to the tasting room, we restarted our quest to master their extensive tasting menu. We enjoyed their 2009 and 2010 Pinot Noir, a 2012 Syrah, two 2008 Merlots and a 2009 Cabernet.
We completed our tasting with ports (you guessed that, didn't you?). First was their 2010 Liquid Gold Chardonnay Port. This unique port had hints of sour cherries and a slightly acidic finish. Crisp and not at all jammy.
We then tasted the 2010 Black Mamba Port. A nice port, with little alcohol taste and some sweet notes. Ideal for pairing with dark chocolate.
Finally, we tasted their 2006 Zinfandel Port. This was a happy surprise, with Zin and port/raisin notes. A surprisingly dry finish, this is a great sipping port for watching sunsets and contemplating the meaning of life.
Then things got a bit out of control. We considered the positive aspects of the various ports we had just sampled and had a breakthrough idea: blend the Chardonnay Port with the Black Mamba Port. The result was excellent, at least in our minds. Again, we are unconstrained by any talent in winemaking whatsoever.
The Tenuta Vineyards motto is "Friends for Life" and after spending some time with them, we believe it! We said goodbye to Rich (and even got hugs) and promised to return soon.
Cheers!
---
About the Author
: John grills a mean steak and is always in the market for another wine fridge. Believes that if a winery has more than 10 employees, it's probably too big. Buys wine faster than he drinks it, but who cares?
---
click here to SUBSCRIBE
!