Our visit to Paso Robles was going strong, with great experiences at the Terry Hoage Vineyards and the L'Aventure Winery. Flushed with success, we continued down the winding country road to our next stop: the Caliza Winery. Our streak of great wineries continued!
A lot of fun in a compact space
The tasting room is set on a gentle slope, surrounded by grape vines and beautiful trees. The winery's name Caliza is taken from the Spanish word for limestone, the predominant component in the local soil and contributor to all Paso wines' flavor profile.
Owners and winemakers Pam and Carl Bowker even provided shaded picnic tables along the fence line for our enjoyment. It was getting to be snack time, so we made good use of the tables. Thanks! We try to insert snack/lunch stops into our tours and this was a welcome sight.
Our wine guide Pam
We entered the tasting room and were immediately made to feel welcome by our wine guide Pam. Although she had her hands full with several other groups, she quickly made us feel at home and got us started with their 2013 Kissin' Cousins. This is a blend of 56% Viognier, 22% Grenache Blanc and 22% Roussanne. This was a full-tongue experience, with honey and citrus and some sweet plum notes. A surprisingly fruity yet dry finish made us come back for more.  What a great start to our flight!
Pam next poured us their 2013 Pink. She called this her "porch pounder" and we quickly understood the reference. Light and drinkable, with strawberry, lemon and raspberry hints, this wine calls out to be enjoyed on the back porch while watching the sun settle into the hills.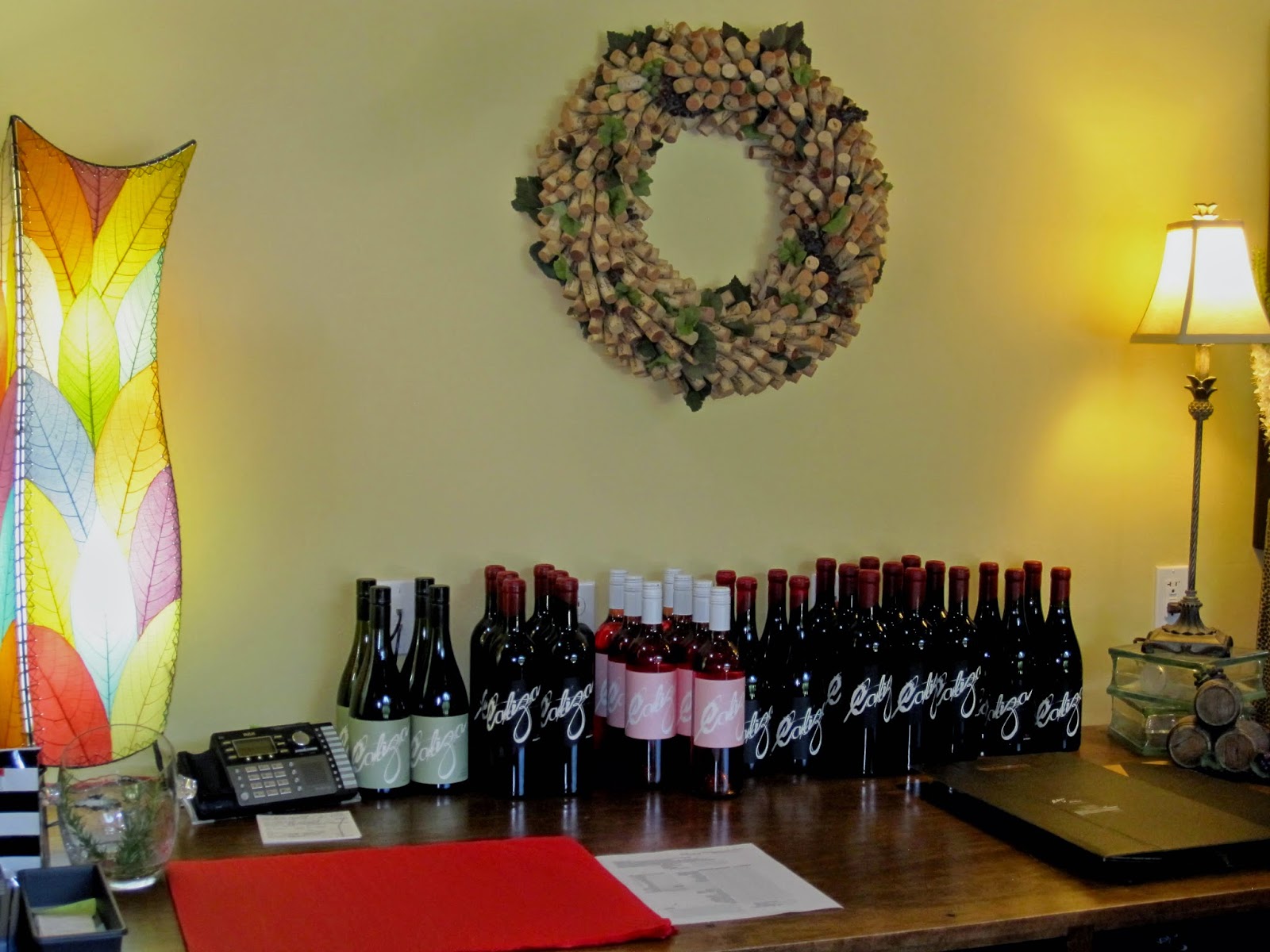 We next tasted their 2012 Sympatico, a blend of 64% Tempranillo and 36% Granache. This was a come-back year for the Sympatico, after winning a "Top 10" award from Wine Spectator for the 2010 vintage, the frost of 2011 damaged the crop. We were happy to discover that this 2012 vintage was doing JUST FINE, thank you. Lots of spice, some butterscotch and ripe apple, with a leather nose up front, this is a wine with a lot of personality. The vibrant fruit and chalky finish makes is perfect for pairing with a tri-tip!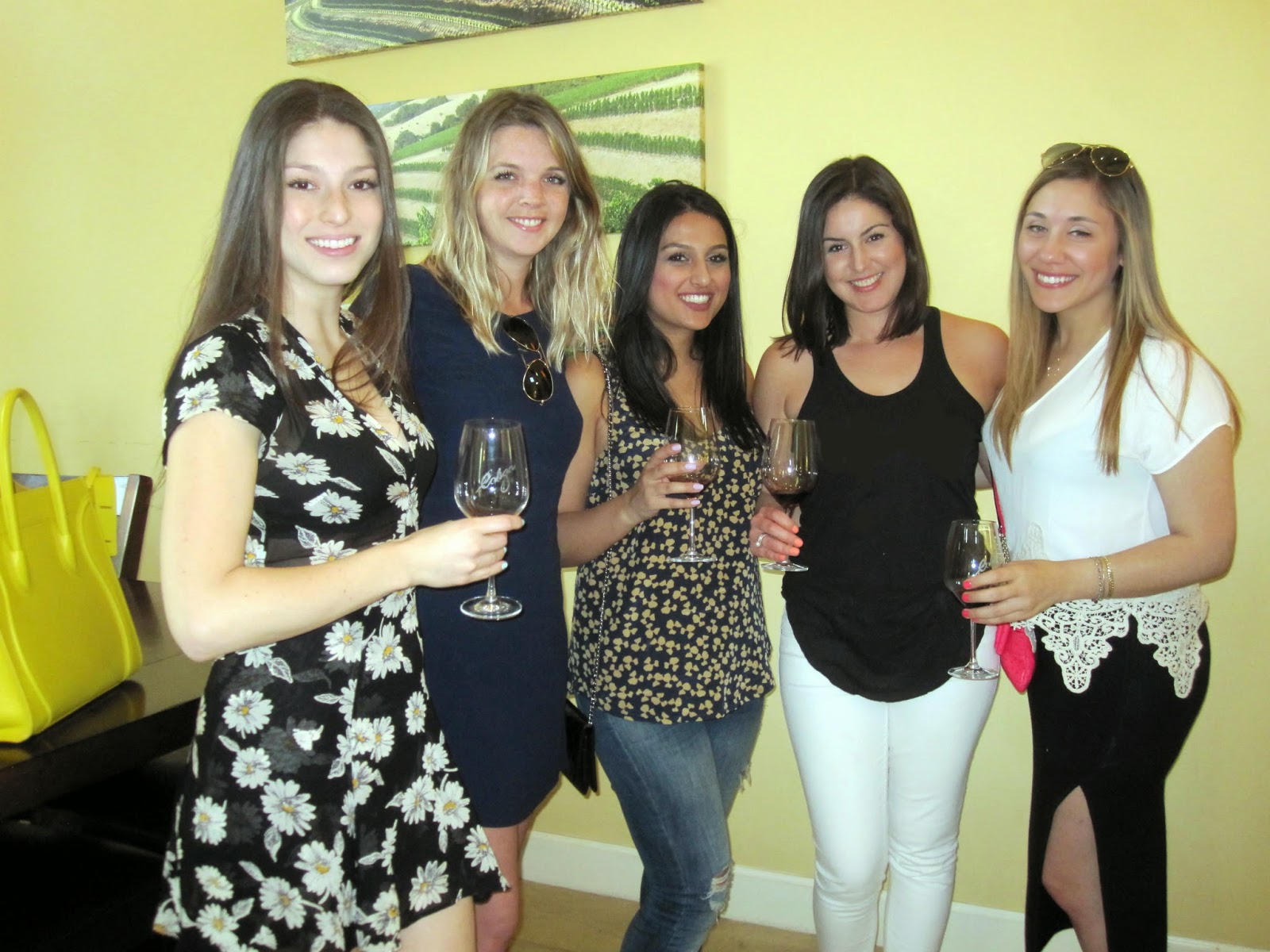 As we move onto our next wine, we were joined by a happy group of tasters celebrating their reunion following college graduation. Together constantly during their years as USF, the harsh demands of the job market split them between San Francisco and Los Angeles. This wine tasting tour was a great way for them to reconnect. Their happy chatter brightened the entire tasting room!
Our next wine as their 2011 Cohort, a blend of (hang on, now, this will take a while) 58% Syrah, 16% Petite Sirah, 16% Tempranillo and 10% Mourvedre. Pam called it "crazy blending" and we called it "amazing wine." Superbly balanced, with something going on every instant of the tasting. Carl deftly handled the impact of the cool 2011 growing season in the blend to produce something truly memorable.
Great picnic venue too!
The last wine the tasting menu was their 2012 Syrah. For a single varietal wine, there sure was a lot going on here! Fruit everywhere, with hints of dark chocolate and a distinct note of umami, this was a joy to taste but difficult to describe. This wine can pair with food, but it stands on its own just fine.
We thought that our fun was over, but NO! Pam produced a 2012 Primitivo for tasting (she must be a magician), and we were very pleased. A crisp, clear example of the varietal with a long-lasting finish that impressed us both. One of these came home with us.
Pam then poured a 2010 Shellstone Red (90% Syrah and 10% Mourvedre) that cemented that magician concept for us. This wine danced all over the tongue, with dark pitted fruit notes and a chalky finish that screamed (quietly) for some soft cheese. They were down to only four bottles to sell, so we left them for club members.
With a complete tasting flight, and more, under our belts and in our notes, we paid for our Primitivo, said goodbye to Pam and set out for our next winery. Why are wine tasting days so short and work days so long?
We'll be back, Caliza!
---
About the Author
: John grills a mean steak and is always in the market for another wine fridge. Believes that if a winery has more than 10 employees, it's probably too big. Buys wine faster than he drinks it, but who cares?
---
It pays to subscribe!
We will send you a brief email whenever there's a new post, so you'll never miss an article. We promise not to be a pest. Unsubscribe any time you like. And, of course, we won't let ANYONE else use our subscriber list. By subscribing, you agree to our
Privacy Policy
.
So go ahead,
click here to SUBSCRIBE
!