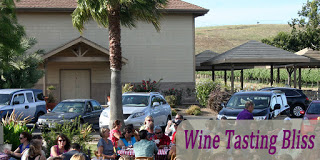 With summer in full swing, we were all looking forward to the 4th of July. Then we learned that the Darcie Kent winery put together what they called the "Red, White and Blues Summer BBQ" to help build the excitement. The members-only invitation promised a great event: all the latest wines, a fun BBQ menu from Vin X and live music by the David Thornton Band. We couldn't resist, we made it a date!
June was a very busy month for us, with a college graduation (hooray Delaynie!), a wedding (cheers and many years of joy to Clifford and Katy of Hella Wine & Mo'), some semi-local travel, and of course lots of wine tasting. Nonetheless, Darcie Kent parties are always memorable, and this one promised to raise the bar even further. We made some tough choices and dedicated the day to the Red, White and Blues.
We did start the event with a small strategic error: we arrived a few minutes after the start of the party. That meant the the party was already in full swing. Happily, we found a table with room for the four of us. Darcie Kent party people are VERY inclusive.
The Vin X Menu
Pulled Pork Sliders with Firepit Red Wine Glaze BBQ Sauce
Moroccan Spice Chicken Rubbed with Stone Patch Malbec and Oyster Sauce Glaze
Grilled Hanger Steak with Crown Block Red Wine Reduction
Spinach & Strawberry Salad with Sliced Red Onions Topped with Crumbled Feta and Darcie Kent Vineyards Extra Virgin Olive Oil Vinaigrette, (East Avenue Farms, Livermore)
Grilled Tri-Colored Fire Roasted Red Peppers Dressed with Darcie Kent Vineyards Olive Oil and Sel de Mer
Grilled and Dry Rubbed with Toasted Coriander & Fennel Seeds Italian Zucchini Skewers (High Grounds Organics, Watsonville)
Drunken Strawberries in Darcie Kent Vineyards Petite Sirah Topped over Vanilla and Cocoa Shortcake
We grabbed a quick splash of their
2013 Hoffman Chardonnay
and made our way into the tasting room, which had been transformed into a buffet line. Chef Dylan Arriaza, owner of Vin X, was back! We loved his work at the
Valentine's Day release party
and were thrilled to have him return. Having a chef with such a reputation is a great thing, with just one downside: the buffet line was long and NEVER died off. Never fear, though, because the Darcie Kent staff made sure that every wine glass remained full, and the new art on the walls kept us entertained.
The grilled steak was the star of the BBQ, with just the right amount of red wine reduction drizzled about. A close second was the pork slider. For me the chicken was disqualified (oyster sauce made it a no-go) but everyone else loved it. The spinach and strawberry salad was nice, and the roasted peppers were a treat, but special mention must be made of the zucchini skewers. Zucchini is rarely a crowd pleaser, but between the seasoning (coriander and fennel) and the perfect char, we all came back for seconds. Nicely played, chef, nicely played!
With full plates (and glasses) we made our way back to our table. Our table-mates had graciously kept our seats open. Our table was ideally positioned: half sun and half shade, perfect for a June afternoon in Livermore. It had great sight lines to the band and easy access to the wine stations. Comfortably positioned, we dug into our BBQ and got our first taste of the David Thornton Band.
Full disclosure: we are big fans of live music but the bar is set pretty high. Points are awarded for instrumentation (especially trumpet or saxophone), choice of genre (jazz, blues or classic rock for the win) and generous (long) sets. To us, this is a very fair rubric that has served us well over the years.
So in our opinion, the David Thornton Band scored quite well: lead guitar, bass guitar, drums and (wait for it) a saxophone! Only one trumpet short of full points. As to genre, they claim B.B. King, Eric Clapton, Santana and Stevie Ray Vaughan as influences, so full points are due. And set length? More than generous! One break for some of Chef Dylan's food, but otherwise they played their hearts out. All points tallied, the David Thornton Band earned a spot on our "change our schedule to hear" list. Any band with the guts and the chops to take on Santana and Stevie Ray Vaughan covers is all right with us.
Let's review: the members-only invitation promised a great event: all the latest wines, a fun BBQ menu and live music. The wine was amazing (of course), the food even better than our last experience with Chef Dylan, and the David Thornton Band blew us all away. We hung around as long as we could, but everyone working the event deserved a night, too, so we collected our wine club release and headed off into an amazing June sunset. Our thanks to everyone at Darcie Kent. Now we are more than ready to celebrate the 4th!
---
About the Author
: John grills a mean steak and is always in the market for another wine fridge. Believes that if a winery has more than 10 employees, it's probably too big. Buys wine faster than he drinks it, but who cares?
---
It pays to subscribe!
We will send you a brief email whenever there's a new post, so you'll never miss an article. We promise not to be a pest. Unsubscribe any time you like. And, of course, we won't let ANYONE else use our subscriber list. By subscribing, you agree to our
Privacy Policy
.
So go ahead,
click here to SUBSCRIBE
!