Climb to the top of a certain ridge, and you will discover some beautiful things! Beautiful views of the Livermore hills, beautiful grapevines, and (why else would we be there?) beautiful wines. Where can you find this ridge? Why at Eagle Ridge Vineyard, of course!
Eagle Ridge Vineyard was one of our very first wineries that we loved so much that we became wine club members. Not to brag, but we had to ask "what is a wine club" when we heard about it in the tasting room. Don't judge, that was a LONG time ago. We have figured out the wine club business and belong to far too many of them. Eagle Ridge was our first, and we are members to this day.
Jim Perry at his happiest
Visit Eagle Ridge, and you will meet Jim Perry, owner and wine maker, pouring his wines and holding court. Visit a few times, and Jim will greet you by name. How great is that? Before Alameda County passed some unfortunate requirements for food service, visitors to the tasting room often found Jim's wife and co-owner, Cheryl, serving a delicious snack based on a recent wine release. My personal favorite was Cheryl's chili. Unfortunately, the new city rules put these amazing treats out of business. Thanks, city fathers, no chili for you!
Inspecting the next crop
Visiting the tasting room is a roller coaster experience. Literally. The long (not kidding) driveway leads you up, up and up even more. At times there is not even road visible over the car's hood. The good news is that the roadway is arrow straight and oncoming traffic is minimal. Once you reach the top of the ridge you are rewarded with some amazing views of the Livermore hills and the Eagle Ridge vineyard. Nearly all the wines are estate grown, and you have plenty of time to check out the current crop as you drive toward the large parking area.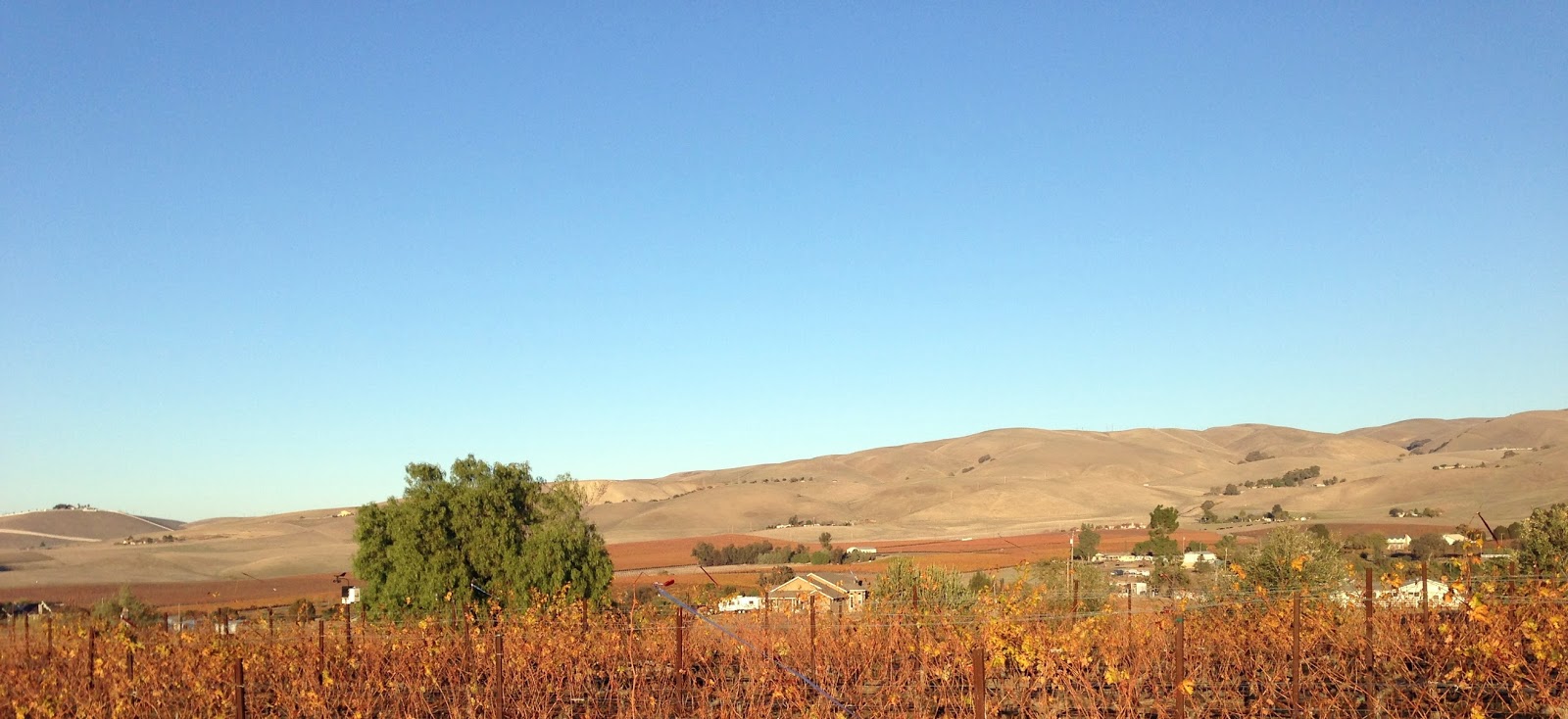 The view in winter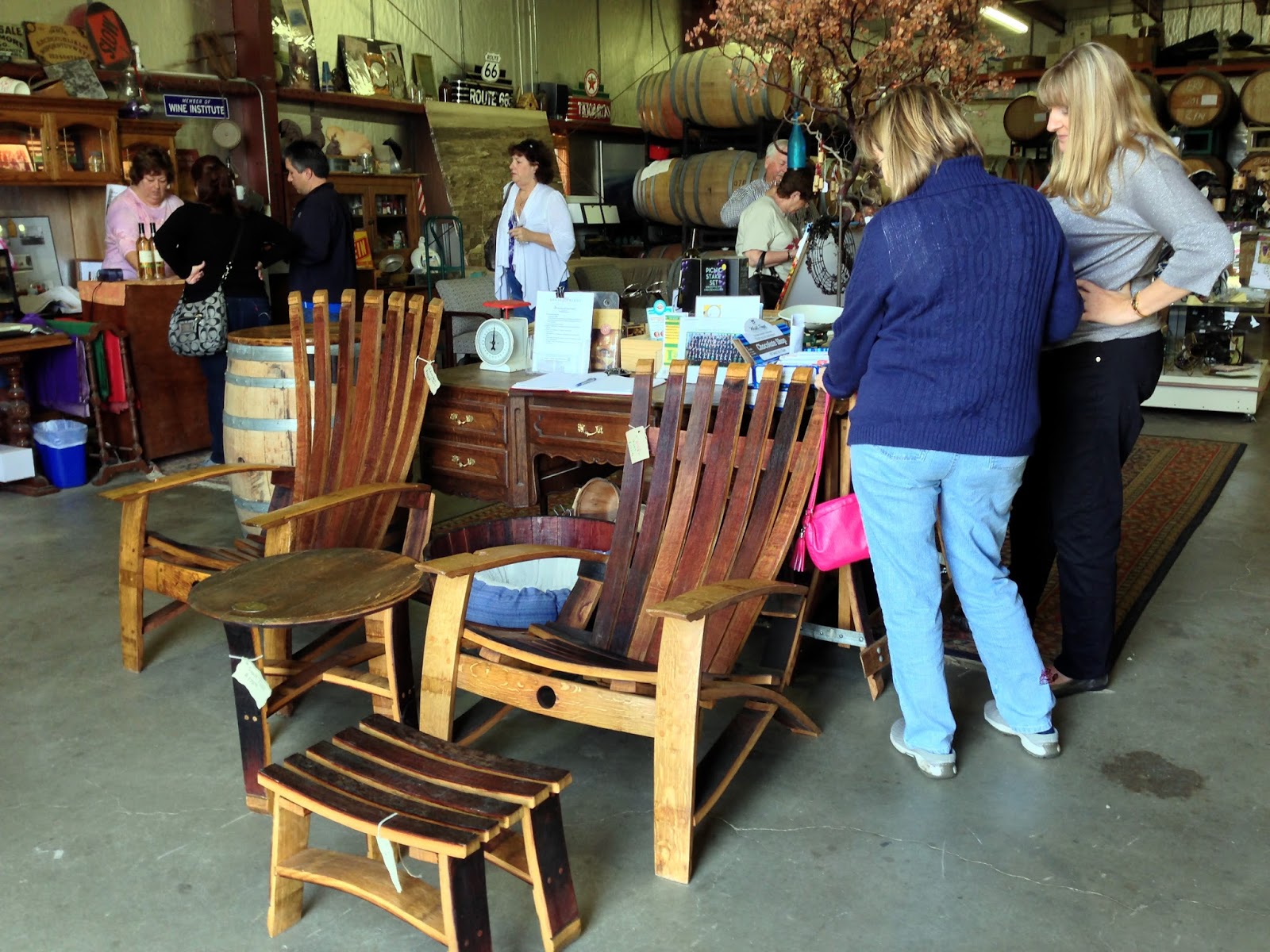 The tasting room itself is a bit of a sleeper. From the outside it looks a lot like a hanger for a small airplane. Step through the door and you discover a tasteful but exuberant decor, full of antiques,vintage toys and modern knickknacks. These treasures range from kiln-flattened wine bottles as hors d'oeuvres plates to lawn chairs fashioned from wine barrels. Much of it is for sale, all of it is intriguing. At holiday time the merchandise tables become nearly irresistible, so consider this fair warning.
And, yes, there is wine. Jim really knows his way around the local varietals! His Petite Sirah can bring tears to my eyes. At any given time, I have three or four vintages on hand, just in case there's a shortage. A close second on the Greatest Hits list is their Zinfandel. Again, we maintain a safety stock of various vintages. Can't be too careful! According to my Cellar Tracker database, Eagle Ridge still leads our wine collection, both in bottle count and vintage diversity.
That brings us to the Ports. Yes, plural. Jim's first Port is called MadLyn, in honor of his grand-daughter. This was my first experience with Port as a cure for the common cold. Don't judge until you've tried it. Since Jim and Cheryl have TWO grand-daughters, it was only a matter of time before they released a blonde Port named MadCait. There are no favorites when it comes to grandchildren.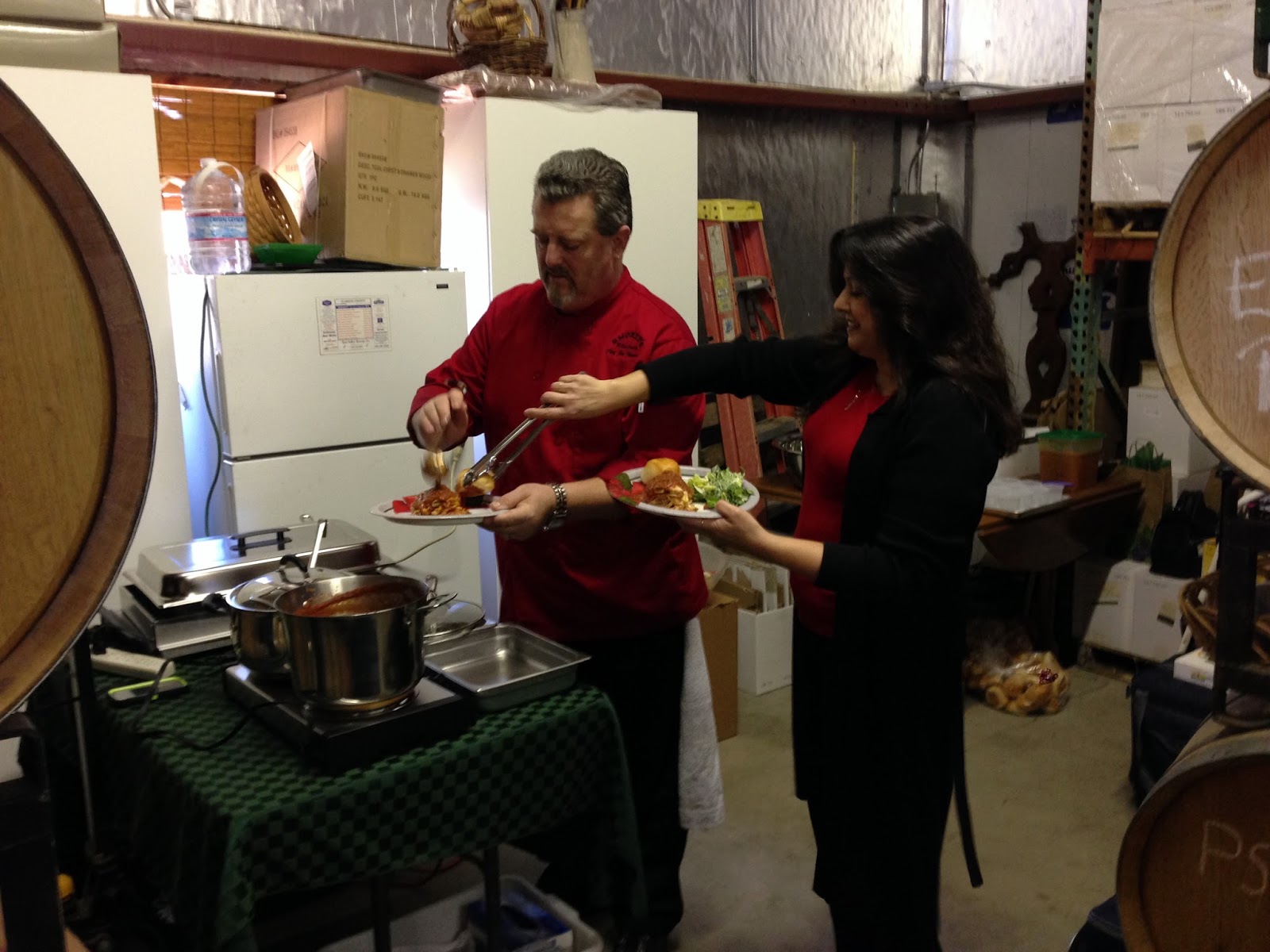 Chef Jim and Deborah
The club parties have grown over the years to become something of a legend. Jim moves a towering row of barrels forward, into the tasting area, which opens a space behind that becomes the seating area for members. Each release party features the new wines, paired with amazing catered food as a sit-down meal. Recent parties have featured food by Chef Jim and his wife Deborah Thurman. Great food, much of it actually cooked in Eagle Ridge wine, tables full of happy club members and wine maker Jim roaming around refilling our wine glasses. This is a recipe for an awesome party!
They say that you never forget your first, and I'm sure they were talking about wine clubs. It is certainly true for us, but that may be because we keep coming back.
Many times your first is your best!  Cheers!
---
About the Author
: John grills a mean steak and is always in the market for another wine fridge. Believes that if a winery has more than 10 employees, it's probably too big. Buys wine faster than he drinks it, but who cares?
---
It pays to subscribe!
We will send you a brief email whenever there's a new post, so you'll never miss an article. We promise not to be a pest. Unsubscribe any time you like. And, of course, we won't let ANYONE else use our subscriber list. By subscribing, you agree to our
Privacy Policy
.
So go ahead,
click here to SUBSCRIBE
!